Daily Box Office for August 27, 2007
August 28, 2007
BoxOfficeProphets.com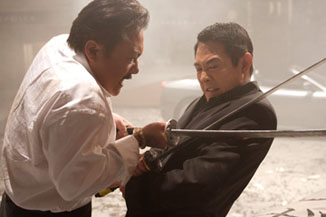 ---
This is the way the summer box office campaign ends, not with a bang but a whimper. After countless massive weekdays, the last Monday before Labor Day sees combined box office receipts of $8,556,248. It's going to take the entirety of my creativity to make this week sound the least bit exciting from a box office perspective. If only there were a movie featuring ninjas, we might have something.

Superbad, which unfortunately does not feature ninjas, is number one for the 11th straight day, earning another $2,418,980. This gives it a grand total of $71,035,623. If you want some odd trivia about how great this is, consider that the only R-rated film released in 2007 to have a better total at this stage of the game was 300. Superbad appears to be a lock for $100 million, and continues to impress across the board.

Finishing in second place on Monday is The Bourne Ultimatum, which earned another $1,103,700, a decline of 50% from last Monday. It has a running total of $186,357,315, and its relative merits are discussed at length in the latest edition of Monday Morning Quarterback if you want to know more. Meanwhile, Rush Hour 3 has dipped under the million dollar mark for the first time in its 18th day of release. Its $980,000 performance gives it a good but not great total of $109.5 million, meaning it will wind up around $130 million domestically. This makes it an eerily similar performer to Fantastic Four: Rise of the Silver Surfer, which incidentally fell under $1 million on its 21st day of release.

The fun begins with titles four through six this week. All of them are newbies with the top finisher on Monday being Jet Li and Jason Statham's latest action flick, War. It earned $939,859 on Monday, giving it a running total of $10,759,948. This puts it about $550k behind Li's last movie, Fearless, after four days of release. Fearless was at $11.3 million after four days. It's about $1.1 million behind Li's previous title, Unleashed aka Danny the Dog. Most alarming is that War is absolutely crushed by Statham's last film, Transporter 2, which was at $20.1 million after four days, albeit thanks in part to Labor Day holiday inflation.

The other "big" new release (ha!) this past weekend was Mr. Bean's Holiday, the ten years after sequel to the 1997 hit (no, really, it was a hit). After finishing fourth for the weekend, it wound up in fifth place on Monday with $856,740. This is actually the third time in four days that War beat it, but the numbers worked out where it edged out the action film for the entire weekend. Mr. Bean's Holiday has a running total of $10,746,520 after four days. This is almost identical to the $10.4 million Johnny English earned in the same time frame in 2003. If we adjust for inflation, however, Johnny English winds up ahead at $11.7 million.

The other new entry this week is The Nanny Diaries, which stars my beloved Scarlett Johansson. Alas, North American audiences clearly do not feel the same way about her that I do. Her first attempt at being a box office draw all by her lonesome is, well, a failure. $711,358 on Monday gives it a measly $8,192,285. There is no sugarcoating this one. It's not a movie mainstream audiences have any interest in seeing in a theater. It will have to be saved by DVD receipts, which is not impossible. Raising Helen found redemption in similar fashion after only earning $37.5 million in theaters. Then again, that's double what The Nanny Diaries looks to do during its theatrical run. Scarlett Johansson should have been a ninja.