Weekend Forecast for August 24-26, 2007
By Reagen Sulewski
August 24, 2007
BoxOfficeProphets.com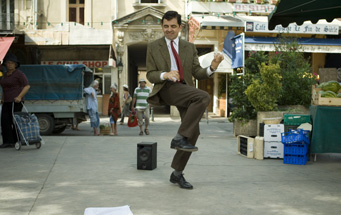 ---
The comfortably cruising summer box office drives off a cliff this weekend, as studios start to dump the films that weren't ready for the prime summer weeks. Get ready for a couple of weeks of suck until the fall prestige films start opening.

Jason Statham has held a unique distinction in the past few years; since 2004, he has had either the number one or number two film at the box office over Labor Day Weekend. As his latest film, War, is being released the week before Labor Day, this streak is unlikely to continue, but this is close enough to count in spirit, if it can keep that streak alive.

That seems like a pretty good bet, as it matches him with kung fu superstar Jet Li, for a more star-studded late-summer action offering than usual. Statham plays an FBI agent hunting for Li, an international assassin who killed his partner. This pursuit puts him smack in the middle of a gang war between the Triads and the Yakuza, with deadly results.

Li and Statham are probably the two biggest names in "pure" action these days, with Li's international reputation and Statham's Transporter series. This is probably a situation where 1+1=1 as far as box office goes, as there will be significant if not total overlap between their fanbases. There also aren't any fantastic money shots in the ads to really sell the match-up between these two B-titans. I predict a bow of $13 million for this fairly generic looking offering.

Following the success of The Devil Wears Prada, it's not surprising to see more "confessional" type movies appearing. The latest is The Nanny Diaries, starring Scarlett Johansson, Chris Evans and Laura Linney. Johansson plays a college student hired to be a live-in nanny for a rich New York City socialite (Linney). In between dealing with her crazy demands and dysfunctional family, she finds love with a "Harvard Hottie" (Evans).

Based on a relatively popular novel, The Nanny Diaries takes a semi-anthropological view of New York society, and a very dim view of those with more money than sense. Unfortunately, if reviews are to be believed, it's a very superficial look, barely rising above the level of a sitcom. Linney is being singled out for praise in her role as Mrs. X, and Johansson and Evans are an attractive couple, but this film appears to be a bit of a whiff. The Weinstein Company bumped this one close to its release date, and their troubles will continue, with The Nanny Diaries coming in with only an $8 million weekend.

The best hope for quality this weekend comes with Resurrecting the Champ, starring Samuel L. Jackson and Josh Hartnett. Hartnett plays a struggling sports reporter who finds the story of his life when stumbles onto a homeless man that calls himself "champ", and claims to be a former heavyweight contender fallen on hard times. As he attempts to tell the boxer's story, he finds it resonating with him personally, shedding new light for him on his broken marriage and his shaky relationship with his son.

Resurrecting the Champ is directed by Rod Lurie, who is responsible for two of the most frustratingly bad films of the last decade, Deterrence, The Contender, and The Last Castle. Reviews for this one are a little kinder, with Jackson receiving significant praise for his role as the booze-soaked former boxer, and Hartnett for his game attempt at a reporter attempting to find his big break. The overall prospects for the film aren't that strong, though, with it premiering on just 1,600 screens and a fairly talky premise that doesn't really play to either of its leads' strengths at the box office. Look for a weekend of just $6 million for Champ.

Once upon a time, there was a sporadically brilliant show that originated out of England called Mr. Bean. The title character, played by the incredibly talented Rowan Atkinson, was a socially inept, mute little fellow who wrecked chaos all around him through his refusal to follow, or plain ignorance of, the polite rules of society. In eight minute sketches, it was wonderfully creative. Then they decided to make a movie out of it. Oy.

Bean was a surprise hit in 1997, grossing $45 million despite being poorly known in the U.S. However, one could wonder how much more it might have grossed if the movie had been any good. The antics of Atkinson's character grew stale over a two-hour movie and frankly got a little embarrassing. The real money in the film was overseas business, surpassing $200 million. With that much money at stake, it seemed inevitable that a sequel would come about, though it took them ten years, probably due to Atkinson's reluctance to return to this character. Mr. Bean's Holiday has had a similar amount of success overseas, grossing nearly $200 million worldwide to date, despite looking like, if I may put it mildly, a bag of crap. Licking clean a laptop and dancing to Shaggy does not high comedy make. I expect that the long period between this film and its predecessor will mean that much of its potential audience on this side of the Atlantic will have moved on, though one never knows. Opening on 1,700 screens, I see about $6 million for its debut weekend.

A couple of smaller films also open this weekend but will make little impact at the box office. September Dawn is based on a controversial event in 1800s Utah where hundreds of settlers were purportedly slaughtered on the direction of the newly established Mormon Church. Starring Jon Voight and Terence Stamp and opening in about 800 venues, September Dawn has been strongly criticized for playing loose with history. Expect no more than $2 million for this opening.

The other new film is Illegal Tender, a revenge drama set in the Puerto Rican neighborhoods of New York City. A young boy and his mother have to flee when the gangsters that killed his father come looking for them, until they decide to turn the tables. Veteran TV actress Wanda de Jesus is receiving some praise for her tough-as-nails portrayal of the mother in the film, but this is mostly just a cheesy exploitation film which is only being released on the name of its producer, John Singleton. Look for about $2 million on just over 500 screens.

Superbad captured the top spot last weekend with $33 million, making instant stars out of its leads, Michael Cera and Jonah Hill. The potty-mouthed teen comedy was the latest win by producer Judd Apatow. It has an excellent chance to show some legs at the box office, with word-of-mouth running exceedingly strong. It had one of the strangest intra-weekend patterns in memory, with the drop from Saturday to Sunday being negligible, and has added almost $20 million to it total during the week, an unusually strong figure relative to its bow. It should easily win the weekend for a second straight time, bringing in about $19 million more.

Rush Hour 3 took a big tumble in its second weekend, falling from $49 million to $21 million. This was mostly to be expected, with it being a sequel, an action film and with the long delay between installments, but with the lower opening for this outing versus the second film, it's going to represent a huge drop off in total box office. Watch for another $9 million in box office this weekend, pushing it over $100 million total, but it shouldn't progress much farther than $125 million.

Its drop almost took it past the film that finished in third last weekend, The Bourne Ultimatum, which had a strong third frame, falling a little less than 40% from its second weekend. It's now sitting around $175 million total, with $200 million plus definitely in the cards for this thriller. It's also got a decent shot at becoming Matt Damon's highest grossing film, with Saving Private Ryan's $216 million becoming the mark to beat. Add another $12 million to its total this weekend.

A number of films further down in the box office charts exhibited some decent legs last weekend as well, among them The Simpsons Movie, Stardust, Hairspray and the latest Harry Potter. These films are left scrambling for the last scraps of summer box office, but most of them are already incredibly successful with just some final bragging rights and milestones to fight over.