Weekend Wrap-Up for August 17-19, 2007
Superbad Keeps Box Office Hot
By John Hamann
August 19, 2007
BoxOfficeProphets.com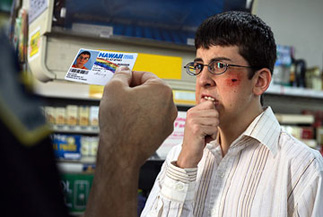 ---
For the second time this summer, a comedy with zero stars, a less than $30 million budget, and an R rating vaulted to the top of the box office. That movie is our big opener Superbad, and its partner in crime is Knocked Up, which has now earned almost $150 million at the domestic box office. There is also a big loser this weekend in The Invasion, the new Nicole Kidman Invasion of the Body Snatchers remake. This one cost $50 million to make and won't $15 million of that back.

The number one film of the weekend is Superbad, and the latest Judd Apatow production hit another home run this weekend at the box office. Superbad pulled in a fantastic $31.2 million over its opening weekend, putting it with top August openers that had huge built-in audiences prior to opening. Superbad debuted at 2,949 venues this weekend, and pulled in a spectacular theatre average of $10,583, not that far off Rush Hour 3's average last week of $12,996 from 3,778 venues. The opening is spectacular for this late in August, as it joins the top ten openers for August all-time. The only film to gross more than Superbad after the second weekend in August is Freddy vs. Jason, which debuted on August 15, 2003, and it had a $36.4 million opening. This Sony release is a totally different animal. Driven by positive word-of-mouth and the growing fanbase of Judd Apatow and Seth Rogen, Superbad comes out of nowhere to be a huge August hit for its studio and Apatow Productions. This will be the second $100 million (or $150 million) hit for Apatow and friends this summer, as Superbad joins Knocked Up as the summertime kings of comedy. Knocked Up opened to $30.7 million only two months ago, and was a top ten stalwart for ten consecutive weekends – all done through a ludicrously busy summer. Next up for Apatow & Co. is Walk Hard: The Dewey Cox Story, which is slated for a late December release date, and stars the always great John C. Reilly.

Prior to the weekend, comparisons were being made between American Pie and Superbad, as both films were rated R and aimed at teenagers. Superbad blissfully blew American Pie out of the water in terms of film quality and opening weekend success. American Pie opened to $18.7 million in July of 1999 (adjusted for inflation, that opening equals about $23 million), well off the total collected by Superbad. The teen romp even overcame the film that made Judd Apatow a name, The 40 Year-Old Virgin. That comedy debuted to $21.4 million two summers ago over the exact same weekend. Notably, Superbad is the fifth-largest R-rated comedy of all-time. Late summer is supposed to be a tough time to release a picture, with families enjoying their last holidays of the summer, people at the beach or preparing for back to school. For these two comedies to open so strongly this late in the season has to give distributors and theater owners hope for the future. Again, moviegoers have proven that if the right product is released at any time, they will still go in droves.

Why did Superbad work so well? Other than the simple answer (McLovin), Superbad worked because it does what it should do best – it made people laugh and entertained. This film has a hilarious trailer and an ad campaign that worked uproariously well throughout its run. It also had fantastic reviews, all the way from Internet bloggers to the Chicago Sun-Times. At RottenTomatoes, 121 critics chimed in, and of those, a stellar 103 reviews were on the good side. That equals a fresh rating of 85%, and when the summer dust has settled, I can only hope that studios realize that it wasn't the three-quels that created such a lucrative summer, it was the amount of quality made films. Superbad is another in a long list of films this summer that have been simply fantastic, and done exceptionally well at the box office.

Rush Hour 3 got smacked around pretty hard by the boys of Superbad, as the carpet has been pulled out from under Jackie Chan and Chris Tucker. After an okay $49.1 million opening last weekend, Rush Hour 3 got slapped, and only earned $21.8 million this weekend. That gives it a big time percentage drop of 57%, as it joins the long list of three-quels this summer that have opened strongly, only to be put down hard in their respective second weekends. After opening to an only okay score, the writing was on the wall for this one. For New Line, it doesn't really matter – the gross so far equals $88.2 million, with foreign totals sure to be either equal or bigger.

It's better news for The Bourne Ultimatum, as Matt Damon's spy film did much better than last weekend's drop of 53%. The third child born of Bourne grossed $19 million, and drops a much better 44% this weekend. The Bourne Ultimatum should reach $200 million, as it will have holding power for many weekends to come. Currently, the super-spy has earned $163.8 million at the domestic box office.

Finishing fourth is The Simpsons Movie. The big opener for Fox earned $6.7 million this weekend, off a much better 40%, as drops for the Simpsons have come in at 66%, 55% and now 40%. After opening to $74 million, The Simpsons Movie has now grossed $165.1 million, which is barely $90 million since its first three days.

Our other new opener, The Invasion, opened in a poor fifth spot due to the fact that it was exactly the opposite of Superbad. The Invasion grossed only $6 million from a telling venue count of only 2,776. The Nicole Kidman effort was plagued with bad worth-of-mouth going into the weekend, and paid for it dearly. Critics hated it, as it received a rotten rating of 20% at RottenTomatoes. Nicole Kidman needs to pick it up a little, as The Invasion joins Bewitched, Birth and The Stepford Wives as forgettable films on her recent resume. Look for this one to disappear quickly.

Finishing sixth is Stardust, the film based on the Neil Gaiman novel. Stardust did nothing spectacular in its second weekend, earning only $5.2 million. It fell 42% compared to its opening weekend, and has now earned a lower-than-expected $19.1 million.

Hairspray comes in seventh and crosses the $100 million plateau with this effort. Hairspray earned $4.3 million and was off 33% from last weekend. Its grand total currently sits at $100.6 million.

Eighth spot goes to Underdog, Disney's live-action take on the once popular cartoon show. Underdog has had a tough go of it at the box office, and its woes continued. Underdog grossed $3.6 million, and was off 44% compared to last weekend. Underdog has now grossed $31.7 million.

Harry Potter and the Order of the Phoenix finishes ninth, as the latest in the Potter franchise begins to close up shop for another summer. Order of the Phoenix finished the weekend with $3.5 million, off 34% from last weekend. Phoenix now has a grand total of $278.6 million, and will finish with about $285 million.

Finally in tenth we have I Now Pronounce You Chuck and Larry. The Adam Sandler comedy earned $3.5 million this weekend, and now has a total of $110.4 million.

Overall, there was again only good news at the box office, even as the summer winds down. The top 12 this weekend took in about $110.5 million, a significant increase from the $91.4 million pulled in by the top 12 films last year, when Snakes on a Plane failed to live up to months of hype. Next weekend could be interesting as well – Mr. Bean's Holiday debuts, along with Jet Li's War, as well as what looks to be a very good Samuel L. Jackson flick in Resurrecting The Champ.