Friday Box Office Analysis
By Tim Briody
August 18, 2007
BoxOfficeProphets.com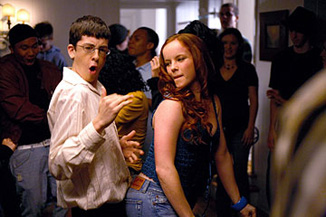 ---
Audiences are definitely showing Superbad some McLovin this weekend.

Superbad

After kicking the marketing machine into high gear the minute Knocked Up was released earlier this summer, Superbad finally opened Friday, earning $12.2 million. While that number might seem like a disappointment after this wild summer, keep in mind that Knocked Up opened with $9.8 million back in June. Also, if you asked 100 people on the street to name any one of the three primary leads, you'd get a lot of blank stares (and at least one response of "McLovin.") Once you get a little bit of perspective back, $12.2 million is a quite strong opening night number as we rapidly head into late August.

Knocked Up's multiplier was 3.13, and sending the Wayback Machine to 1999, American Pie had a 2.82. That's where I feel Superbad is going to end up this weekend. Somewhat similar to what happened eight years ago (really? Yikes.) A hot trailer (American Pie also had a red band trailer) and months of hype and screenings have created such solid advance buzz that it's going to be slightly frontloaded, just enough that Saturday probably won't top Friday's figure. It's going to remain a strong contender over the remainder of the month, after it wins this weekend quite easily with a very solid $34.1 million.

The Invasion

The troubled Invasion of the Body Snatchers update could only muster $2 million on Friday. I can't even find the words to sugarcoat this, it's pretty damn awful considering the names involved. Call it $6 million if it's lucky and hope that we never have to talk about it again.

Notable Holdovers

The final three-quel of the summer, Rush Hour 3, suffers a horrible drop in the second weekend, down 66% to $6.3 million. It was fairly evident that it wasn't going to match Rush Hour 2's performance after last weekend, now Rush Hour's $141 million already seems out of reach. Rush Hour 2 declined 50% in its second weekend so this is a large step up when it comes to drops. It's going to have to fight to get the weekend drop under 60%. Figure a second weekend total of around $20 million.