Friday Box Office Analysis
By David Mumpower
August 11, 2007
BoxOfficeProphets.com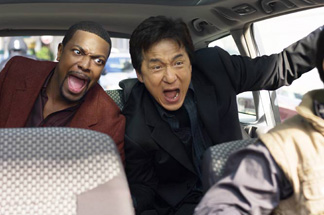 ---
The Rush Hour franchise returned to theaters after a prolonged absence of six years (and seven days). Ordinarily, out of sight and out of mind go hand in hand for movie goers. This was not the case with Chris Tucker and Jackie Chan. North American audiences warmly welcomed them back into the fold to the tune of $19.1 million, a rock solid opening day performance.

Some of you might have gotten so spoiled by the constant onslaught of mega-openers that this total seems lacking to a degree. This is particularly true if we compare the $19.1 million of Rush Hour 3 to $22.6 million debut of Rush Hour 2, a total that inflation adjusts to $27.2 million. If we use that last number as a guideline, Rush Hour 2 sold approximately 3.53 million tickets while Rush Hour 3 managed "only" 2.81 million. This means almost three quarters of a million fans didn't come back for the third outing yesterday.

If you want to be a doomsayer and focus on the negative, the empirical data does allow for this. Personally, I find it remarkable that a title could disappear from the public consciousness for so long yet return with what looks to be a $50 million opening. An internal multiplier of 2.65 would give Rush Hour 3 $50.6 million, making the Rush Hour franchise one of only 12 to have multiple $50+ million openings. In case you are wondering, the others are: Star Wars, Spider-Man, Shrek, Bourne, Pirates of the Caribbean, Fellowship of the Ring, X-Men, Men in Black, Harry Potter, Austin Powers and Jurassic Park. That's not bad company to keep.

Even if Rush Hour 3 does fall short of that plateau, winding up the $45-$49 million range, that's still exclusive company. The only other titles with multiple openings of $45+ million are The Matrix, Ice Age, Batman and Mission: Impossible. So, now add them to the list. The Rush Hour franchise would still be in an exclusive sweet 16 of multiple major box office openings, a group so exclusive even James Bond isn't currently on the list. Try to keep this mind while you're railing against its not opening as well as its direct predecessor.

The other Friday opener this weekend is a title I identified yesterday as a personal favorite, Neil Gaiman's Stardust. At the risk of breaking Gaiman's (and probably Tori Amos') heart, I must sadly report that Stardust is exactly the box office disappointment many were projecting it to be. The movie with the hefty $65 million budget earned just under $3.1 million yesterday, meaning that it's going to be a box office non-factor. What is wrong with you people??? Never mind. It's my problem and I'll deal with it. Anyway, Stardust is a tricky title to calculate in terms of opening weekend holdover. It skews young in some ways as it is a family friendly fantasy adventure in the mold of The Princess Bride as told by two time Academy Award-winning writer William Goldman (whom I would like to wish an early happy birthday as he turns 76 tomorrow).

Counterbalancing the family friendly appeal is the fact that Neil Gaiman is a wildly popular writer with Stardust being one of his beloved books. As the sickening as the thought is, $3.1 million might represent a fanboy-inflated opening day number. So, I'm going to hedge my bets and give it a 2.75 multiplier, meaning Stardust should be good for only $8.5 million this weekend, which makes me hate all of you a little bit. If you love me, you'll go see it today or tomorrow. And if you don't love me, why are you reading this?

We also have what is technically a third new opener this weekend. The title in question, Daddy Day Camp, actually made its debut on Wednesday. As I pointed out in the daily numbers analysis for that day, it was an instant dud, losing to even Hot Rod. In the 48 hours since then, nothing much has changed. Daddy Day Camp fell from its ninth place debut of $773,706 on Wednesday to a tenth place finish of $710,901 on Thursday. It gets the expected moderate bump on Friday, grossing roughly $1.25 million, which puts it in tenth place yet again. The most accurate evaluation I may offer of the appeal of the movie is this. Our local newspaper's movie listings include the screening time of Daddy Day Camp followed by these words in bold letters and a larger font: "FEATURING THE CHUBBCHUBBS SAVE XMAS!" Yes, folks, the appeal of Daddy Day Camp is so low that the local marketing department (which is the home office of Regal, by the way) has decided that they can sell it better using a five minute short than they can with a feature length movie. I can't help but believe Cuba Gooding Jr. would have been happier if he had been run over by the bus the morning after he won his Academy Award. It would have saved so much pain and humiliation.

The big holdover from last weekend is, of course, The Bourne Ultimatum. After debuting with a sizzling $24,668,225 last Friday, it fell an expected 57.5% to $10.5 million yesterday. I had projected a weekend total of $31.9 million in yesterday's daily numbers analysis, but it has a pretty good chance to beat that. The lone caveat is that Friday numbers are always inexact until Monday afternoon after the studio has tampered with...err, finalized the totals. If we assume the $10.5 million number is correct, however (and the entire basis of this column breaks down if we don't), The Bourne Ultimatum is looking at a weekend total of $33.6 million. Under any circumstance, it has crossed the $100 million barrier after eight days as expected. It currently has a running total of $109.1 million, meaning it will have passed The Bourne Identity's total domestic gross by this time tomorrow. Most impressive.

The other "big" opener last weekend was Underdog. After earning $4.1 million last Friday, the Jason Lee Cashes a Check movie from Disney fell 46.1% to $2.2 million yesterday. It has a running total of $20.5 million and I genuinely fear it will outperform Stardust in terms of opening weekend, ten-day total and final domestic take. I need a drink.