Weekend Forecast for August 10-12, 2007
By Reagen Sulewski
August 10, 2007
BoxOfficeProphets.com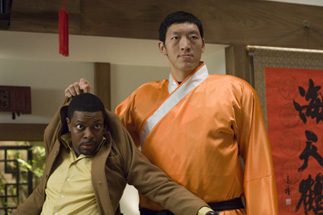 ---
A red hot summer box office fed by trilogies has yet another third film of a series ready to lead the way in earnings this weekend. An already impressive box office gets even stronger.

Chris Tucker ends his self-imposed exile from the big screen to team up once again with Jackie Chan for Rush Hour 3. The Brett Ratner-directed series, responsible for finally putting Chan over for good in the United States, is the sole entry on Tucker's CV in the past nine years. Obviously Tucker has a fantastic money manager, although the $20 million he got for Rush Hour 2 would give anyone a great start.

This blend of action and comedy has proven incredibly popular beyond most expectations, with the first film setting a record for September opening weekends in 1998 and the second setting the August mark in 2001 (broken only last weekend). Rush Hour 3 sees Chan and Tucker visiting Paris, where their character's international reputations accidentally draw them into a Chinese Triad gang war. I hate it when that happens.

The biggest question for this film's prospects is just how much Tucker's extended layoff has hurt the franchise. The partnership between Tucker and Chan is clearly the lynchpin for the series, as Chan's non-Rush Hour films in English have been hit-or-miss affairs, certainly nothing that compares to the $67 million of Rush Hour 2. There's also a small question of whether Chan's 54-year-old body can hold up to the required fight scenes. Finally, and almost incidentally, there's the film itself, which seems almost a bit quaint as a buddy-film setup. Reviews are pretty poor, although there are a couple of great laugh lines in the ads. I don't expect this one to mimic the steady growth of last week's three-quel, the Bourne Ultimatum, though the slide back should be minor. Look for an opening weekend of $62 million and an easy win for the weekend.

One of the dividends of the enormous success of the Lord of the Rings series has been the increased willingness of studios to greenlight fantasy films. One of those opens this weekend, Stardust, based on the Neil Gaiman-written/Charles Vess-illustrated novel.

In the film, a young man named Tristan (relative unknown Charlie Cox) attempts to impress his object of desire (Sienna Miller) by tracking down a falling star. However, on the way to retrieve it, he passes into a magical land and discovers that the "star" is in fact, a magical woman (Claire Danes), who is pursued by all and sundry for her magical powers. Her pursuers include a septet of princes and a witch (Michelle Pfeiffer) who wants the star in order to help her become young again. The two will have to fight their way to safety under the protection of a pirate (Robert DeNiro) while Tristan finds that his true love may not be who he thought it was.

Stardust occupies the same general area of romantic-action-fantasy as The Princess Bride, and it's obvious that it wants to be that film so bad it can taste it. The finished product, however, doesn't appear quite up to that mark. Early reviews were harsh on it, although that has improved as the film gets closer to release. There's something just a bit off about the film that is difficult to put a finger on, like that it just doesn't have that magic touch. The story is one of Gaiman's best, and he has a small but dedicated following, but this feels like a film that will be slow to catch on with the general public, if at all. I foresee an $11 million weekend for its start.

Daddy Day Camp opened on Wednesday, and it may be enough to kill a recent trend in Hollywood these days, the spin-off movie. Branching off from Eddie Murphy's success in Daddy Day Care, Day Camp inserts Cuba Gooding, Jr. as the lead, as a father who takes the father-run daycare idea of Murphy's film and takes it into the wilderness.

The fact that Cuba Gooding, Jr. has an Oscar grows more and more surreal as the years role on, let alone that studios are still desperate enough to cast him in lead roles. The opening day of just $773,000 cratered so badly, China complained. If there's such a thing as "angry indifference", Daddy Day Camp has found it in its reception. A charitable read gives it about $3.5 million on the weekend.

Amazingly, this is not the most abandoned new film of the weekend. That infamous title goes to the surprisingly-not-porn Skinwalkers, a werewolf-themed action-horror film that's been moved around on the calendar more than Chanukah. Superficially resembling Underworld and The Covenant, Skinwalkers stars a few people you might recognize, but basically no one you know. Opening in just 737 screens and without being reviewed for critics, it's a film its studio, After Dark Films, apparently is trying to keep a secret. Expect a sub-$2 million opening weekend.

Expanding into moderate release is Becoming Jane, a fictionalized story of a young Jane Austen and her early romance. Anne Hathaway stars as Jane, with James McAvoy (recently of The Last King of Scotland), as the rakish Thomas Lefroy, who would be the model for Mr. Darcy. Becoming Jane takes a bit of a cue from Shakespeare in Love in blending legend and truth to capture an era, though it's received only mediocre reviews. Expanding to approximately 600 theaters after opening in 100, it should have a weekend of around $3 million.

The Bourne Ultimatum set the August opening weekend record with just a hair short of $70 million, a strong improvement on the opening weekend of The Bourne Supremacy, and cementing Jason Bourne as the top cinematic spy of the moment. Easily one of the best action films in recent years and potentially one of the best of this year on its own merits, Ultimatum has a strong shot at some legs. For a sequel action film, this concept has to be adjusted for expectations, so a second weekend of $40 million would be quite a strong showing.

The Simpsons Movie proved to be one of the more front-loaded films of the year, to no real surprise. Shedding a full two-thirds of its opening weekend to fall to second place, it has still earned over $140 million. I don't expect it to drop that much again this weekend, as the drop was due to fanboy enthusiasm and not quality, though it's not going to become leggy by any means. Give it $11 million this weekend, which will push it over the $150 million milestone.

Underdog maintains the family film crown by default with Daddy Day Camp's utter failure to track, and it has a decent shot at keeping a lot of the eight-year-old crowd. A decent midweek showing points to a weekend figure of around $7 million for its second weekend.

Elsewhere in the box office, we have I Now Pronounce You Chuck and Larry ready to pass the $100 million plateau, and Transformers due to become the historic fourth $300 million film of the year. Seems like you can't throw a rock without hitting a milestone in this record-breaking summer.