Daily Box Office Analysis for August 7, 2007
By David Mumpower
August 8, 2007
BoxOfficeProphets.com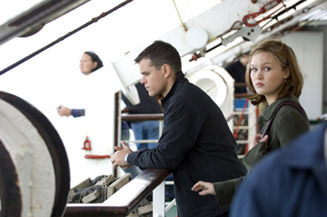 ---
The story remains The Bourne Ultimatum as we examine top ten box office for Tuesday, August 7, 2007. The news is not particularly good, though. After starting out with a respectable $9.132 million on Monday, Matt Damon's latest offering falls 18.2% to $7,466,400 yesterday. If we have learned nothing else over the past ten weeks of daily box office discussion (and we probably haven't...other than that the gorno movie phase is so 2005), it is that films should not plummet that much from Monday to Tuesday.

If you need proof of this, let's go back to our lovely comparisons models once more. They are our friends. Our first friend is not Chandler or Monica and the television ratings show it sure as hell ain't Joey. No, it's Transformers, the July 4th week release that helped power July of 2007 into being the largest box office month ever recorded...by $145 million. That's 12.5% better than we have ever seen before, folks. Digressing for a moment, we had previously seen the second largest May and the fourth largest June ever, meaning that the summer of 2007 is every bit as good as had been predicted at the start of the year. Three of the top 18 monthly box office totals ever have happened since May 1st. Like I said at the end of yesterday's column, it's a good time to be in the movie business.

Circling back to the point, Transformers as well as the other huge July release, Harry Potter and the Order of the Phoenix, showed fine legs relative to their $70 million opening weekends. They are excellent gauging tools for what a title should earn on weekdays in order to wind up with fantastic final box office totals. Meanwhile, The Simpsons Movie works in reverse of them, proving itself to be the perfect model for front-loaded titles. I have been promising BOP's Michael Bentley that I will do a calculation of its final box office for a bit now, and I will try to work that into a column later on this week. Suffice it to say that for a $74 million opener, it's not going to be pretty. The Bourne Ultimatum wants to avoid that fate, although we are honestly splitting hairs in arguing that any $70 million opener's success is in question. All four of the titles in question are box office juggernauts.

Having acknowledged all of that, here is today's important data. Transformers fell from $9,927,640 on its first Monday to $8,253,776 on its second Tuesday (remember that it officially debuted on a Tuesday). This is a decline of 16.9%, a pretty stiff fall early in its release pattern, particularly given how well the title has held up since then. Transformers is still in the top ten on this, its 36th day of release, with $828,059, good enough for ninth place yesterday.

Harry Potter and the Order of the Phoenix outperformed Transformers in terms of Monday-Tuesday decline. The latest J.K. Rowling adaptation fell from $10,415,480 on its first Monday to $9,169,473 on its first Tuesday, a drop of only 12.0%. Given how well it held up at the start, I am rather disappointed in how Potter's latest adventure has played out from there. Yesterday's $1,424,156 gives it a running total of $264,078,779.

This total means it has passed two Harry Potter titles in terms of domestic receipts. Harry Potter and the Prisoner of Azkaban, the other summer release for the franchise, earned "only" $249.4 million domestically, making it the A Bug's Life of the bunch. Meanwhile, Harry Potter and the Chamber of Secrets earned $261.0 million domestically, making it the Ratatouille of the group. But Harry Potter and the Order of the Phoenix still needs another $26 million to match the most recent previous title in the series, Harry Potter and the Goblet of Fire. Given that I expect it to be around $271.5 million after this weekend, I find that type of box office from this moment on quite unlikely.

Going back to comparisons for The Bourne Ultimatum (I'm all over the place today, aren't I?), The Simpsons Movie is the other remaining comparison model. The title I have already identified as front-loaded started showing chinks in its armor at this time last week. A solid $9,277,515 on its first Monday was followed by a disappointing $7,501,425 on its first Tuesday. If you scroll up and look at the actual dollars of The Bourne Ultimatum yesterday, you have already formed a conclusion about where this is going. The Simpsons Movie's Monday-Tuesday drop of 19.1% also looks somewhat familiar. The Bourne Ultimatum has thrown under it in terms of actual revenue and the percentage declines (18.2% vs. 19.1%) match up pretty well. Then again, the optimist's argument would be that 18.2% is not that much beyond Transformers' 16.9%, so any conclusions drawn today would be decided based on exactly how full your glass is at the moment.

With running box office of $85,881,790, The Bourne Ultimatum is unquestionably a huge hit for Universal. I do not want anyone to lose sight of this fact. The title has a chance to break the $100 million barrier after seven days and will do so in eight at the most. Any title that does that while having a budget of $130 million is doing pretty well in this day and age. What we are discussing right now is not the ultimate success of the latest Bourne title. Instead, we are determining degree of success with the early week data thus far indicating that it's not going to max out quite as high as looked possible once Sunday's estimates came in. Ever since then, its numbers have petered out a bit.

Overall box office for the top ten yesterday was $20,849,670. This was a drop of 12.4% from Monday but an increase of 3.0% from last Tuesday's $20,237,109. This is the third largest Tuesday of the summer behind the $22,069,618 on July 17th and the holiday/Transformers-inflated $49.27 million on July 3rd. So, third out of 14 summer Tuesdays is pretty good.