Weekend Wrap-Up
Ultimate Bourne Sends Simpsons Packing
ByJohn Hamann
August 5, 2007
BoxOfficeProphets.com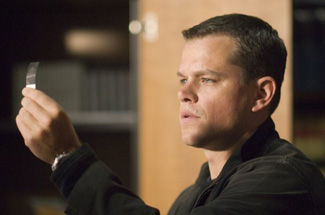 ---
Another wild weekend at the box office has come and gone, as we have another third in a franchise film dominating the overall box office. This weekend's three-quel, The Bourne Ultimatum, got off to an excellent start, leading the box office to another big win over last year. Last weekend's champ, The Simpsons Movie, got dealt a death blow, as did newcomers Bratz and Hot Rod. However, thanks to Jason Bourne, this is a time to celebrate if you are a theater owner.

The number one film of the weekend is The Bourne Ultimatum, as Matt Damon scores another huge win as super spy Jason Bourne. The Universal flick grossed an awesome $70.2 million over its first three days, a figure earned from 3,660 venues. It had a theater average of $19,175.

The Bourne franchise has steadily seen its fortunes increase over its respective opening weekends. The first film, The Bourne Identity, opened to $27.1 million in June of 2002, and never saw the number one position at the box office throughout its run. During its opening weekend, it faced off against the first Scooby-Doo movie, and was trounced badly as Scoob and the gang earned over $54 million that frame. The Bourne Identity finished with about $121.5 million domestically, against a production budget of about $60 million. The second film, The Bourne Supremacy, opened to $52.5 million in late July of 2004, and went on to earn about $176 million (and another $100 million from foreign shores), against a production budget of $80 million. For The Bourne Supremacy, the stakes were even higher with a budget of about $125 million, but as a growing franchise with the same director and stars aboard, Universal would have to be crazy not to get this moving forward. The result is bliss for the studio, as the opening weekend is excellent for the first weekend in August, as it beats Rush Hour 2 ($67.4 million) for the biggest August opening ever.

What may be even better news for Universal is the passionate welcome that critics are giving The Bourne Ultimatum and its director Paul Greengrass. This Bourne was super-fresh, with a sizzling 120 positive reviews out of a possible 128. That's an astounding 94% fresh, and joins what seems to be an endless list of well-reviewed summer films, something so unusual that I feel like I'm living an episode of the Twilight Zone. The Bourne films have reviewed well, but not this well. The Bourne Identity, from Go director Doug Liman, earned a fresh rating of 83%, but at that point director Paul Greengrass took over the franchise, adding his frenetic style to a similarly frenetic main character. The Bourne Supremacy earned a fresh rating of 82%, but set up the franchise for a home run with the third film. Paul Greengrass is quickly becoming a director to watch, as his United 93 was fantastic, as was Bloody Sunday, a docudrama from 2002 that earned a 92% fresh rating at RottenTomatoes.

For Universal, The Bourne Supremacy will take some of the pain away that Evan Almighty ($200 million budget, $97 million gross) caused the studio. The Bourne success joins Knocked Up in Universal's successful summer, as that film cost the studio about $30 million and has raked in almost $150 million domestically. Universal's other release, I Now Pronounce You Chuck and Larry, is also heading for $100 million. The other winner here is of course Matt Damon, who has already had a $100 million plus film this summer in Ocean's Thirteen (earning about $115 million domestic). Next up for Damon is a non-lead role in Margaret, from You Can Count On Me's Kenneth Lonergan.

Finishing second is The Simpsons Movie; however, the party from last weekend is completely over. The Simpsons took in a small $25.6 million, yards away from its very impressive debut of $74.1 million. The drop this weekend is a staggering 65%, and shows just how front-loaded The Simpsons Movie is. The killer drop signals something more than sequel-itis. The Simpsons Movie has reached fad status where a movie is flavor of the week, and then pretty much abandoned by everyone. This is somewhat of a surprise to me, as reviews were so good I anticipated follow-up viewings by the hardcore Simpsons fanatics, not to mention the generally positive word-of-mouth that a 89% fresh film brings. Don't get me wrong – this is far from any kind of disaster (the film crossed the $100 million mark on Thursday, its seventh day of release), but it does mean that The Simpsons Movie is unlikely to even reach $200 million. There is also probably more bad news in the weeks ahead instead of good news. Fox shouldn't care. This one cost $65 million to make, and now sits with $128.5 million in domestic receipts (and foreign grosses are almost equal).

Finishing third is Underdog, Disney's take on the cartoon dog from yesteryear. Underdog didn't blow anything out, but did finish the weekend with a respectable take of $12 million, earned from 3,013 venues. It had a so-so venue average of $3,986. While no Scooby-Doo, Underdog does approach the success of George of the Jungle ($16.5 million opening) and blows out films like Mr. Magoo ($5.2 million opening) and Dudley Do-Right ($3 million opening). As expected, critics hated it, but let's face facts: critics are not eight-years-old. No budget data is available, but with no big salaries and inexpensive special effects it will most likely be a push for the studio.

Landing in fourth is I Now Pronounce You Chuck and Larry, the latest Adam Sandler flick. Chuck and Larry sees another sharp drop, as the laugher grossed $10.5 million, and fell 45%. This Universal effort has almost reached the $100 million mark, as its total sits at $91.7 million.

Fifth place goes to Hairspray, as the summer musical continues to fade from its brilliant opening of $27.5 million a few weekends ago. In its third frame, Hairspray grossed $9.3 million and fell a better 41%. The John Waters tribute should make it to $100 million, but won't go too far past that. Currently, the New Line film has earned $79 million.

Harry Potter and the Order of the Phoenix drops to sixth, down from third spot last weekend. The latest Potter flick earned $9.3 million, and was off 48% from its previous frame. The Order of the Phoenix has now earned $260.8 million domestically, and looks to finish just short of the last installment, Harry Potter and the Goblet of Fire, which finished with about $291 million domestically.

That puts the Catherine Zeta-Jones film No Reservations down to seventh, after opening to about $11 million last weekend. No Reservations earned $6.6 million in its follow-up weekend, off an okay 44% from last weekend. Look for this one to finish quietly with about $35 million. Currently, it sits with about $24.2 million in the domestic kitty.

The Transformers continues its run for $300 million as it finishes in eighth. The Hasbro/Paramount franchise earned $6 million, but suffers the biggest drop of its run with a plunge of 49%. The weekend gross now puts The Transformers total at $296.3 million, and it will most likely cross the $300 million plateau by next weekend.

Ninth and tenth are newcomers, but both bark more than Underdog. Our first mutt is Hot Rod, a film I once thought looked cute, until Paramount decided to over-advertise. Hot Rod, with its apparent one-joke premise, earned $5 million from 2,607 venues. It had a 38% fresh rating, and should be gone by the time next weekend rolls around. Tenth spot goes to the even worse Bratz, a line of toys I would certainly deny my kids (if I had any) and would only give to my dogs to chew on. Bratz earned a brutal $4.3 million this weekend from a telling 1,509 venues. Bratz has a fresh rating of only 9%, and in my opinion, should not be viewed by anyone.

Overall, things were up again when comparing this year's top 12 to last year's. With The Bourne Ultimatum at number one, the top 12 rang up $166.1 million in weekend business, which is the best August weekend since 2001, when Rush Hour 2 debuted. Last year, with Talladega Nights on top, the top 12 earned about $122 million. Next weekend will be huge again, as Rush Hour 3 gets started, and Stardust, the adaptation of a Neil Gaiman book, opens wide.