August 2007 Forecast
By Michael Bentley
August 3, 2007
BoxOfficeProphets.com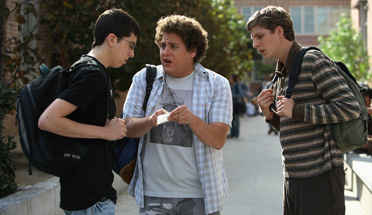 ---
After an explosive first three months of Summer 2007, with numerous record-setting feats, it will strange to go back to a relatively normal month of movies. Barring a miracle, there will be no $100 million openers and no final numbers above $300 million. But there are still several movies likely to attract significant interest from audiences, including the third entries in the Jason Bourne and Rush Hour franchises, the remake of a classic horror film, and several comedies.

1) The Bourne Ultimatum

For many folks the most anticipated movie of the summer wasn't one of the uber-blockbusters like Spider-Man 3, Pirates of the Caribbean: At World's End, or Transformers. It was The Bourne Ultimatum, the third in the successful action series about superspy Jason Bourne after The Bourne Identity and The Bourne Supremacy. While Identity was a pretty good success for Universal, it wasn't until the second entry in the franchise that Bourne arguably eclipsed the legendary James Bond as cinema's top spy. The Bourne Supremacy debuted to more than $52 million on its way to a very robust $176 million. Figure on Ultimatum to exceed that by a small amount, and a fury of calls to star Matt Damon's agent as the studio works out a deal for a fourth film.

Opening weekend prediction: $59 million.

2) Rush Hour 3

The prototypical modern-day buddy action-comedy is Rush Hour, starring Jackie Chan and Chris Tucker. Nine years ago the first Rush Hour was a bit of a surprise success, as it grossed $33 million domestic in its opening weekend and a final tally of some $141 million. The sequel, Rush Hour 2, was even bigger. The behemoth scored a mind-boggling $67 million on its way to $226 million. For various reasons a followup did not happen right away, but six years later, here we are. However, it has been a relatively long time since part two, and unlike certain other franchises, I'm not totally sure that Chan and Tucker can maintain that high-level of super-success that they have achieved. Still, it'll be hard to bet against them. In fact, Tucker is so sure of the bet that he literally hasn't worked in the six years since the last one.

Opening weekend: $49 million.

3) Superbad

I've heard several people loosely tossing around American Pie comparisons with Superbad. Since American Pie crashed onto the scene in 1999 (has it really been almost a decade??), a number of movies have tried to emulate it, but none have succeeded. Co-written by Seth Rogen, fresh off scoring a huge hit with Knocked Up, Superbad certainly has some cred behind it. And with a smart marketing campaign, which has included the use of an online-only "red band" R-rated trailer, a lot of people are buzzing about this. Heck, when "McLovin" becomes part of the cultural lexicon before the movie even opens, you know something big is a-coming.

Opening weekend: $35 million.

4) The Invasion

Nicole Kidman and Daniel Craig star in this remake of Invasion of the Body Snatchers - which has already been remade before, most notably in the 1978 version starring Donald Sutherland. The story is about a psychiatrist (Kidman) who learns that a mysterious epidemic is alien-related. One thing that has me intrigued by this movie is that it is directed by Oliver Hirschbiegel . No doubt most moviegoers are unfamiliar with that name, but he directed Downfall, the brilliant and complex story of Adolph Hitler's final days.

While Craig is still relatively new to the big-budget movie game, besides Spielberg's Munich and Casino Royale of course, Kidman has been in her fair share of notable movies. She has had mixed success as a lead, but perhaps the strongest comparison with The Invasion is The Interpreter. In that adult thriller she co-starred with Sean Penn and the film made nearly $23 million in its opening frame. I expect similar results for The Invasion, as it should be a good adult drama to close out the summer season.

Opening weekend: $21 million.

5) Underdog

Success has apparently gotten to Jason Lee's head. Since his television show My Name is Earl has become a hit, he has proceeded to take roles in two films with audiences that are obviously quite different from that of Earl. Later this year he will be the human amongst a trio of singing CGI chipmunks in Alvin and the Chipmunks, and this month he is the voice of a superhero dog in Underdog. Is it just a coincidence? I don't know, but Lee is certainly a very capable and likeable screen presence so I sure wouldn't mind seeing him take on more adult fare. But for now we can't do anything about that, so we'll just concentrate on the task at hand.

When you first read the plot of Underdog, you'll be tempted to snicker and laugh and - if you have kids - hope that they don't want to see it. The premise is so silly: a lab accident (a la Spider-Man) gives a regular old hound dog some very strong superpowers. But I'll be damned if this doesn't look at least a little bit fun. And you can bet that means a number of kids will think that as well. But how well? One notable comparison is Inspector Gadget. Nearly nine years ago, that over-the-top children's flick managed nearly $22 million its first weekend. The competition seems a little stronger right now, but don't be surprised if this matches that total. And be prepared to see this on the DVD sales charts for quite some time, later this year.

Opening weekend: $18 million.

6) Halloween

Another Halloween movie?!? You betcha. This time, it is not actually an official sequel to the long-running horror series, but actually a remake of the original from director Rob Zombie. After such a glut of horror movies over the past couple years, the wide-release horror movie is no longer a guarantee for a $20 million opening. But with almost 30 years of fans of the original, certainly many of them will be tempted to see this, if only out of curiosity. That said, it's more than a little ominous that this isn't being released in the more logical time frame of October.

Opening weekend: $18 million.

7) The Nanny Diaries

Scarlett Johansson stars in The Nanny Diaries, a romantic comedy about a young woman who takes a nanny job for a wealthy Manhattan family. She must figure out how to balance the demands of watching the spoiled kid, dealing with the annoying and demanding family, as well as her outside life which includes a budding relationship (played by Chris Evans of Fantastic Four). The cast is rounded out by the talents of Laura Linney and Paul Giamatti as the parents. Should make for a nice getaway for couples looking for a good date movie, though with its PG-13 rating, it might not be the best family outing that some might expect.

Opening weekend: $15 million.

8) Stardust

From director Matthew Vaughn (Layer Cake), Stardust is a fantasy adventure where a man (Charlie Cox) makes a promise to his love interest (Sienna Miller) that he will retrieve a fallen star for her. This promise takes him on a magical and fantastic journey. Others stars in the cast include legend Robert De Niro, Claire Danes, and Michelle Pfeiffer. But most important is that critically-acclaimed writer Neil Gaiman wrote the novel which the movie is adapted from. Gaiman, of course, has written such works as The Sandman comic book series and several novels including Stardust and American Gods. The problem is, I don't expect many people outside of the world of nerds and geeks (and I say that in a good way) to have heard of Stardust. Expect a modest opening, but from there a lot of things will depend on how good the movie actually is and how strong the reviews and word-of-mouth are.

Opening weekend: $11 million.

9) Balls of Fury

Balls of Fury seems like it was intended to be a Will Ferrell (or possibly Ben Stiller) movie. It's an even-poorer man's Talladega Nights (or Dodgeball). Dan Fogler (School of Scoundrels) stars as a star in the glorious sport of ping-pong. He gets recruited by an FBI agent (George Lopez) and crazy Christopher Walken is ...blah blah... I doubt the plot matters all that much. You just need to know that "It's a huge comedy with tiny balls!"

Opening weekend: $11 million.

10) Hot Rod

As a married, almost 30-something, I realize I'm probably not in the target audience for Hot Rod but I have to say: this just plain looks stupid. And I don't mean stupidly hilarious. Some fans of Jackass will no doubt want to see this, and probably a few of the people who know who Andy Samberg is - enough to make it a small profit after all is said and done.

Opening weekend: $7 million.

11) Bratz

Starring in this month's edition of The End of the World is Upon Us is Bratz. Yes, Bratz. A movie based on the popular girl's toys. The "story" is about a quartet of girls/dolls who are really into fashion. Hooray!

Opening weekend: $6 million.

Just Under the Radar

El Cantante

Starring Jennifer Lopez and Marc Anthony this is based on a true story about a singer who was one of the forefathers of salsa music and helped bring it to the United States.

Resurrecting the Champ

In this drama from Rod Lurie (The Contender), Josh Hartnett is a young sports reporter who discovers that a motherf*cking homeless man (Samuel L. Jackson) is actually a former boxing champ who was believed to have passed away.

2 Days in Paris

No, this isn't about Paris Hilton. Julie Delpy (Before Sunrise; Before Sunset) write, directs and stars in this story about a French woman and her American friend (Adam Goldberg) who try to jump-start their relationship with a trip to Paris.

* Please note that all opening weekend estimates are preliminary and do not account for final screen counts.