Daily Box Office Analysis for July 31, 2007
August 1, 2007
BoxOfficeProphets.com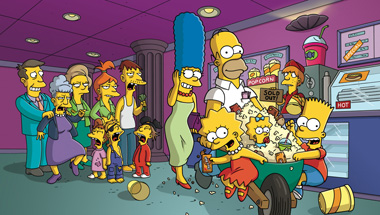 ---
In yesterday's discussion, we jumped through all kinds of hoops in order to demonstrate that The Simpsons Movie's first Monday was better than a cursory evaluation might indicate. Sure, the actual dollars were not what they should be for a $70 million opener, but there were all sorts of elaborate calculations utilized in order to show it was a solid first weekday. Today, that's all out the window.

The Simpsons Movie is the number one film in America for the fifth straight day. Its Tuesday box office of $7,501,425, however, is not a good sign. This total represents depreciation of 19.1% from Monday, an alarming number. This is easily the largest drop within the top ten with the second largest one being "only" 13.9%. That honor goes to Lindsay Lohan (natch) with I Know Who Killed Me. So, The Simpsons Movie's decline is even worse than a Lohan movie. That's not good.

Since I am always preaching the avoidance of alarmist box office analysis, let's back this up with some facts. We used two comparison models yesterday, conveniently enough two other summer 2007 titles that opened north of $70 million. The movies in question are Transformers and Harry Potter and the Order of the Phoenix. Yesterday's discussion focused upon the fact that their best days came well before the weekend, meaning that each title was already displaying ordinary box office behavior by the time its opening weekend began. The Simpsons Movie did not have this advantage; its $30 million debut came on a Friday. This created some difficulty in evaluating weekend-to-Monday holdover, so we evaluated how The Simpsons Movie did in terms of Sunday-to-Monday decline as well as percentage of Saturday/Sunday box office earned on Monday. In those two categories, it was the best performer.

Unfortunately, the bloom is off the rose with today's comparison. Transformers fell from $9,927,640 on its first Monday to $8,253,776 on its first Tuesday. Ignoring the gap in actual dollars between Transformers and The Simpsons Movie, there is still a problem. Transformers had a decline of 16.9%, quite a bit better than what Team Homer managed. Similarly, Harry Potter and the Order of the Phoenix fell from $10,415,480 on its first Monday to $9,169,473 on its first Tuesday. This is a drop of only 12.0%, much better than The Simpsons Movie. Summing up, The Simpsons Movie showed some great signs of holdover on Monday, but it came back down to Earth in a hurry on Tuesday. It may yet prove to be heavily front-loaded. This is a disturbing turn of events.

The other three new releases last weekend are so deadly dull as to almost merit no further discussion. We have already incidentally mentioned I Know Who Killed Me's drop from Monday to Tuesday. The piddling $402,693 yesterday gives it a whopping $4,376,630 after five days. The upshot of this from my perspective is that we have now added new lexicon to the Movie Lovers' Dictionary. Any time the erratic behavior of a diva impacts a project's box office potential, we can say it's been Lohan'd. It's not quite as fun as Cruise Control or The Gigli Effect, but Ye Old Firecrotch's projects aren't quite as high profile as those others. Also, this is further reinforcement of my theory that if Mean Girls were filmed today, Rachel McAdams and Lohan would switch roles.

The moderately more interesting box office story (in the same way that fuzz is more interesting than lint) is No Reservations. The Catherine Zeta-Jones "romantic comedy" earned $1,533,476 on Tuesday, an increase of 4.7% from Monday's $1,463,982. Sure, she isn't going to be able to buy a new Scottish castle with that kind of money, but there are only three films in the top ten that saw an increase on Tuesday. Being one of them isn't bad for a project so utterly devoid of imagination.

The other new opener is Who's Your Caddy. It's had a death grip on that number ten spot since it's been in theaters, which is no small feat of consistently marginal competence. Another $241,048 would buy 601 rounds of golf at Augusta National for a party of four, though the cast of this movie isn't generally encouraged to golf at such prestigious clubs for...let's say political reasons. The movie is down 10.7% from Monday's total of $270,003. A running total of $3,267,712 is barely worth typing. Just skip this one and rent Idlewild, folks. At least Big Boi was trying in that film.

The other box office behavior I promised you last week that we would track today is the 21st day of box office for Harry Potter and the Order of the Phoenix. As you will recall, we had previously compared it to Transformers in terms of seventh day receipts. At that point, I stated that Order of the Phoenix needed to be in the neighborhood of Transformers after three weeks if it wanted to have a realistic chance of winning the box office war between them. The results are in now. Transformers, which still sat in sixth place yesterday with $1,410,761, was at $265,802,674 after 21 days. Harry Potter and the Order Phoenix earned $2,313,995 yesterday, giving it a grand total of $247,191,583. Stating the obvious, Potter has lost the momentum needed to surpass the robots in disguise. It would need to maintain its current $900,000 daily lead for another three full weeks to catch up, and that ain't happenin'. Michael Bay over J.K. Rowling? There's an upset for the ages.

The other story we have been tracking (mainly for my amusement) is the ascension of Hairspray up the charts of musical history. As was pointed out after its first weekend, musicals have not been a box office draw for a long time now. This point is driven home with Hairspray's latest box office of $2.64 million, which gives it a grand total of $64.8 million. Believe it or not, Hairspray is already in 11th place all-time in terms of box office for musicals. By Thursday evening, it will have passed Purple Rain to earn a place in the top ten. The titles it has leap-frogged this week are much less satisfying than last week's vanquished foes such as Breakin' and Yentl. This time, it's Evita, Phantom of the Opera, Annie, and Moulin Rouge!.

Box office for the top ten saw combined receipts of $20,237,109. This was down 9.5% from yesterday but only a negligible 0.7% from last Tuesday.