Weekend Wrap-Up
Simpsons Movie Dominates Box Office
By John Hamann
July 29, 2007
BoxOfficeProphets.com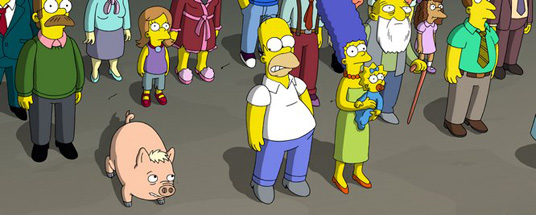 ---
The weekend that many BOP staff members were looking forward to finally arrived, as Homer Simpson, his family, and of course Spider-Pig finally made it to the big screen. The Tracy Ullman Show spin-off was a phenomenal success at the box office this weekend, turning over 15 years of popularity on TV into incredible returns now that they have their own movie. Other openers didn't have the power of North America's favorite family. They included No Reservations, the bland new rom-com with Catherine Zeta-Jones, and I Know Who Killed Me, with problem child Lindsay Lohan. Would real life drama for Lohan sell some tickets?

The number one film of the weekend is of course The Simpsons Movie, as the Fox show finally becomes a Fox big screen success story. Homer and Spider-Pig earned a huge $71.9 million, easily becoming the number one film of the weekend. Released to a large 3,922 venues, The Simpsons Movie had a venue average of $18,320. After grossing a huge $29.4 million on Friday, the James L. Brooks product had a weekend multiplier of 2.45, meaning it was expectedly front-loaded on Friday night. The Fox production set an opening weekend record for a movie based on a TV series, narrowly getting ahead of The Transformers, which opened to $70 million only a few weekends ago. The Simpsons played just like a sequel, as the known-product already had legions of fans anticipating the release on Friday, which led to the low multiplier. Fox isn't worried about opening weekend legs. According the IMDb, the production budget for The Simpsons Movie came in at about $65 million, so this opening frame is definitely a coup for Fox. Don't forget - The Simpsons isn't just a North American phenomenon, it's worldwide, and despite being a comedy, I would look for foreign grosses to meet or beat what this one earns stateside.

Other than the obvious, why the big opening for The Simpsons Movie? The marketing here was fantastic, and not just for the content (although Homer swinging upside down between a rock and bar called "The Hard Place" still brings a smile to my face). Fox decided to hold the film for review until the week of release, which meant plot points weren't readily available until Thursday or Friday. This built the demand for the film, and it paid off hugely with Friday's gross. Teasers, trailers and TV ads have all been spectacular from the beginning on this one, with much of the continent aware of the impending release for many months. Fox spurred that pent-up demand by delivering a quality film, as a large percentage of reviewers liked what they saw. Despite many statements that The Simpsons Movie was like three combined episodes of the series, it still drew 108 positive reviews out of a possible 123 at RottenTomatoes, giving Homer and family an 88% fresh rating at the review compilation Web site. This also means we have had a July with some fantastic reviews for films like Rescue Dawn (90% fresh), Hairspray (93% fresh) and now The Simpsons Movie. Is this the Renaissance of the summer movie industry?

Before we start talking about legs for this one, let's have a look at South Park: Bigger, Longer and Uncut, which obviously has a lot in common with The Simpsons Movie (except for the MPAA rating, of course). South Park also had a strong fan base (but not nearly as large as The Simpsons). It debuted over the July 4th weekend in 1999 and had a five-day opening weekend of about $19 million. After a successful opening frame, South Park suffered huge declines in the weeks that followed, and ended its run with only $52 million. It was also seriously fresh (80%), but failed to come close to being a $100 million film. X-Files: Fight the Future was another still-in-production TV show that opened big ($33 million) but failed to show any legs - it finished south of $100 million at about $84 million. The Simpsons do have a larger, more loyal fan base, but I think this one will fail to reach $200 million. Don't get me wrong - there's a party on the Fox lot this morning - but make sure you check back next weekend to see where The Simpsons are heading.

Pulling up in second spot is I Now Pronounce You Chuck and Larry, which may have benefited from sold out Simpsons shows. Last weekend's number one film earned an estimated $19.1 million this weekend, and the drop ends up as the standard for a second weekend Adam Sandler product. Compared to last weekend, Chuck and Larry fell 44%, which beats the drop of Click (50%), but is right in the ballpark of The Longest Yard (45%). Chuck and Larry won't be huge for Sandler, but won't be a disaster either. Look for it to fall into Sandler's usual $120-$150 million range domestically. Currently, the Universal product has earned a decent $71.6 million.

Harry Potter and the Order of the Phoenix slides from second last weekend to third this weekend. The Order of the Phoenix grossed $17.1 million in its third frame, and was off 48% compared to last weekend. Potter dropped 58% last weekend, so the trend is actually ticking up a bit for the latest Potter film. The last Harry Potter film to open in summer - Prisoner of Azkaban - dropped 63% in its sophomore frame, but then recovered with a 48% drop in its third weekend - the same number that Order of the Phoenix is seeing today. Still, Harry Potter and the Order of the Phoenix is doing remarkably well, as its total so far has reached $241.8 million. It should finish in the same ballpark as Harry Potter and the Goblet of Fire, which ended its run with about $290 million in domestic ticket sales.

Finishing fourth is Hairspray, the John Travolta-in-drag musical. After opening strongly last weekend to $27.5 million, Hairspray didn't have the brilliant hold that most positive-reviewing musicals usually do. This weekend, Hairspray earned $17.1 million from 3,121 venues, giving it a venue average of $4,261. That score equals a drop of 43%, which has to be higher than New Line was expecting. After two weekends, the musical has earned $59.3 million, and should be on its way to $100 million.

Fifth spot goes to another new release in the top ten, the quietly opening No Reservations from Warner Bros. The Catherine Zeta-Jones romantic comedy opened stronger than I expected, finding $11.8 million from a quiet 2,425 venues this weekend. With little promotion, this one still found a way to cross the $10 million mark this weekend, which shows the lack of films this summer targeted at older women, or even females in general. The casting of Abigail Breslin (Little Miss Sunshine) helps here, but a 42% fresh rating puts this one in the wait-for-DVD category for me. Zeta-Jones hasn't been in a movie since 2005's The Legend of Zorro, but admittedly picks projects that tend to open well. Discounting the animated Sinbad flop and the Coen Brothers miss Intolerable Cruelty, Zeta-Jones hasn't worked on a low grossing film since High Fidelity, which opened in 2000. Her resume includes hits like Chicago ($170.7 million finish) Ocean's Twelve ($125.5 million), and Traffic ($124 million) just to name a few. No Reservations won't be a $50 million film, but it also won't be a complete miss either.

Falling to sixth is Transformers, which may have gotten beaten up a bit by Homer and Spider-Pig. The newest super-franchise earned another $11.5 million this weekend, as it continues to strive to reach $300 million. The Hasbro hybrid dropped 44% compared to last weekend, and has had respectable drops of 47%, 45% and now 44%. Will Michael Bay be the latest director to reach $300 million domestic? It's going to be close, but it should make it. The current total for The Transformers now sits at $284.6 million, and has also earned $200 million on foreign shores.

Seventh is Ratatouille from Disney and Pixar, which has a better hold this weekend. Ratatouille, now in its fifth weekend, earned $7.2 million and dropped 34%. The last three drops have all come in right around 38%, so this will lower the average a bit for the animated rat movie. Currently, Ratatouille has earned $179.7 million, and still has a shot at $200 million. Suffice it to say, this will be Pixar's lowest grossing effort since A Bug's Life in 1998.

Eighth spot goes to Live Free or Die Hard, as it is slowly moving its way out of the top ten. The Bruce Willis actioner grossed $5.4 million this weekend as was off 25%. This Die Hard has been a huge coup for Fox, as its earned $125.1 million so far.

I Know Who Killed Me, the aptly titled Lindsay Lohan flick, finishes ninth, and may have only done so due to the arrest of the actress this week. I Know Who Killed Me earned a sad $3.4 million, but the opening weekend would have been sadder without the star's personal drama. This one was 10% fresh at RottenTomatoes, and will be a trivia question before you know it.

Who's Your Caddy, the first urban golf comedy ever, finishes at the bottom of the top ten. From MGM, the golf and rapper comedy earned $2.9 million this weekend, and will be a memory before the day is out.

Overall, thanks to those beloved Simpsons, the box office is way up over last year's totals. Last year, with Miami Vice disappointing debut on top with $25.7 million, the top 12 earned only $116.6 million. This year, with The Simpsons dominating, the top ten earned a powerful $168.6 million, good for a massive increase of 45%. Next weekend will be busy again, as The Bourne Ultimatum is currently 100% fresh at RottenTomatoes. Also opening is Hot Rod, which looks to be the new Napoleon Dynamite, and Underdog for kids and beagle owners.