Friday Box Office Analysis
By Tim Briody
July 28, 2007
BoxOfficeProphets.com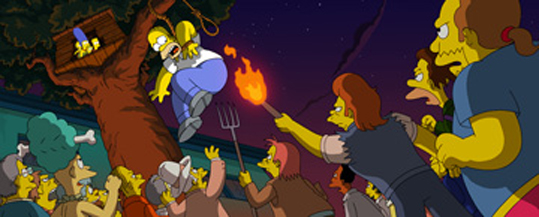 ---
D'ough!

The Simpsons Movie

While the BOP staff had a wide range of opinions as to how strong an opening The Simpsons Movie would have, even the most optimistic forecast couldn't have seen this coming. The movie earned $29.4 million on Friday, a staggering figure any way you want to slice it. Comparisons for this one are actually somewhat difficult to come by. If you've got a few hours to kill, try to come up with the name of the last traditionally animated movie to earn this much. Add in the fact that it is potentially extremely front loaded and the multiplier is a potential head scratcher as well.

A worst-case scenario multiplier of 2.4 is just over $70 million, so that's our floor, which is still an incredible accomplishment. A below average 2.6 multiplier, which is where I feel it's most likely to end up, would still give us a massive $76.4 million weekend. Anything beyond would be phenomenal and is proof positive that although The Simpsons are not the cultural icon they were in the '90s, the following they've built up over nearly two decades was enough to bring out the idly curious to see their big screen debut.

No Reservations

The Catherine Zeta-Jones/Aaron Eckhart romantic comedy earned $4 million on Friday, pretty much right in the wheelhouse for these things. As a date movie, there are better options out there but there are those who can't resist an old formulaic standby. The competition from other movies will probably prevent No Reservations from having a better than average multiplier. Look for about $11.5 million for the weekend.

I Know Who Killed Me

I Know Who Killed Me earned $1.3 million on Friday, honestly about as good as something being dumped on 1,300 screens can do. Expect about $3.5 million as Ms. Lohan's career falls further and further.

Who's Your Caddy

The golf movie starring Outkast's Big Boi squeaks into the tenth slot for Friday with a mere $942,000. As with I Know Who Killed Me, that's pretty much on the top end of expectations. $2.5 million for the weekend appears to be in order.

Notable Holdovers

I Now Pronounce You Chuck and Larry falls 50% from last Friday to $6 million, a tad better than I would have expected. About $19 million should be in order for the second frame.

Last week's breakout hit Hairspray surprisingly suffers in its second weekend, falling 52% from a week ago. It was actually quite frontloaded, managing only a 2.5 multiplier last weekend. Look for $15.8 million for the second weekend of the movie-musical.