Weekend Forecast for July 27-29, 2007
By Reagen Sulewski
July 27, 2007
BoxOfficeProphets.com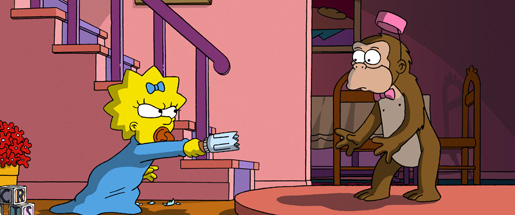 ---
You can have your pirates, spiders, ogres, robots, rats and wizards. As far as I'm concerned, the whole summer, nay, the whole year has been leading up to this weekend and Our Favorite Family.

In 1969, Man walked on the Moon. In 1971, Man walked on the Moon... again. Then for a long time, nothing happened - until this weekend, with the release of The Simpsons Movie, the culmination of 17 seasons of the animated series' run. Think about that for a second. Eighteen years. There are kids entering college this fall who have never lived in a world where The Simpsons weren't on the air. This truly is the Simpsons Generation.

The big question is whether the Simpsons still have "it", or if "it" is scary and frightening to them now (it'll happen to you). Every Simpson fan has their particular point where they thought the series started going down the tube (Season 11 is the big cliff for me), recent seasons of the series have been stronger, which fills me with hope for the quality of the movie that might not have been there a couple of years ago. It truly looks epic in scope and worthy of the big screen treatment. The "why pay for something you can get for free" argument has never rung true for me, since it's a) five times as long as an episode, b) on a bigger screen and c) almost no one doesn't pay for TV any more.

The TV ratings of The Simpsons have never been tremendous, and last year the show was rated 60th out of about 150 prime time shows, with about nine million viewers an episode. Considering that six out of the top ten shows were some variation on a talent competition, I personally don't feel too bad about where the Simpsons sits culturally, but obviously it makes you wonder about the reach of the show. That said, there are a tremendous number of casual viewers of the Simpsons, and they live on in syndication and DVD sets. It's tough to find someone that hasn't at one time been a regular viewer, and these millions of fans of Homer, Bart, Marge, Lisa, that little baby Simpson, etc., are who Fox is counting on to drive the movie's box office.

Details about the movie have been tightlipped, which matches the production. The film was announced out of the blue last year, to the shock of many after years of claiming that there was no way that a movie could be produced while the series was still running. I suppose they just got tired of waiting. Reviews so far have been very positive, and although that might be boosted by general fondness of the show, no one is tougher on the Simpsons than Simpsons fans. There's a general enthusiasm for this project like few other movies out there, and unique marketing attempts, like making over 7/11s into Kwik-E-Marts have met with mob scenes. I don't want to overstate my case here, but life as we know it may seem empty and without purpose come Monday.


With all that said, I don't actually expect the film to challenge many records. Few TV series that have made the leap to the big screen intact (in other words, not as an adaptation) have been huge hits – of course we have the Star Trek series, and The X-Files, and to some extent the Rugrats, but then we also have South Park and Aqua Teen Hunger Force. Opening on 3,922 screens, I look for an opening weekend of around $54 million, a solid, but not spectacular opening.

Though history may not record this fact, there are other movies opening this weekend. Highest profile among them is No Reservations, the second film about cooking this summer, though this one isn't animated (I maintain, however, that Catherine Zeta-Jones is 75% CGI at this point).

A remake of a German film called Mostly Martha, this stars Zeta-Jones as an uptight chef who is saddled with the responsibility of her niece (Abigail Breslin) after the death of her sister. Horror of horrors, the kid is a picky eater! Also, I think there might be some grief issues in there somewhere, but... you know, the food! In walks Aaron Eckhart as a chef who plays by his own rules and upsets her neatly ordered world, and kitchen. As judged by the film's poster, fun and romance will be had, and lessons will be learned. Oh yes they will, and don't you even try to avoid it. Your heart will be warmed, or else, dammit!

We've seen something fairly similar to this recently, with Raising Helen, starring Kate Hudson, which opened to $14 million. I continue to wonder who the real audience for these films is, as there are better romantic comedies out there, and single women can't love the implication that they're not whole people without a kid and a man. Zeta-Jones has seen better days as a box office draw and has actually rarely been a lead on her own. Eckhart had a bit of a breakthrough with Thank You For Smoking last year, but that took a long time to earn just $25 million. His role in The Dark Knight next summer will do a lot more for his career than either that film or the one released this weekend. Opening on 2,400 or so screens, I expect No Reservations to come in with $8 million in its bow.

The two other films debuting in wide release practically define "train wreck". I Know Who Killed Me stars Lindsay Lohan, who you may have heard some news about this week. Lohan stars as a woman who is abducted and tortured, and who may or may not have escaped, or may just have someone who looks incredibly like her and works as a stripper (Note to Lindsay's legal team: this probably won't work in court).

Even if the movie didn't have a terrible title, come from a director of Skinemax films or just look plain awful, I couldn't see audiences embracing the film. Lohan bashing has hit Gigli-esque heights, and this latest escapade with the DUI and the coke has all but certainly ground her career to a screeching halt, at least for now. Honestly, in a way, you owe it to Lindsay not to see her film so that she can truly hit rock bottom. All right, I'm not sure I actually believe that, but you don't want to spend the time here anyway. Sony has effectively dumped this film, releasing it on just 1,320 screens. If this film manages $2 million this weekend, I'll be surprised.

The final new film of the weekend is Who's Your Caddy, a hip-hop riff on Caddyshack, starring Big Boi of Outkast. He takes on the Rodney Dangerfield role, playing a rap mogul trying to join an elite country club, but being dissed by The Man. Stereotypes and golf related wackiness ensue.

Even for a narrowly targeted film like this, the 1,019 screens its opening on are pretty small, about two-thirds of what something like Soul Plane opened on. This one honestly seems like it barely avoided the fate of straight-to-video, and should be good for just $3 million this weekend.

I Now Pronounce You Chuck and Larry managed to hold off the second weekend of Harry Potter to win the top spot at the box office, with $34 million, a slightly off total for an Adam Sandler, but still quite good for a comedy in general. The "faux-mosexual marriage" issue, in my opinion, kept a number of Sandler's fans away, though perhaps the promise of Jessica Biel in her underwear and/or a cat suit held on to a few of them. I expect very little in the way of legs for this film, with about $18 million in this frame.

Although the 58% drop for the second weekend of Harry Potter and the Order of the Phoenix looks troubling on first glance, there's very little to worry about for the Hogwarts crew. Although my prediction for it to retain the top spot proved optimistic, this is less of a drop than the last Potter film released in the summer, and its box office total already stands at $225 million, just $25 million short of Azkaban's total. There's still a moderate chance for it to hit $300 million total, which would make it the first film in the series to do so since the initial outing. I expect a mild recovery this weekend, with a drop to $19 million for Phoenix.

Hairspray was the big surprise of the weekend, earning $27 million, enough for third place. The movie-to-musical-to-movie-musical, based on the John Waters film about the segregation era capitalized on a youth movement towards musicals, and was helped by reviews pegging it as one of the better examples of the genre. Its weekday numbers have been strong, but the weekend was strangely front-loaded, with Friday being its best day overall. I think legs will be just okay for this one, despite the rapturous reviews, with a second weekend of close to $16 million.

Rounding out the significant films still in release, Transformers should add another $11 million to its total this weekend, as it moves ever more assuredly towards the $300 million mark, a potentially record-breaking fourth film of the year to do so. Ratatouille is in line for about $7 million this weekend, aiming at $200 million itself. And finally two films make a leap into more moderate release, Rescue Dawn and Sunshine. Sunshine is the more promising from a box office standpoint, being the latest film from Danny Boyle, and featuring a high-concept sci-fi setting. In 450 screens, it may earn about $3 million, while Rescue Dawn's war setting (directed by Werner Herzog) should see about $1 million on around the same number.