Weekend Wrap-Up for July 20-22, 2007
Chuck, Larry, Harry and Hairspray Vie for Number One
By John Hamann
July 22, 2007
BoxOfficeProphets.com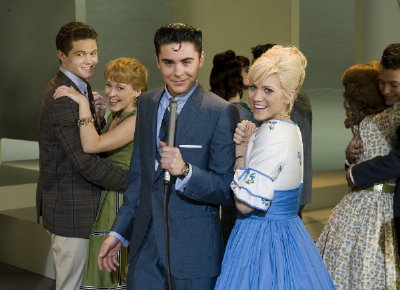 ---
In what feels like the first time in a very long time, the weekend box office didn't have a huge tentpole film dominating the top ten. This weekend brought the second frame of Harry Potter and the Order of the Phoenix, which was either going to be hurt or helped by millions of muggles out buying books today; as well as the debut weekends of the new Adam Sandler flick I Now Pronounce You Chuck and Larry, and John Travolta's return to musicals in Hairspray. Would Harry hold up in his second weekend, and would reviews foretell the successes of Chuck and Larry and Hairspray? Read on to find out!

For the first time since April, we had a tight finish at the box office this weekend, which isn't something we usually see with three films grossing close to $30 million. The race is so close, we may see some shuffling of the numbers come Monday afternoon when actuals are released.

I Now Pronounce You Chuck and Larry is our first place finisher this weekend, as it managed to carry through its lead after Friday's grosses were counted. The Adam Sandler/Kevin James comedy earned $34.8 million from 3,495 venues, and had an average of $9,950. This is just more of the usual from Sandler, as his bigger summer comedies tend to earn between $35 and $41 million. The big winner here may be Kevin James, who has now played the sidekick to both Sandler and Will Smith, whose Hitch opened to $43 million and finished with $177.8 million. I shouldn't have to tell you that the reviews were horrible for this one, as Chuck and Larry earned an embarrassing 14% fresh rating at RottenTomatoes. How fast will I Now Pronounce You Chuck and Larry disappear? Not fast enough.

Finishing second is Harry Potter and the Order of the Phoenix, which has already crossed the $200 million mark. With the last Potter book on sale this weekend, business for the latest film was either going to pick up due to fans being re-energized by the book, or slow down because all the fans now had something to do this weekend other than going to the movies. In the end, business for Harry Potter and the Order of the Phoenix was about the expected; Harry, Ron and Hermione earned $32.1 million and was off 58% from last weekend, continuing the summer saga of tentpole sequels sagging in their second weekends. When comparing the former sequels to this one, the last to be released in summer was Harry Potter and the Prisoner of Azkaban, and that one fell 63% in its second weekend, dropping from $93.7 million to $34.9 million. Other second weekend drops in the series (the other films were all released in November) include: 47% drop for Goblet of Fire; 52% for Chamber of Secrets; and 36% for Harry Potter and the Sorcerer's Stone. Order of the Phoenix crossed the $200 million mark on Sunday, its 12th day of release, which is just slightly slower than Goblet of Fire, which was aided by having the Thanksgiving weekend in its second frame. I think Warner Bros. will be quite happy with the business so far for Potter. The total sits at $207.5 million, and it should finish north of $275 million.

The number three film is Hairspray, the all-singing, all-dancing extravaganza from New Line Cinema. I think the folks at New Line will be quite happy this morning, as their film earned an estimated $27.8 million from 3,121 venues this weekend. It had a decent venue average of $8,907. This is the second biggest open ever for John Travolta, who saw his biggest just last March with Wild Hogs ($39 million opening). It marks Travolta's turn back to the musical, something he hasn't done since Grease in 1978. Grease earned $181.5 million at the domestic box office in 1978, and solidified Travolta a star, as he then had Saturday Night Fever ($140 million domestic) and Grease back to back. With Wild Hogs ($167.7 million domestic) and now Hairspray, this is another rejuvenation of Travolta's career, a la Pulp Fiction in 1994. It also breathes life back into the career of Michelle Pfeiffer, who hadn't released a film since 2002's White Oleander.

Hairspray also may serve notice that the musical is back, with the trend started by Moulin Rouge several years ago. The genre expanded to the younger set with High School Musical, a Disney Channel film that has been just ridiculously popular with the tween and teen set. It's surely no coincidence that one of the stars of High School Musical is present in Hairspray as well. Zac Efron, who plays Link Larkin in Hairspray, had one of the two lead roles in High School Musical and is turning that unexpected success into gold. Next up on the musical front is a Johnny Depp/Tim Burton collaboration with Sweeney Todd – that one's set for a December 2007 release.

Hairspray was always going to work. It had a legion of fans from the cult hit Hairspray, directed by John Waters and released in 1988. Along with that, it also had a bevy of fans who either followed it to Broadway or discovered it there - it won the Tony Award for Best Musical in 2002 and has a passionate following. It has John Travolta in drag, Queen Latifah, Christopher Walken, and Michelle Pfeiffer. It had an okay marketing campaign, but what it missed in marketing, the reviews made up for. Hot on the heels of the 96% fresh Ratatouille, Hairspray received 148 reviews, and of those, only a tiny nine notices were negative. That equals a fresh rating of 94%. It's been quite a summer. I wouldn't be surprised if Hairspray continues to do well over the summer, as it has the right sense of fun for the warm summer months ahead.

Finishing fourth this weekend is Transformers, as all of a sudden, Paramount is definitely in the running for biggest film of the summer with their Hasbro hybrid. Transformers grossed a stunning $20.5 million this weekend, off a decent 43%. I thought Transformers would be running out of steam in its fourth weekend, but it is now a virtual lock to reach $300 million. With a few good holds, it could even reach Spidey 3's current total of about $335 million. Currently the Michael Bay film has $263 million in the domestic kitty, and has earned another $150 million from foreign shores.

Fifth spot this weekend goes to Ratatouille, which not only faced off against a Potter movie this weekend, it also had to work against a Potter book. The Pixar rat earned $11 million this weekend, and was off 39%. So far, Ratatouille has seen two drops of 38%, and now a similar drop of 39%. Currently, Ratatouille has earned $165.6 million, and is going to have to push hard to reach $200 million.

Sixth spot this weekend goes to Live Free or Die Hard, the latest in the successful Bruce Willis franchise. In its fourth weekend, Die Hard 4 earned $7.3 million, and was off 33%. The action movie now has a domestic total of $116.5 million, but has earned more than that overseas. With a production budget of $110 million, this is a solid entry for Fox, and could mean more Die Hards are on the way.

The awful License to Wed finishes seventh this weekend, and is not leaving the top ten fast enough. The Robin Williams over-effort earned $3.8 million this weekend and was off 50%. So far, the Warner Bros. effort has earned $38.9 million.

In eighth, we have 1408, which is another great film in the top ten this weekend. 1408 earned $2.6 million in its fifth weekend, and was off 48% compared to the previous frame. 1408 has turned into a huge success for the Weinsteins and MGM, as this project cost $25 million to make, and has so far earned $67.5 million domestically.

Universal's Evan Almighty finishes in ninth spot this weekend, and the flop of the summer struggles to reach $100 million, despite costing $200 million to make. Evan Almighty earned $2.5 million and was off 51%. So far, the Steve Carell flick has earned $93.5 million, which isn't good enough.

Rounding out the top ten is Knocked Up, one of the darlings of the summer season so far. Now in its eighth weekend, Knocked UP earned $2.3 million. It's not the weekend total that shines for this Universal product from Judd Apatow, it's the overall gross. So far, this $30 million project with virtually no stars has earned $142.7 million.

Overall, the box office stacked up quite well against last year's totals. With Hairspray, Harry Potter and Chuck and Larry leading the charge, the top 12 pulled in $147.7 million. Last year, with Pirates of the Caribbean: Dead Man's Chest on top, the top 12 earned $142.7 million, giving this year a lift over last year. Next weekend, it's all about The Simpsons Movie, as TV's favorite family makes the leap to the big screen.