Weekend Forecast for July 20-22, 2007
By Reagen Sulewski
July 20, 2007
BoxOfficeProphets.com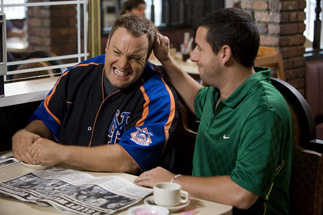 ---
It's time for a brief mid-summer break from the tentpole releases at the multiplexes. No legions of fanboys are camping out at the theaters for a midnight release this week. At least, I hope they're not.

I Now Pronounce You Chuck and Larry is Adam Sandler's latest, though it's not a typical Sandler vehicle, as he's not playing one of his typical man-child characters, and he's opposite a comedy lead who could arguably carry his own film. He and Kevin James play New York City firefighters who, in a scheme to protect James's pension for his kids, pretend to be gay and get married. While remaining straight. Totally straight No Brokeback stuff here, both their agents would like to remind you. Please God, Red Staters, know that they're straight.

Naturally, these two swinging lotharios don't fool too many people, and an investigator is sent over to determine how real this relationship is. That investigator, Jessica Biel, is obviously sent there to crack them. It's just like an episode of Three's Company writ large! The actual comedy seems quite generic, with awkward male bonding moments and sitcom humor, and the biggest thing the film might have going for it is Jessica Biel in a cat suit.

Sandler's comedy throne has been somewhat usurped lately by Will Ferrell, though in his broad comedies, he still packs a punch. Last summer's Click opened to $40 million and brought in $137 million total, which is pretty consistent with his average since Waterboy, nine years ago. Kevin James is untested as a sole lead, but played a similar second string to Will Smith in Hitch two years ago. Biel has been waiting for the film that pushes her into a mainstream lead instead of just a gossip site favorite, though she has few out and out flops that can be blamed on her (Next is all on Nicolas Cage).

The biggest question for the movie's appeal is just how much will the gay issue frighten off Sandler's core audience. My guess is at least a little, in a similar situation to how Blades of Glory fell short of Will Ferrell's standard opening weekend. A $32 million opening weekend seems in order here.

In a strange quirk of scheduling, the week's other big release is Hairspray, which if not exactly gay-themed, is certainly filled with camp, and of course is an adaptation of a musical that is in turn an adaptation of a John Waters movie.

An entry in the genre that is the lowest form of communication, the movie musical (via a translation from the stage, via an original movie, a la The Producers), Hairspray is set in 1960s Baltimore, an era of racial tension and TV dance shows. When a spot opens up on the hit Corny Collins Show, Tracy Turnblad (played by newcomer Nikki Blonsky) auditions, even though she's overweight and not "TV pretty". Landing a spot, she runs afoul of high society via the Von Tussle family (headed by Michelle Pfeiffer), especially since Turnblad tries to integrate the show racially.

Also in the deep cast are Christopher Walken and John Travolta as Tracy's parents (with Travolta taking on the cross-dressing role originally played by Waters standby Divine), James Marsden, Amanda Bynes and Queen Latifah.

Reviews of the film are glowing, and are the most consistent since Ratatouille (not a huge period of time, but that's a tough standard to beat). Positioning itself as a new Grease, Hairspray should do moderately well this weekend, with about $14 million.

Harry Potter and the Order of the Phoenix won last weekend's box office and should win again this week, but it's run into a rather unique test – can it survive its own fanbase? With the release of the seventh and final book in the Harry Potter series this weekend, the fifth movie may in fact suffer, with avid fans locking themselves up in seclusion to find out the ending of the whole shebang. Thus the hype generated for the fifth movie by the timing of its release could be a double edged sword.

Then again, that fanaticism of Potter-philes could just mean that all that group went and saw the movie already in anticipation of this release, and it's a net result of zero. The next few days will tell. In any event, reviews and word-of-mouth for Order of the Phoenix have been solid, and the 3-D IMAX aspect of the film has proven to be a significant selling point. After earning $140 million in five days, with a little over half of that on the weekend, I expect a second weekend figure of $44 million, which will bring its two week total to around $220 million.

Transformers made a solid showing in its second weekend, adding $37 million to its total and topping $220 million itself. The candy-colored explosion fest is firmly established as one of the summer's biggest hits, and is strongly aiming at $300 million for a final domestic box office total. Look for another $18 million this weekend and for it to pass $250 million by Sunday.

Ratatouille will see its fourth straight top five showing this weekend, after withstanding the Potter juggernaut quite well last weekend. In comparison with the last Pixar film to be released at the same time as a Potter film, Monsters, Inc., Ratatouille not only didn't have its legs knocked out, it actually fared a little better, dropping just 37% to $18 million. With just under $12 million this weekend, it will pass A Bug's Life's total of $162.8 million, ensuring that it isn't the lowest grossing Pixar film.

Last weekend was a good one for several other films, including Live Free or Die Hard, License to Wed, 1408, Knocked Up and Sicko, all of which retained more than 60% of their previous weekend's business. License to Wed is the big surprise of that group, although it is to some degree following the R.V. model, which opened to $16 million and finished with a respectable $71 million. I guess you always have to watch out for that one lone date movie. If it can continue this pace, it should end up with a little over $50 million.