Daily Box Office Analysis for July 18, 2007
By David Mumpower
July 19, 2007
BoxOfficeProphets.com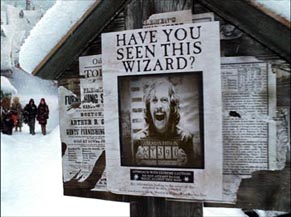 ---
As I had mentioned earlier in the week, today's box office analysis is the day everything goes off the rails. The reason why is because there are several ways to study the box office behavior of Harry Potter and the Order of the Phoenix. The comparisons we have been using are the prior Harry Potter titles, Transformers, and now we have the opportunity to compare Order of the Phoenix against itself. So, why is any of this a problem? Let me count the ways.

Yesterday, we introduced a new facet to the conversation. It is the remembrance that two of the prior four J.K. Rowling adaptations, Harry Potter and the Sorcerer's Stone and Harry Potter and the Goblet of Fire, were released the week before Thanksgiving. That skews their weekday numbers beginning on their first Tuesdays with a dramatic bump on the following Wednesdays.

Don't believe me? Simply consider the first three weekdays of Goblet of Fire. They are (in no particular order) $9.002 million, $14.130 million and $8.055 million. People who have been reading the column all summer would presume that the largest total would represent Monday box office. People who had read yesterday's column, however, would know that Monday's total was $8.055 million with Tuesday seeing an increase to $9.002 million. That 11.8% increase from Monday-to-Tuesday is the first tell-tale sign of holiday-related revenue enhancement. The Tuesday-to-Wednesday spike of 57.0% is a huge neon light straight off the Vegas Strip indicating holiday sales increases. It makes a difference.

Six years ago in November of 2001, Harry Potter and the Sorcerer's Stone behaved in eerily similar fashion. Its first Monday was $6.643 million with a Tuesday increase of 15.2% to $7.654 million. On Wednesday, ticket revenue spiked to $12.655 million, an increase of 65.3% from the previous day. As you can see, Sorcerer's Stone as well as Goblet of Fire are no longer accurate models for comparison to Order of the Phoenix.

That's okay, though. We can just skip back to the basics and compare Harry Potter and the Order of the Phoenix to itself, right? After all, it was released last Wednesday, so an evaluation of how it did yesterday relative to its first day....won't work. This is the lesson we learned in the July 11th column. Transformers' first Tuesday-to-Tuesday comparison was brutally unfair since it represented a 75.9% decline. Order of the Phoenix is in the same boat, but it faces off against even larger numbers. Obviously, yesterday was not going to be able to keep pace with the ninth largest day of box office in the history of the industry. So, slamming it for an 80.9% decline would be equally unfair to this one as it would have been for Transformers last week.

This means that we are down to only two accurate models for Order of the Phoenix. The first is Harry Potter and the Chamber of Secrets. That title was released two weeks prior to Thanksgiving, which serendipitous for our purposes. Due to this, we may continue to use it as an accurate model. In doing so, we see that Chamber fell from $4.742 million on Tuesday to $4.032 million on Wednesday, a numerically clean revenue drop of $710,000. Percentage-wise, that is depreciation of 15.0% on Wednesday after a 10.9% from Monday-to-Tuesday.

Harry Potter and the Prisoner of Azkaban displays somewhat similar behavior. After starting its week with $8.428 million, it fell 14.0% to $7.247 million on Tuesday then arrived at $6.878 million on Wednesday. That decline of 5.1% on Wednesday is quite a bit better than what Chamber of Secrets managed; however, its Tuesday decline is quite a bit worse. The rules are still the same, though. Both films fell between 18% and 24% from Monday-to-Wednesday; each one also declined on Tuesday as well as Wednesday. These are the facts that matter for our purposes.

Keeping them in mind, let's now take a look at what Order of the Phoenix has done. After starting the weekdays with what we determined to be an impressive $10,415,480 on Monday, the latest Potter flick fell 12.0% to $9,169,473 on Tuesday. We also determined that this hold-over was quite strong, giving Warner Bros. solid cause to believe Order of the Phoenix will show great legs. How, then, did it do on Wednesday? Another $8,438,206 in the coffers indicates Tuesday-to-Wednesday depreciation of 8.0%. In addition, the overall decline from Monday-to-Wednesday is 19.0%, right in line with the totals listed above for Chamber of Secrets and Prisoner of Azkaban. This is despite the fact that Order of the Phoenix is dealing with larger numbers, which, as we have discussed countless times before, makes it more difficult to maintain the same percentage hold-over.

The only comparison left to make is the Transformers one. We have already seen that the Michael Bay CGI-fest did a slightly better job in terms of pure depreciation percentages. Then again, we have also ceded that larger numbers are more difficult to maintain; ergo, a 75.9% drop from $27.851 million is not necessarily better than an 80.9% drop from the ninth largest single day ever, $44.232 million. Instead, the better way to evaluate the titles is Monday, Tuesday and Wednesday behavior in their second weekends, something we have done quite a bit this week.

Transformers started its second set of weekdays with $9.928 million then fell 16.9% to $8.254 million on Tuesday. Its second Wednesday total of $7.003 million represents a drop 15.2% from Tuesday. More importantly for our purposes, it is a decline of 29.5% from Monday-to-Wednesday. The 19% managed by Order of the Phoenix is vastly superior to this.

Now, some would argue that this is expected behavior given that the fifth Harry Potter title is more of a family/children's film than Transformers. Those titles should do better on weekdays during the summer when kids are out of school. I am not one to believe this argument, though. I believe that Transformers skews just as young as Potter and is subject to the same sort of weekday carryover appeal. Given the legs it has demonstrated thus far, this opinion has been born out by the data. Transformers is not flaming out. Another $4,508,457 on Wednesday gives it a running total of $238,202,379, and it represents a decline of only 35.6% from the prior Wednesday as well as a 5.0% drop from Tuesday. Admittedly, the 35.6% fall and the 5.0% drops are the second largest out of the top ten for both week and daily comparisons, but it is still a respectable holdover. There is nothing wrong with Transformers thus far. It is just getting beaten early on by Order of the Phoenix.

In summation, the news remains splendid for Order of the Phoenix as we head into the weekend. The only remaining question to be settled is the one on the lips of all Potter fans and box office analysts throughout the world. Will the arrival of Harry Potter and the Deathly Hallows, the triumphant conclusion to the world's most successful literary series of our time, aid or impede the next seven days of box office for Harry Potter and the Order of the Phoenix? This question has been a matter of intense debate among our staff, but we will finally have a definitive answer starting with Saturday box office numbers.

The rest of the top ten includes one noteworthy event. Ratatouille crosses the $150 million barrier after 20 days of box office. In case you are wondering, here are the results for the previous titles in the Pixar library. Toy Story needed 40 days to accomplish this feat and A Bug's Life did so in 62 days. At this point, box office behavior changed a bit with the onset of ultra-wide theatrical releases targeting mega-opening weekends. So, the feat became much easier. Toy Story 2 needed only 30 days to break $150 million. Monsters, Inc. and Cars each did it in 17 days while The Incredibles managed to do it in 14 days. And the reigning champion is Finding Nemo, which BOP's Reagen Sulewski has accurately evaluated as the The Lion King of Pixar. It broke the $150 million barrier in only 12 days. As you can see, Ratatouille is fifth out of the eight Pixar films in terms of crossing $150 million, but it has done so the slowest out of any of the titles released during the mega-opener/giga-opener era.

Overall top ten box office comprises revenue of $21,634,881. This total is down a piddling 2.0% from Tuesday's $22,069,618. Then again, we can make the number look a lot worse if we want. It is a nuclear 64.7% decline from last Wednesday's top ten. Of course, if we take Harry Potter and the Order of the Phoenix out of the equation, the rest of the top ten does quite a bit better. Those numbers would be $13,196,675 yesterday as opposed to $17,028,635 last Wednesday, a solid decline of only 22.5%. This news more than anything else should give you a better understanding of how well films hang around during the summer months.

On a site-related note, there will not be a daily box office analysis column for tomorrow. I'm going to be hanging out at the Atlanta Braves/St. Louis Cardinals game with a couple of the other Box Office Prophets. Since batting practice coincides with the time that numbers come out and I will be with the back-up writer for this column, it's just not feasible.

Go Braves!