Daily Box Office Analysis for July 16, 2007
By David Mumpower
BoxOfficeProphets.com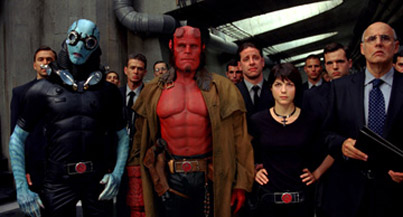 ---
Okay, let's talk about the most important release from last weekend, Captivity. What's that, you say? It didn't finish in the top ten over the weekend and it didn't finish in the top ten yesterday? Well, that's a shame. I was so looking forward to spend more time talking about the pointless nature of 2006-2007 gorno box office. Ah, well.

What we probably should talk about is Harry Potter and the Order of the Phoenix. The fifth movie in the franchise that made Daniel Radcliffe a household name followed up a weekend total of $77,108,414 with a first Monday of $10,415,480. Let's compare that to Transformers, which had a first weekend (Friday-to-Sunday only) of $70,502,384 with a first Monday of $9,927,640. Your initial assumption is probably that since they are both $70 million openers, it's a good sign that Potter had a better Monday. Not so fast. The calculations show that Transformers' first Monday represented 14.1% of its first weekend while Order of the Phoenix managed only 13.5%. In other words, Transformers held up slightly better than Potter in terms of first Mondays. This might mean nothing and it might be a sign that Order of the Phoenix is more frontloaded. We will monitor it throughout the week.

In the interim, the comparison we can continue to make is how Order of the Phoenix compares to prior Harry Potter movies. The first aspect of this discussion we must keep in mind is that it is easily the smallest opening of the franchise, even if we adjust for inflation. We of course know the reason for this. Its massive Wednesday siphoned off a significant amount of the pent up demand for the project. Conversely, Order of the Phoenix has an advantage over three of its predecessors in that it is a summer release whereas those titles were all mid-November debuts. This helps its hold-over appeal on weekdays against everything but Prisoner of Azkaban.

Keeping all of this in mind, this is what we know. Harry Potter and the Sorcerer's Stone's first Monday was $6.643 million. Even if we adjust the 2001 release into 2007 box office dollars, that is only $7.983 million. Order of the Phoenix surpasses this total by 30.5%. Not bad. The news is even better when compared to Harry Potter and the Chamber of Secrets. That title's first Monday was only $5.321 million, which inflation adjusts to $6.229 million. The latest Harry Potter release beats that by 67.2%. So far, so good. Let's skip the summer title for now and move ahead to Harry Potter and the Goblet of Fire, my personal favorite in the franchise to date. That one brought in $8.055 million on its first Monday, which is $8.533 million in 2007 dollars. Once again, Order of the Phoenix experiences good news, because it has done 22.1% better than that. This leaves us with only the other Harry Potter summer release to contend with. Prisoner of Azkaban earned $8.428 million in its first Monday, which inflation adjusts to $9.215 million. This has been the best Monday hold-over in the franchise to date, and Order of the Phoenix still beats it by 13.0%.

The other interesting aspect is the Sunday-to-Monday decline. Goblet of Fire fell 68.8%; Prisoner of Azkaban fell 64.8%; Chamber of Secrets fell 78.3%; Sorcerer's Stone fell 72.8%; and Transformers fell 55.2%. Order of the Phoenix, on the other hand, fell only 54.6%, the best of the six titles in question. What does this all mean? That is up for debate but we have three early warning signals thus far. There is the actual percentage of weekday-to-first-weekday box office wherein it falls just short of Transformers. There are the Monday ticket sales relative to the prior entries in the series, which Order of the Phoenix wins. Finally, there is the Sunday-to-Monday decline, which it also wins. So, if Meatloaf is right and two out of three ain't bad (and when is Meatloaf ever wrong?), Order of the Phoenix's first Monday is pretty strong.

While we are in the neighborhood, we might as well discuss Transformers a bit more. We have already established its measurables for last weekend. Let's compare those to this frame. Transformers earned $37,027,901 over the weekend then followed it up with $4,940,497 on Monday. This represents 13.3% of the prior weekend total, something of a fall from the previous 14.1% holdover on July 9th. In terms of Sunday-to-Monday holdover, Transformers fell 57.8%, a bit steeper but generally right in line with last week's 55.2%. As Dan Krovich astutely noted in the latest edition of Monday Morning Quarterback, the normalized behavior being demonstrated by Transformers is not that surprising. Given the unusual release pattern starting with a Monday evening debut, the Michael Bay production is behaving like a film much later in its release cycle, which makes sense given the fact that it was not a true weekend release. While we are technically talking about the second Monday in theaters, the reality is that this is the third time it has earned at least $4.9 million on a Monday thus far. Theoretically, it's the 14th (or arguably the 15th) day of release, but it has been exhibited in a fashion that belies normal box office models. It has effectively skipped a weekly iteration, which is a good sign for its legs. The only other way it could have gone would have been through massive frontloading, a fate it has clearly avoided thus far.

The overall top ten earned $22,815,181 yesterday, up marginally from last Monday's $21,941,647. The 4.0% bump is nice today, but there will be a trade-off the day after tomorrow when Harry Potter and the Order of the Phoenix's $44,232,338 suddenly becomes a factor and blows the curve on total daily box office depreciation. In terms of summer box office to date, this is the second largest July Monday, well behind July 2nd's $28,789,748. On the plus side, it smokes every June Monday's total. June 4th had a grand total of $15,160,814; June 11th was $14,672,71; June 18th was $16,818,235; and June 25th was $16,050,527. So, yesterday was second for the summer to date as well as being second for July, which is a nice sign of overall box office strength at the moment.

In case you are wondering about the box office for Mondays in May, here is the data. May 7th had top ten worth $12,291,398 with Spider-Man 3 comprising 83.7% of it. May 14th is the worst Monday recorded thus far this summer with a pathetic $6,786,940. May 21st, Shrek the Third's first weekday, had a top ten of $14,211,654. May 28th, a Monday some of you call Memorial Day, is unsurprisingly the largest Monday of the summer to date. Its combined top ten earned a spectacular $46,861,556. So, out of the ten non-holiday Mondays thus far this summer, yesterday finished second.