Weekend Wrap-Up for July 13-15, 2007
Potter's Phoenix Lifts Box Office
By John Hamann
July 15, 2007
BoxOfficeProphets.com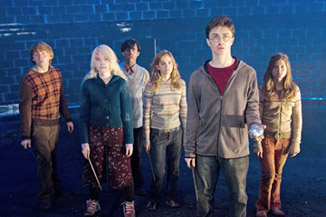 ---
Harry Potter fans turned out en masse for the latest entry into the hugely profitable franchise for Warner Bros. For the first time, the studio decided to release a Potter film on a Wednesday. Would it help the weekend gross or hurt it? Also on tap this weekend is the second weekend of the huge Transformers movie. Would the Paramount release see the same sort of drop off the other big flicks have this summer? Read on to find out.

The number one film (obviously) is Harry Potter and the Order of the Phoenix, the fifth Harry Potter flick in six years. The Warner Bros. movie earned $77.4 million this weekend, the lowest opening weekend total of all five films. But wait, don't be too quick to judge. Usually I slam studios for using the Wednesday open strategy; however, for a Harry Potter film, I don't feel it's a bad idea. Why? Because Potter fans are insane. They spent $12 million to see midnight showings of the Order of the Phoenix on Tuesday, before its normal Wednesday release. Combined with those midnight previews, the Wednesday gross came in at around $44 million, giving it the biggest Wednesday total ever.

The reason I like this strategy is simple: Why have only one big day on Friday, when you can have two with a Wednesday opening like this? The nutty Potter fans line up for this one on Tuesday night, leaving a more normal time for the kids on Wednesday or Friday night. On Friday, Order of the Phoenix earned approximately $26.4 million, and already had $90 million in domestic box office before Saturday rolled around. Word-of-mouth was not going to be a factor over the first five days, where in some cases, a studio will release a dog of a film on Wednesday, and by Friday, even people that don't read a newspaper know the film sucks, and the weekend gross is deflated. That was never going to be the case with this Harry Potter. The Saturday gross came in at $28.5 million, and after the studio estimate for Sunday, the weekend gross is estimated at $77.4 million. While true that the weekend gross is the lowest of the five movies in the series (the lowest opening weekend for a Potter film is the second, Chamber of Secrets, which had a three-day take of $88.4 million), the five-day total is the biggest ever for a Potter film, coming in at $140 million (the previous largest five-day was Goblet of Fire, which earned $119 million over five days). Simply put, this is a big domestic win for Warner Bros., as the five-day finish comes close to beating Phoenix's production budget ($150 million).

The superlative five-day gross was no easy task for the executives behind this installment of the Harry Potter franchise. They brought on a new director in David Yates, who was a newcomer to the world of $150 million films. This one also had a new writer in Michael Goldenberg, whose best credit might be the screenplay for Jodie Foster's Contact, which bore the brunt for a lot of the criticism behind that film. I thought Warner Bros. was concerned when they booked this into 4,285 venues, as sometimes the wider the release equals the concern around a film's legs, and there is an underlying need to gross as much as possible over opening weekend. Lastly, this Potter was tagged with the worst reviews of the series (but they were still pretty good). At RottenTomatoes, 178 reviewers chimed in on Order of the Phoenix, and 135 liked it enough to give it a positive response. That leaves Phoenix with a 76% fresh rating, well back of Goblet of Fire at 89% fresh, Prisoner of Azkaban at a similar 89%, Chamber of Secrets at 82% and Sorcerer's Stone at 79% fresh. Judging by the numbers seen this weekend, there is no apathy around Harry Potter, as this film shows only one way but up in terms of future earnings for this franchise.

Even better news for the box office in general is the hold for Transformers, which finishes a decent second this weekend. Blockbusters have crashed in their second weekends so much this summer, it's almost expected even for non-sequels like Transformers. The Michael Bay film avoided the plague this weekend, earning $36 million from 4,011 venues this weekend. The three-day gross last weekend came in at $70.5 million, which leaves the second weekend drop at 46.7%, which is quite a bit better than the 60%+ drops many of the summer blockbusters have experienced in weekend two. The first ten days of play earned Transformers $186 million, so some thought that might lead to a bigger drop this weekend. It was also up against a huge film in Harry Potter and The Order of the Phoenix, but despite a similar demographic target, Transformers were able to hold off the charge. The $150 million extravaganza hit the $200 million mark on Saturday, its 12th day of release, making it the second fastest non-sequel film to reach that mark (the original Spider-Man did it in nine days, and Passion of the Christ also did it in 12 days). Also on Saturday, Transformers became Michael Bay's biggest film, as its passed his 1998 effort, Armageddon, which finished with a domestic total of $201 million. After 13 days of release, Transformers has already earned $223 million, and will definitely see $250 million domestically, if not more.

Finishing third is Ratatouille, Pixar's latest (and possibly greatest) effort. While the quality of this effort is certainly top notch, box office results may not find the stratosphere like all of the other Pixar releases. In its third weekend, some feared that Ratatouille might get Pottered. This was not to be the case, as it earned $18 million, off 37.9% compared to last weekend. This is right in line with its percentage drop from last weekend, which was also 38%. It's especially impressive that Ratatouille was able to hold steady in the face of Potter. Monsters, Inc. had a 50% drop in its third weekend when the original Harry Potter movie opened, so anything above that is exemplary. At this point, I think Ratatouille will make it to $200 million, but won't push too far over the line. If this is the case, Ratatouille will be Pixar's lowest grossing effort since 1998's A Bug's Life. Its current cumulative gross sits at $143 million.

Fourth spot goes to Live Free or Die Hard, the latest Die Hard flick from 20th Century Fox. In its third weekend, Live Free earned an okay $10.9 million, which gives it a 37.5% drop versus its $17.7 million haul from last weekend. The Bruce Willis flick hit $100 million on Sunday, its 19th day of release, and has now earned $102.9 million. The better news for Fox is that foreign grosses have pretty much matched domestic totals so far, so this will end up as a big win for the studio.

License to Wed, the latest extremely bad film from Robin Williams, finishes fifth. License to Wed earned $7.4 million this weekend, but unfortunately was only off 28.5% from last weekend. So far, this Warner Bros. release has earned $30.5 million, and will finish with much more than a film with an 8% fresh rating deserves to make.

Sixth goes to something we hardly ever see, a horror film with legs, this time in the incarnation of John Cusack's 1408. Now in its fourth weekend, 1408 earned $5 million this weekend, and was off a small-for-horror 29.8%. 1408 has now earned an extremely decent $62.2 million against a production budget of $35 million. Alternatively, the latest adventure in torture porn, Captivity, failed to crack the top ten this weekend.

Finishing seventh is the sinking ark that is Evan Almighty, which is weighted down by that $200 million budget. Evan Almighty earned $5 million this weekend, and was off 38.7% compared to last weekend. Will it make half of its production budget back? With a total so far of $87.9 million, it's certainly going to be close.

Eighth goes to the good comedy in the top ten, Knocked Up, from Universal. Now in its seventh weekend in the top ten, Knocked Up earned $3.7 million. The Judd Apatow comedy hasn't seen a drop higher than 40% and avoids it again this weekend, with a 29% drop compared to last weekend. Knocked Up should finish with about $150 million, which will make it one of the highest-grossing films to never reach the number one spot in the top ten. The current total for Knocked Up has reached $138.1 million.

Holding on to ninth spot this weekend is Michael Moore's Sicko, the documentary about the healthcare system. Sicko earned $2.7 million this weekend from 756 venues, giving it an average of $3,505. It was off 27.4% compared to last weekend, despite the addition of about 50 venues. Sicko looks like it will finish with about $23 million, which will put it in-between the finishes of Bowling for Columbine ($21.6 million) and An Inconvenient Truth ($24.1 million). Currently, the doc has earned $15.9 million.

Spending its last weekend in the top ten is Ocean's Thirteen. The George Clooney flick has run out of steam, but has had a good time over the last six weekends. Ocean's Thirteen grossed $1.9 million this weekend, but brings its total up to $112.4 million.

Overall this weekend, things are very good. The top 12, thanks to Harry, Ron and Hermione, finished with an estimated $171.1 million. Last year, when Pirates of the Caribbean: Dead Man's Chest was leading the box office, the top ten took in about $150.1 million, leaving 2007 way ahead. Next weekend will continue to be quite interesting. Opening is Hairspray, which so far is getting excellent reviews, along with I Now Pronounce You Chuck and Larry, the latest Adam Sandler flick, and I'll let you guess at how reviews are coming along for that one.