Weekend Forecast for July 13-15, 2007
By Reagen Sulewski
July 11, 2007
BoxOfficeProphets.com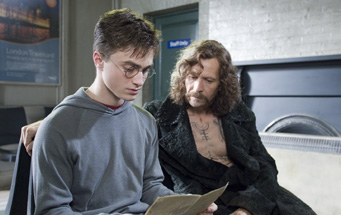 ---
As if this red-hot summer box office needed a boost, Harry Potter has arrived to give the summer just a little more franchise power.

The fifth movie in the series, Harry Potter and the Order of the Phoenix, is the second to be released in the summer months. Following the events of the Goblet of Fire, where it is revealed that Lord Voldemort is closer than anyone feared to returning, Harry and Professor Dumbledore must do their best to convince others of this fact. The rest of Hogwart's School of Wizardry, however, is reluctant to believe it. Meanwhile, an officious bureaucrat is slowly taking control over the school, leaving students woefully unprepared for the coming fight. In response, Harry, Ron, Hermione, et. al take it upon themselves to thwart yet another of Voldemort's plans, and excitement is had by all.

While The Order of the Phoenix was the longest of the Harry Potter books, it is ironically the shortest of the films so far, coming in at just over two hours and answering a significant criticism of some of the films to date – that they suffer from bloat and are too long for children (in rebuttal, Warner Bros. might do well to wave the $3.5 billion that the series has earned worldwide).

Of some concern around the release date might be that the first to be released in the summer, The Prisoner of Azkaban, is currently the lowest grossing film of the series (a measly $250 million). Was that a one-off, or is this franchise's natural release date in the fall? The next few weeks will tell one way or the other. Working strongly in the film's favor is the mania surrounding the seventh and final book in the series, which hits shelves next week. Don't think this is a coincidence.

Like all big films these days, Phoenix had a slate of preview screenings, starting Tuesday at midnight, in advance of the main Wednesday release. That saw it earn $12 million, besting our most recent film to use this tactic, Transformers, by about a third. Pent up demand is clearly running high. The most obvious comparison for this kind of release pattern, with no pesky holidays in the way, is Star Wars Episode I: The Phantom Menace, which brought in around $7 million in its midnight screenings, on its way to $105 million in five days.

Extrapolating out with some helpful fudge factors, we get a range of between $140 to 180 million for the five days plus preview, if it can hold that kind of enthusiasm. Odds are good that it can, though it will be interesting to see where exactly the split comes. Wednesday should be gigantic, somewhere in the mid to high 40s, with a weekend figure of around $90 million. I'll split the difference on my expected range up there, and opening on a ridiculous 4,000+ screens, Harry Potter and the Order of the Phoenix should come in with around $96 million for the weekend, and $165 million over five days.


Only one other film is daring to enter the market in wide release this weekend, the torture thriller Captivity. The film is a lot more notable for its controversial billboard that had to be pulled than the film itself, which isn't a great sign. Captivity stars Elisha Cuthbert as a fashion model who awakes to find herself kidnapped and held captive with another man, and subjected to psychological games by an unseen madman. I think James Wan gon' sue somebody.

Audiences have been pretty loathe to accept Saw clones that are not actually Saw, and the recent failure of Hostel Part II says that the torture porn fad may be fading just a tad. The near lack of promotion for this film doesn't help either. This one's not going to make much of an impact, and should see a box office weekend of just over $4 million.

Possibly feeling a bit like chopped liver in the wake of Potter-mania is Transformers, which only earned $173 million as of Tuesday. Barely even worth writing about, I know, but let's humor the giant transmogrifying robots, shall we? A great big noisy, candy-colored, crowd-pleased family friendly action film, Transformers was a knock out of the park for director Michael Bay and producer Steven Spielberg both financially and artistically (okay, less so on that last bit). Material that could have by all rights been embarrassing was handled with just the right amount of respect and with tons of top notch CGI thrown on the screen. Coming off $70 million on the weekend proper, Transformers is going to have some of its legs taken out from it by Potter, though it probably skews both older and younger at the same time. Give it $39 million for the second weekend.

Continuing what might be termed a glut of family films at the top of the box office, Ratatouille is hoping to survive this onslaught as well, after a decent showing in its second weekend, and with about $120 million in its coffers so far. Another Pixar film, Monsters, Inc., was famously dinged by a Harry Potter film, but with kids out of school, there is likely a greater potential kids audience out there so it shouldn't be so severe. I see a weekend of $18 million for this one.

Live Free or Die Hard is climbing back to respectability after a near disaster of an opening weekend, and is the first pure adult-targeted film as you move down the top earners. This could help it out, but then again, two of three above it are heavy on the action as well, so maybe not. Give it $10 million this weekend.

License to Wed took over from Knocked Up as the highest grossing romantic comedy of the weekend, but started out with just $10 million on the weekend and $17 million through five days. Legs could save it like Robin Williams' last film, RV, but I wouldn't particularly count on it. Let's say $5.5 million for what's being judged as a pretty mediocre outing for Williams.

Among other returners, Evan Almighty continues to languish well behind its $200 million budget, having earned just over $80 million to date, and cementing its status as the summer's biggest bomb. Other films will have to try awfully hard to throw under it. 1408 is rolling along as a decent hit relative to its budget, and should add another $4 million to its total. Perhaps most interesting of the films in the lower half of the rankings is Sicko, which is suffering in comparison to Michael Moore's last documentary, Fahrenheit 9/11, but performing about equal to the other "blockbuster" docs of Super Size Me, Bowling for Columbine and last year's An Inconvenient Truth. Moore's health care expose should bring in another $3 million this weekend, getting to around $15 million total.