Daily Box Office Analysis for July 9, 2007
By David Mumpower
July 10, 2007
BoxOfficeProphets.com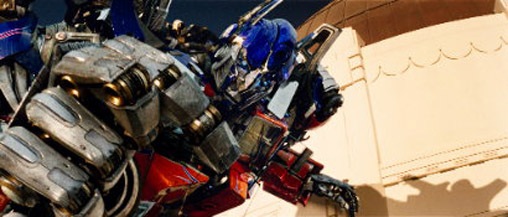 ---
After being the eye of last week's holiday box office storm, Transformers settled into its expected routine on Monday. The number one movie (for another two days) earned $9,927,640, an increase of 12.8% from last Monday. Don't get too excited about that amount, though. Keep in mind that last Monday's Transformers box office was comprised of showing sfrom 8 p.m. and beyond. So, the improved performance from week to week is a bit misleading. Tomorrow's decline will be a much better indicator of how well the movie is holding up.

In the interim, what we can evaluate about Transformers is its Sunday-to-Monday decline. The movie fell from $25,701,839 on the 8th to $22,144,125 on Sunday, a depreciation of 13.8%. That is a marvelous Saturday-to-Sunday hold-over. The movie was not quite as successful from Sunday-to-Monday, falling 55.2% to $9,927,640. Those of you who were reading the column last week (and if you were not, paypal me $20 by way of apology) know that the last time we had July 4th occur on a Wednesday was 2001. The openers for the same period that year were Scary Movie 2 and Cats and Dogs. By way of comparison, Scary Movie 2 fell from $5.948 million on Sunday to $2.914 million on Monday, a decline of 51.0%. Cats and Dogs fell from $6.789 million to $2.655 million, a decline of 60.9%.

Given that Transformers has largely behaved as a family film thus far, its similarity to Cats and Dogs is predictable.For those of you who don't recall the $91.3 million earner starring Alec Baldwin, it was a pure children's film. Its premise was that cats were evil overlords trying to enslave humanity while dogs were good and pure protectors of the human race. As a cat lover, I resent this premise, but the point here is that it skewed young and that caused a uniform pattern of behavior that should generally match the similarly younger skewing Transformers. The only difference is that the 2007 release also has a certain segment of its audience that is my demographic, 30-somethings with a serious case of 1980s nostalgia (Starscream rulez!!!). So, Transformers' behavior should be not quite as family-centric as Cats and Dogs. It's a good guideline and nothing more.

The evidence of this is in the performances so far. Cats and Dogs had an internal weekend multiplier of 3.23 while Transformers managed a solid 3.11. In terms of July 4th five-day multiplier (the amount it makes in five days divided by its July 4th total), Cats and Dogs was at 3.96. Transformers was even better at a sensational 4.08. Given the vast difference in the scale of the two movies relative to July 4th ($29.1 million for Transformers versus $9.0 million for Cats and Dogs), the fact that Transformers has held up better thus far is astonishing. Seeing its Sunday-to-Monday decline surpass Cats and Dogs is another fantastic sign about the movie's potential legs. Frankly, there is no bad news about Transformers to this point.

While I cannot deny that apathy is a factor here, let's apply the same guidelines to License to Wed, last week's other new opener. The Robin Williams comedy fell from $2,917,445 on Sunday to $1,413,277 on Monday, a decline of 48.4%. Its weekend multiplier turned out to be 2.83, which is similar to the 2.80 Scary Movie 2 managed back in 2001. Whereas the horror spoof had a July 4th five-day multiplier of 4.10, License to Wed managed a very strong 5.27. Looking at all of the data provided so far, this should look like a sign of legs. What we should keep in mind, however, is that License to Wed has the lowest actual numbers of any title under discussion, which makes the multiplier much easier to inflate. So, don't get too excited by anything just yet. The bigger picture here is that on its seventh day of release, License to Wed is already down to $1.4 million, meaning it could easily slip under a million by Thursday. That makes it the very definition of a box office non-factor in this day and age.

The other titles of interest on Monday are Ratatouille and Live Free Or Die Hard. The Pixar title fell from $10,856,360 on Sunday to $4,068,900 on Monday. This is a decline of 62.5%, which is significantly higher than the 44.5% decline it had with the same two data points last week. The obvious logical inference here would be that holiday inflation was a factor in last Monday's exceptional hold-over. Let's take a look at Live Free Or Die Hard and see if that premise is sound. The Bruce Willis starrer earned $5,391,783 on Sunday then dropped to $2,179,298 on Monday. These numbers represent depreciation of 59.6% this week. Last week's Sunday-to-Monday decline was 57.8%, so Live Free Or Die Hard has basically stayed the same in terms of week-to-week behavior. This makes the stiffer decline of Ratatouille somewhat troubling. So, it is a situation we will need to monitor in coming days.

The overall top ten this week has combined box office of $21,941,647, a decline of 23.8% from last Monday's impressive total of $28,789,748. If we take Transformers out of the equation (and we probably should due to the artificial weekly increase) and exclude License to Wed, which was not out yet, the other eight films that were in the top ten each week fell from $19,202,230 to $10,600,730. That's an average decline of 44.8%. So, the Ratatouille drop becomes less troubling. It is perfectly in line with the rest of the returning titles on a Monday-to-Monday basis. If anything, the movie is simply guilty of having a sensational Sunday, which is never a bad thing. The movie's 3.08 internal multiplier this past weekend is even better than last weekend's 2.86.

Tomorrow's box office won't be any different from today's, but then the fun begins on Wednesday. The arrival of Harry Potter and the Order of the Phoenix will create another mid-week spike in daily numbers. The movie probably will not match Transformers' holiday-inflated total of $29.1 million on its first Wednesday, but with Potter Mania at a fever pitch, anything is possible.