Friday Box Office Analysis
By Tim Briody
July 7, 2007
BoxOfficeProphets.com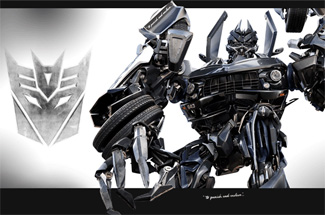 ---
Transformers

The robots continue their path of destruction through the month of July, with another $22.3 million for Transformers on Friday, crossing the $100 million mark in four or five days, depending on where you count those Monday showings. While predictably off from the $29.1 million earned on Wednesday, it's not really showing any signs of excessive front-loading, as David Mumpower pointed out in yesterday's Daily Box Office Analysis.

That's not to say it's going to set any big records for a multiplier over the weekend, however. It will likely have a fairly standard multiplier, somewhere between 2.7 to 2.8, which is an impressive $61.5 million in the three-day weekend. That's a total of $146.4 million since Monday's evening showings. Yowza, to say the least.

License to Wed

Just like the good news continued for Transformers throughout the week, the bad news continues for License to Wed. The Robin Williams/John Krasinski comedy could only earn $3.7 million on Friday, after earning $7.3 million during the week. At least John will be able to compare notes with Steve Carell back on the set of The Office. That's about a $10.3 million weekend and $17.6 million since its Tuesday release.

Notable Holdovers

After a very good week, Ratatouille drops 42% from last Friday, a tad high for a Pixar release, but as we saw during the week, it's still got some good staying power. The drop should improve over the rest of the weekend (it'll pass $100 million tomorrow, by the way), and a second weekend of around $29 million should be in the works, a remarkable recovery from its somewhat disappointing opening.

Live Free or Die Hard falls 50% from last weekend, but it certainly could have been more excessive in the face of the unstoppable juggernaut that is Transformers. While not quite as good as Ratatouille, Live Free or Die Hard did also have a decent week during the July 4th holiday, so it's been a respectable performance so far. Look for $18.3 million for the weekend.