Daily Box Office Analysis for July 5, 2007
By David Mumpower
July 6, 2007
BoxOfficeProphets.com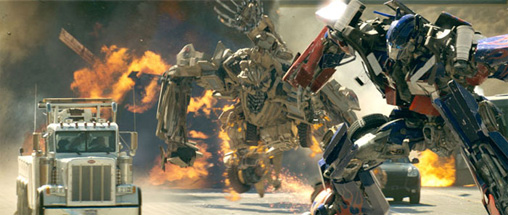 ---
$19,208,000. That is how much Transformers made on July 5th, and the only word appropriate to use to describe it is 'yowza'! Yesterday in this forum, I indicated what a solid performance would be for Transformers the day after the July 4th holiday. I said that anything under 40% would be an indicator of strong hold-over appeal for a movie of this magnitude. For those of you who have not already skipped ahead and done the math here, $19.2 million represents a decline of only 34.0% from the July 4th record-shattering performance of $29.1 million. With $84.9 million after three (and a quarter) days of release, Transformers has staked a claim as the most successful new movie property of 2007. 300's $70.9 million had been winning but even if we take out the $8.8 million Transformers earned on Monday night sneaks, it still claims $76.1 million in its first three full days. BOP's Reagen Sulewski, my good buddy, views this as a harbinger of big things to come in his weekend forecast.

The reason we are so optimistic about the behavior of Transformers thus far is that it has shown absolutely no signs of front-loading. Many guy/teen-friendly movies of this type see tremendous first day box office then begin to decline quickly once the early demand has been met. Transformers is not behaving in such a manner. In fact, if we re-evaluate the last time we had this particular calendar configuration for the July 4th holiday, which was 2001, we find some stunning data support for its hold-over appeal.

Both of the new openers on July 4th that year – Cats and Dogs and Scary Movie 2 – fell more than Transformers did yesterday. Scary Movie 2 dropped 36.5% while Cats and Dogs declined 44.3%. Now factor in the idea of scale. Those two movies had combined July 4th box office of $17.2 million, a full $12 million less than Transformers managed on its own. As BOP has discussed endlessly over the years, it is much more difficult for a movie with a larger box office number to match its total on multiple days. A movie that earned $29.1 million on Wednesday should by all rights fall to $14 or $15 million on Thursday when most people are no longer on holiday, and even if it did that, we would not be worried. Instead, Transformers has managed a better Thursday depreciation than either of the movies working on a much smaller scale in terms of actual revenue.

There is even one more data point that is more impressive than this. In 2001, the top ten's combined box office revenue on July 4th was $36.386 million. July 5th saw a decline to $21.547 million. That means the overall depreciation for the top ten on July 5, 2001, was 40.8%. That is what the normal movie release on July 5th should be expected to fall after the holiday is over. For 2007, the trend is not quite so dramatic. The rest of the top ten, Transformers excluded, earned $28,787,683 on Wednesday then fell to $20,695,379 on Thursday. That's an average fall of 29.1% for a top ten title. Transformers basically matched this ratio despite being almost as large a revenue source as the other nine titles combined. Folks, the BOP staff is not easily impressed as a rule, but I can assure that all of us are taken aback a bit by this Thursday performance. We are talking about an indisputable juggernaut now.

Given the data above, you have already likely made the logical inference that the news was equally sunny for the rest of the top ten. Everything held up better than expected, indicating a great overall set of weekdays of box office for all major titles in release. Ratatouille is a perfect example of how well movies held up this week. It earned $7,855,873, which means that it actually saw an increase in box office from Monday's impressive $7,550,960 to yesterday. As we have been discussing all summer, this type of behavior is anomalous. Movies should naturally decline roughly 20% throughout the weekdays. Of course, a large part of the reason why Ratatouille did not do so is holiday inflation. Even allowing for this, however, we are talking about a movie that started the week facing numerous questions do to a shaky $47.0 million debut. Only four days later, it sits at $80.5 million and suddenly appears much more Pixar-esque.

The news is similarly positive for Live Free Or Die Hard. An estimated Thursday tally of $3.6 million does not quite match Monday's $4.276 million, but the movie managed $18,361,961 throughout the week. This represents 55% of the movie's prior weekend total, a strong result. The news is not all roses and puppy dogs for Live Free Or Die Hard, however; it did have the second largest Wednesday-to-Thursday decline of the top ten. Only Sicko's 42.2% fall is steeper than its 40.3% decline. By the way, in case you are wondering, Ratatouille earned $33,489,910 in four days after starting with $47,027,395 in its first three days. This is a weekend-to-weekday hold-over of 71.2%. Live Free Or Die Hard's hold-over is good; Ratatouille's hold-over is exemplary.

I suppose I should again muster up the courage to talk about the week's other opener, License to Wed. I'm running out of ways to make fun of it already, which is not a good sign for a movie that has been in theaters for only three days thus far. On Thursday, it fell 25.4% to $2,211,461 and has a running total of $7,415,818. Mandy Moore deserves better.

Let's finish up the week's discussion by taking a look at exactly how much the holiday helped the box office bottom line. As I mentioned last Friday, the final week of June's box office was respectable. Despite this, I ended last week's final column by saying the following: "Next week, these numbers are going to seem pitiful, too. The July 4th holiday is going to spike all the weekdays." Was I right? Oh, boy. You could say that. The week day top ten for last week started with $16,050,527. Tuesday's total of $15,248,237 starts the normal trend of weekday to weekday declines. That pattern was briefly disrupted by the debut of Live Free Or Die Hard. Due in large part to that movie's $9,111,638, the top ten had its best day of the week, earning $22,353,083. Thursday saw a 14.6% decline to $19,079,412. Summing up the totals, last week's Monday-to-Thursday had combined top ten box office of $72,731,259, and this was easily the best total for the month. Keep this number in mind for a moment.

This week started with $28,789,748 on Monday. That number jumped dramatically on Tuesday when Transformers had a full day of revenue. July 3rd's top ten had combined revenue of $49,270,000. July 4th, the holiday itself, even smoked that total, earning $57,887,863. Yesterday's total of $39,903,379 gives the four days a grand total of a whopping $175,850,990. This is a number approaching Memorial Day/Thanksgiving totals in terms of overall revenue. It also indicates an increase of over $103 million from last week's weekdays. Even if we take Transformers' $84,934,000 out of the equation, we are still talking about a 25% increase week-to-week. Ladies and gentlemen, this is holiday inflation in a nutshell.