Daily Box Office Analysis for July 4, 2007
Transformers Is Independence Day Champ
By David Mumpower
July 5, 2007
BoxOfficeProphets.com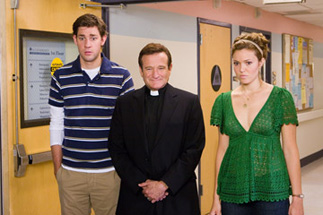 ---
Box office behavior is oftentimes mercurial, but it does have a set of rules that are generally followed. At no point during the year is this more evident than July 4th. This is a date wherein the financial performances of movies are directly impacted by the day of the week upon which the holiday falls. If July 4th falls on a Friday, Saturday or Sunday, box office is negatively impacted due to the fact that consumers who were already experiencing free time from the holiday have other things to do. Whereas a movie is normally a worthwhile way to spend free time, a July 4th weekend calendar configuration sees potential customers decide they would rather have barbecue picnics and watch fireworks instead.

Armageddon, a 1998 release, is a perfect example of this. The movie earned $13.6 million on its first Friday. Its first Saturday happened to be July 4th, and the end result was a 22.6% decline to $10.5 million. When a movie's Saturday is that much lower than its Friday, trouble ensues. Armageddon, the most successful movie of calendar 1998 (Saving Private Ryan did not surpass it until early 1999), was deemed a huge disappointment after its opening weekend solely due to an arcane bit of box office behavior trivia.

The same principal does not apply when the July 4th holiday occurs in the middle of the week, though. Consumers who would otherwise have no interest in heading out to see a movie on a weeknight suddenly finds themselves in a position where they have a lot of free time. The end result is that the day before the holiday as well as the holiday itself see significant performance increases. The day after the holiday even sees a boost as a lot of would-be movie-goers take off a vacation day to enjoy even more free time. So, July 4th is a great time for American box office as long as it does not occur on the weekend. Keeping this in mind, let's take a look at how all the titles did on July 4th.

Transformers earned $29.1 million from 4,011 venues. In the process, it becomes the most successful July 4th performer of all-time. This is fresh on the heels of it being the biggest Tuesday performer of all-time. The Wednesday total represents an increase of 6.0% from Tuesday. Before people get too excited, keep in mind that 2001 was the last time we had a similar calendar configuration with the holiday coming on a Wednesday. In that year, six of the eight films that finished in the top ten that were not debuts (Cats and Dogs and Scary Movie 2 were released on July 4, 2001) saw increases from Tuesday-to-Wednesday. So, this is ordinary box office behavior in theory.

Having said that, the actual dollars being mentioned here dwarf the ones being discussed in 2001. The top returner on that Wednesday was Artificial Intelligence, and it managed $5.16 million. The total for Transformers represents right at $10 million more than the combined total for non-openers in the top ten on July 4, 2001. So, when we factor in scale, an increase on July 4th is an impressive feat. In the next 48 hours, we will know the rest of the story about Transformers in terms of opening week box office. A decline under 40% would indicate this is a juggernaut unfolding. A decline of 40-55% would be expected behavior for a movie's July 5th Thursday performance. Anything over 55% would indicate massive front-loading. So, keep all of this in mind when numbers come out tomorrow.

The other opener to discuss remains a non-factor at the box office. License to Wed managed $2.96 million on Wednesday, an increase of 33.6% from its Tuesday debut. I have a hard time visualizing anything beyond a $10 million weekend for this movie and even that is probably ambitious. If we take another look back at 2001, the openers from that Wednesday were again Cats and Dogs and Scary Movie 2. The former film earned $9.0 million on Wednesday, $5.0 million on Thursday and $6.7 million on Friday. That's a 44.4% decrease on Thursday followed by an increase of 46.0% on Friday. Friday still represented only 74.4% of Wednesday's box office. Scary Movie 2 was a similar proposition. It earned $8.3 million on July 4th, $5.3 million on July 5th and $7.3 million on July 6th. That's a 36.1% decline on Thursday followed by a 37.7% increase on Friday. The July 6th total represents only 88% of the July 4th total. Reading between the lines, there is reason to believe that $2.96 million is the best single day of box office License to Wed has. If it's not, the best case scenario is still only a bit more on this Saturday, meaning we are looking at a weekend in the neighborhood of $7-8 million and a six day total around $15 million. That's...not good.

The rest of the top ten does bear out the theory that July 4th on a Wednesday increases box office for everything. Ratatouille spiked huge from $7.9 million on Tuesday to $10.2 million on Wednesday. That's a 29.2% increase, folks. Wow is not a strong enough word for that type of percentage change on a previous $7.9 million day. Pixar's latest release sits at $72.7 million after six days, and it does appear to be recovering nicely after the disappointing opening weekend. Word-of-mouth seems to be saving the day. In case you were wondering if this is just a family film phenomenon, here's the other data. Evan Almighty was up 41.8% to $2.84 million. Fantatic Four: Rise of the Silver Surfer was up 39.4% to $1.49 million. So, yes, there is an argument to be made that it's nothing out of the ordinary. Similarly, it is also fair to say that given the much larger dollars involved, Ratatouille's $2.3 million growth is a strong sign of box office staying power, just as was the case with Transformers above.

In looking at the overall performance of the top ten, the news is all rosy. Due in large to the $29 million Transformers accrued, the top ten had combined receipts of $57.9 million and, yes, Transformers was just over half that amount. This represents an increase of $10.6 million from yesterday. That's 17.5% worth of holiday inflation for what would have otherwise been an average Wednesday. Every title in the top ten saw an increase from Tuesday. The situation will be much different with today's numbers, as everything will plummet now that folks are back at work for the most part. Everything should fall off the table with Thursday numbers before recovering nicely on Friday.