Weekend Forecast for June 29 - July 1, 2007
By David Mumpower and Kim Hollis
June 28, 2007
BoxOfficeProphets.com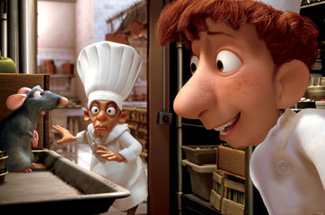 ---
After a few weekends of disappointing titles in terms of either box office or quality or both, June ends with a bang. Three new productions enter the marketplace and each of them is certain to strike a chord with a significant portion of its target audience. Ratatouille, the latest Pixar title, headlines the group. Live Free Or Die Hard, the fourth movie chronicling the wildly unfortunate life of fictional police officer John McClane, is poised to please a nice mix of 30-something and teen males. And Michael Moore is ready to grab more headlines with his latest critical documentary, Sicko. All three of these movies are tracking very well. Even better from their studios' perspectives, with so many disappointing tentpole titles and box office non-factor stragglers comprising the top ten, the timing for these three releases has circled from dangerous when announced to impeccable.

When it comes to the promise of success in terms of both quality and box office, no one is more consistent than Pixar. The animation house that set the standard for CGI animated product, Pixar is known for its exquisite storytelling, memorable characters and attention to detail. They'll attempt to continue that winning streak with the debut of Ratatouille this weekend.

Taking a look at the historical performance of their films, Pixar got its start way back in 1995 with Toy Story. Opening in 2,457 venues, the charming tale about a friendship between a toy cowboy and astronaut debut with a weekend of $29.1 million before going on to earn $191.8 million domestically (which inflation adjusts to $45.4 million and $299.4 million). Their second movie, A Bug's Life, started with $33.3 million and had total domestic box office of $162.8 million (the equivalent of $48 million and $235.7 in today's dollars). Next up was the sequel to Toy Story, which had a stunning first weekend of $57.4 million and total North American box office of $245.9 million (again, adjusting for inflation gives us $77 million for opening weekend and $330 million domestically, proving that Pixar and the Toy Story franchise had become a juggernaut by 1999).

The next four films for Pixar have been true originals. Monsters, Inc. was released in 2001 with an opening weekend of $62.6 million and final domestic numbers totalling $255.9 million (in today's numbers, that's $75.2 million and $307.5 million). The juggernaut came in 2003 with Finding Nemo. Its opening weekend was $70.3 million (inflation adjusts to $79.2 million) and total final domestic box office of $$339.7 million (inflation adjusts to a massive $382.5 million). 2004 brought us The Incredibles, which debuted with $70.5 million before moving on to total domestic box office of $261.4 million (with inflation adjusted numbers of $77.1 million and $285.8 million). And just one year ago, Cars started with $60.1 million and found total North American box office of $244.1 million.

Obviously, Ratatouille shares a common pedigree with all of these films in that the Pixar brand is viewed by families as something as trustworthy as Honda automobiles. As far as opening date time frame, its closest cousin is Cars, which also opened in June last year. And Ratatouille shares writer/director Brad Bird with The Incredibles.

The stumbling block for Ratatouille seems to be that people just aren't that jazzed to see a movie with a rat as its main character. While the movie truly has a wonderful message and all of the characters (including the human beings) are adorable, it's tough for some people to get past the "ick" factor, something we saw less than a year ago with Flushed Away and nearly a decade ago with the creepy crawlies in A Bug's Life. Reviews of the film have been rapturous, and having already seen the film, we can attest to the fact that Ratatouille ranks amongst the very best movies that Pixar has ever created. If we compare it to Cars, Ratatouille strongly exceeds it in terms of story and quality, but it seems to be missing that universal hook that Cars had - it was able to draw in both NASCAR fans and boys who love their automotive toys. We believe that people will still be out in droves to see Ratatouille, but perhaps not quite to the same level that Cars found.

We're foreseeing a weekend of around $56 million, though more would make us very happy. For what it's worth, if Ratatouille can't scrounge up more than $48 million, it would add up to being the worst Pixar opener ever when we take inflation into consideration (we'll throw out Toy Story since it was the debut film from the company). To beat A Bug's Life overall, it would need to bring in at least $236 million before the end of its domestic run. And if you're looking for a recommendation, we'd expect Ratatouille to end up amongst our favorite films of the year easily.

Live Free Or Die Hard is the other massive opener this weekend. Technically, it debuted with midnight sneaks at 12:01 on Wednesday, earning $9.1 million along the way. With a total approaching $14 million prior to the weekend, Bruce Willis' latest Save the World from Terrorists offering is already off to a strong start. After a dozen years of attempts to find the formula needed to type the buddy picture/Simon Says premise of the over-the-top (even by this franchise's standard) Die Hard: With a Vengeance, Fox finally came up with an intriguing reboot premise.

Using cyber-terrorism and the smirking malice of BOP fave (and former pupil of one of BOP's staff) Timothy Olyphant as a jumping off point, Live Free Or Die Hard sees John McClane evolve into the parent of a teen girl who barely knows him and definitely does not like him. Meanwhile, he also develops a mentoring relationship with his accidental partner, played by Justin "I'm a Mac" Long. As action heroes often do as they get older, Willis is asked to be not just the fearless warrior from the original Die Hard but also a teacher in the ways of on-the-fly crisis management not unlike Sean Connery's work in The Rock. He has accepted this concession to his advanced age with grace, but he still manages to look like an intimidating bad-ass at 52.

The end result is that Live Free Or Die Hard does not feel like a tardy rehash of a tired format to mainstream audiences. A brilliant marketing campaign featuring a couple of dazzling money shots involving violence, McClane's trademark gallows humor, and an old chestnut of a quote from the original has people jazzed to see the fourth movie. Die Hard is a franchise that debuted all the way back in 1987 before many of the MySpace generation consumers who want to see it were born, but the original still stands as the archetypal action movie of the past two decades. Audiences will flock to see what appears to be a worthy entry, making it likely to earn somewhere in the neighborhood of $34.1 million this weekend.

The third new entrant this week is Sicko, Michael Moore's expose on the state of health care in our country. A lightning rod for criticism, Moore has become the punching bag for the Fox News crowd, who assail his credibility at every turn. Meanwhile, his latest offering has already shown signs of alienating a portion of the fan base that passionately supported his unprecedented box office hit documentary, Fahrenheit 9/11. The movie targets no less than Democratic presidential frontrunner Hillary Clinton for her campaign's financial support from the health care industry. Simultaneously, some of the political bigwigs he targeted with his last documentary are using a key sequence from Sicko, Moore's visit to Cuba for healthcare comparisons, as the impetus for revenge. He is under investigation by the Treasury Department for violating this country's long standing embargo of the Castro regime through the actions documented in Sicko. All of this means another batch of inflammatory rhetoric about the movie, its author, and anyone else who comes within ten feet of this thing. This also indicates a great deal of free publicity will be given to the product, making it almost certain to become one of the top five grossing documentaries of all time. For our own part, BOP looks forward to another six weeks of feedback from politically motivated readers who want us to either lionize or demonize the work of the documentarian. BOP can save you all a lot of trouble by saying that all we care about is the box office, and Sicko appears likely to make about $10.8 million this weekend from only 441 venues. This would be a striking per-venue average if it happens as expected.

Also opening this weekend is Evening, with a decent venue count of 977. The film is notable in that it is based on a novel by Susan Minot. She adapted the screenplay with Michael Cunningham, which was enough to attract all kinds of talent to the project. Claire Danes, Toni Collette, Meryl Streep, Vanessa Redgrave and Natasha Richardson (Redgrave's real-life daughter) are all featured. Two of those five are Academy Award winners (Streep and Redgrave), and another is a past nominee (Collette). Even with the talent involved, though, it's a movie with fairly limited appeal and marketing. Look for around $3.6 million on the weekend, though just a touch more might be enough to break it into the top ten.

With regards to holdovers this weekend, the big stories are whether Evan Almighty will start to behave like a family film and whether 1408's buzz translates to box office legs. Under any circumstance, all of the titles in release should experience very good box office over the next ten days as consumers enjoy the benefits of the July 4th holiday calendar configuration this year. A lot of vacation days will be used over this period, and that always means a significant increase in box office for all titles in release.