Daily Box Office Analysis for June 25, 2007
By David Mumpower
June 26, 2007
BoxOfficeProphets.com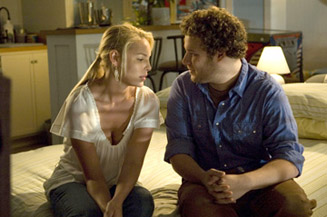 ---
Now that the world has stopped spinning and I'm relatively lucid again, let's spend today's discussion taking an overview of the movies we have discussed thus far. We'll use the daily numbers for Monday, June 25th, 2007, as our jumping off point.

Evan Almighty, the "big" debut movie from last weekend, finishes in first place with $3,928,360 while the more impressive performer relative to expectations, 1408, earned $2,781,408. We'll focus on comparisons for the two titles in coming days, but what matters today is pointing out that the news for Evan Almighty continues to be negative bordering on hostile.

If we take a look back at the prior three Mondays, the winning openers all did bitter than Evan Almighty did yesterday. Knocked Up earned $4,435,695 on June 4th. Ocean's Thirteen earned $4,155,375 on June 11th. Fantastic Four: Rise of the Silver Surfer earned $5,896,708 on June 18th. While the comic book adaptation's opening weekend is significantly higher, the other two titles had opening weekends right in line with the $31,192,615 the Steve Carell comedy managed over the weekend. So, these should be solid indicators for expected box office throughout the week for this title. One would anticipate Evan Almighty to have better weekdays since it skews so young. Instead, it's come in 5.5% lower than a very adult movie in Ocean's Thirteen. This is even more grim news for Universal.

Not everything involving Universal is bad news, though. Knocked Up's first 25 days have been nothing short of splendid. Today's fourth place finisher has current box office of $110,870,845. If you will recall, we were tracking its performance relative to a few other titles. Those movies are American Wedding, The 40 Year-Old Virgin, Wedding Crashers, Dodgeball and Anchorman: The Legend of Ron Burgundy. Let's now take a look to see how those others stacked up after 25 days to demonstrate just how wonderfully Knocked Up is holding during a period where nothing at the box office shows legs.

American Wedding was at $91.2 million after 25 days. Its final domestic box office of $104.4 million has already been surpassed by Knocked Up. Similarly, Anchorman was always the worst case scenario comparison I had originally excluded since I doubted Knocked Up would run out of gas that fast. Its final total of $84.1 million is one Judd Apatow's latest comedy had beaten by its sixteenth day. The 40 Year-Old Virgin is the same story. Apatow's previous comedy had earned $82.7 million after 25 days on its way to final box office of $109.4 million. Knocked Up finally surpassed that total with yesterday's numbers. Dodgeball, a movie Knocked Up will pass in another couple of days, was at $98.8 million after 25 days and its $114.3 million will be overtaken on Thursday, give or take a day.

In fact, the only movie Knocked Up is not certain to beat -- okay, unlikely to beat – is Wedding Crashers. This is the only pace Knocked Up has not matched, and we always discussed it as an outlier that was beyond best case scenario. The Owen Wilson comedy was at $145.9 million after 25 days on its way to a shocking final domestic performance of $209.2 million. So, it's safe to say that Knocked Up won't be breaking the $200 million barrier, but we knew that already. It does seem to have a chance to reach $150 million, but it will need continued staying power over the next few weeks to pull off that staggering accomplishment. Given its achievements thus far, I would not bet against it.

The other film with some good news is Ocean's Thirteen. We had been tracking this title's performance relative to its franchise predecessors. Another $1,422,317 on Monday gives it $92,501,894 after 18 days. As predicted, it has fallen behind the pace of Ocean's 11, which was at $97.5 million after the same time period. That trend will continue as the next eight days of box office comparison were the Christmas Day-New Year's Day period of 2001. Long time readers of this site as well as this column realize that this means a huge box office spike for all titles in release. In this instance, Ocean's Eleven was at $137.0 million after 26 days. Ocean's Thirteen is unlikely to reach that total in its domestic release, much less the next week.

Don't worry, though. It is doing better than the dreadful Ocean's Twelve, which was only at $89.5 million after 18 days. The other positive here is that part of this period is comprised of December 20-27th. As just discussed, that's the golden period of box office. After 25 days, Ocean's Twelve was at $108.1 million. Ocean's Eleven won't match that, probably falling around $102 million in the same time frame. It will run longer, however; this means it will come closer to that movie's final box office of $125.5 million than I had originally expected. The franchise is officially redeemed.

With regards to last Monday's big movie, Fantastic Four: Rise of the Silver Surfer, the evidence is quite clear. Whereas the original film managed $100.2 million in its first ten days, the sequel fell short of that mark with $97.5 million in the same time frame. Monday's third place performance of $2,377,521 gives it $99,840,556 . That is still less after eleven days than what the first film did in ten. Comparing apples to apples, Fantastic Four's second Monday of $2,770,807 is 16.5% higher than what its successor managed. Word of mouth is just plain destroying Silver Surfer.

The rest of the top ten only has one other film of note for Monday. That one is A Mighty Heart. The Angelie Jolie-powered box office dud earned only $397,391 on the heels of a $3.9 million weekend. It was in tenth place then and it's in tenth place now. Positive reviews and a dark horse end-of-year awards mention or two is all that this one can hope for now.

Despite the weak performance by the number one film, the top ten combined to earn $16,050,527. Compare this number to the ones from the prior three Mondays. June 4th had a total of $13,782,558; June 11th was at $14,672,571. June 18th titles combined for $16,818,235. So, we are doing better the past few days than we had been at the start of the month. This Monday is down 4.6% almost solely due to the disappointment of Evan Almighty. Films 2-10 yesterday actually outperformed the same ranked titles from last Monday by right at $1.2 million ($1,200,640 to be exact). The only difference is Fantastic Four: Rise of the Silver Surfer's $5.9 million smoking Evan Almighty's $3.9 million.