Weekend Wrap-Up For June 6/22 - 2/24, 2007
Evan Not So Almighty at Weekend Box Office
By John Hamann
June 24, 2007
BoxOfficeProphets.com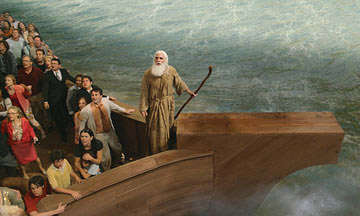 ---
Evan Almighty, the most expensive comedy ever made, got off to an inauspicious start this weekend, coming in as the lowest opening weekend earner from the slew of sequels we have seen so far this summer. Angelina Jolie's A Mighty Heart also got off to a tough start; however, a film about the death of Daniel Pearl isn't exactly summer blockbuster fare. There was even more bad news in the Fox camp, as the Fantastic Four sequel fell off its surfboard this weekend, losing a tremendous amount of its opening weekend business. The good news came from a studio that doesn't often get good news in MGM, as 1408 got off to a better-than-expected start.

The number one film is Evan Almighty, the follow up to Bruce Almighty, the 2003 juggernaut that opened to $68 million and earned $242 million domestically. Evan Almighty is like the brother of the quarterback that just isn't as bright or smart as its sibling. Evan Almighty debuted at 3,602 venues this weekend (about 150 more than its brother) and grossed a slower-than-expected $32.1 million. That gives this very expensive Universal product a venue average of $8,910, an opening weekend that just isn't good enough in these days of turn'em and burn'em summer movies. Universal put as much as $200 million (I'm more apt to believe IMDb's $175 million figure) into Evan Almighty, putting a lot of pressure on the back of Steve Carell, star of The 40 Year-Old Virgin, which wasn't exactly family comedy. Carell is unproven in the all-ages comedy realm, except stretching to look at the small role he had in the original Almighty film. Universal was said to be courting the religious viewer for this one, and I would say they failed in their efforts. Kudos to BOP's Reagen Sulewski, who pretty much nailed Evan Almighty's opening weekend in his weekend forecast column earlier this week. In fact, Reagen estimated an opening of $35.6 million.

Why the lowball opening for this sequel with the huge budget? The filmmakers failed to make the movie funny. Trailers and commercials were absolutely painful, with TV ads of late including a scene with Carell screaming (a la the 40 Year-Old Virgin waxing scene), and were no draw to see the film. Reviews were horrible. Of the 122 reviews counted at RottenTomatoes, only 25 were positive, leaving Evan with a hugely rotten rating of only 20%. How did this go so wrong, where the first one went so right? The first Almighty movie wasn't as religious as the sequel. The Jim Carrey flick was more of a straight comedy, where this one relies on the Noah's Ark story. The audience to whom this is aimed doesn't want preachy films in summer. They want to laugh, and this film seems to fail to take on that challenge.

The biggest thing that Evan Almighty is missing, though, is Jim Carrey, or a comedic star who could open a film like this one. Without a Carrey or even a Sandler, Evan Almighty was always going to open between $30 and $40 million, which leads me to wonder why Universal would green light this as a $200 million dollar picture. Even if Evan has magical legs, it would still need to gross as much as six times its opening weekend to meet its production budget domestically. Bad-films-that-did-well like Are We There Yet? and Cheaper by the Dozen only managed to earn four to five times their opening weekends. Evan Almighty might earn $100 million domestic, but even with foreign grosses, Universal is in for a tough ride over the next month or so with this one.

Our second place film is another opener, this time of the quality variety, in 1408, a suspense/horror flick based on a short story by Stephen King. The John Cusack movie earned an impressive $20.2 million from 2,678 venues, and had the second-best average in the top ten at $7,534. From the usually idiotic MGM, 1408 overcame its lack of star power, a downturn in the horror business and heavy competition in summer to turn into a hit. 1408 almost grossed as much as its production budget, as it cost MGM only $25 million to produce. They did it with a snappy trailer and marketing campaign, and created buzz via some sensational early reviews. At RottenTomatoes, 72 positive notices were posted versus 26 negative ones, leaving 1408 with a fresh rating of 73% (and an even better 91% from Users of the site). This isn't the first time in the last few years Cusack has opened a thriller successfully. In April 2003, Cusack starred in Identity, a fantastic thriller from James Mangold (Walk the Line), and that movie debuted to $16 million (if you haven't seen it, go rent it, it really is that good) and finished with $52 million. MGM would have been looking for a similar gross with 1408, and it should easily reach $50 million, with $60 million not out of the question. Surprisingly, this is the biggest debut for a horror flick since Saw III opened in October 2006.

Finishing an ugly third is Fantastic Four: Rise of the Silver Surfer, as we have another sequel plunging drastically in its second weekend. The Marvel sequel grossed $20.2 million in its second frame, dropping a hurtful 65%. Silver Surfer earned more last weekend on its opening day than it did over its entire second weekend. It's not a complete surprise. The first film chucked 59% of its audience over its second weekend, but still managed to finish with $155 million. The Silver Surfer should finish short of the original, ending its run around the $140 million mark. So far, this $130 million picture has earned $97.6 million. Let's all say a prayer that Fox doesn't make another one.

Fourth goes to Ocean's Thirteen, as the George Clooney flick approaches the $100 million mark. The Warner Bros. sequel earned $11.3 million in its third frame, dropping 42%. After three weekends, Ocean's Twelve had earned $86.6 million, so Warner Bros. has to be happy with a $91 million gross so far.

Finishing fifth is Knocked Up, the film Steve Carell should have chosen over Evan Almighty. Knocked Up earned another $10.6 million this weekend, as the film continues to see small drops since opening to $31 million four weekends ago. Despite facing off against Evan Almighty, Knocked Up dropped only 24%, and has now seen drops of 36%, 28% and 24%. The small comedy with no major stars crossed the $100 million mark on Friday, it's 22nd day of release - the same amount of time it took Borat to reach that figure. I see Knocked Up finishing with more than Borat's $128 million domestic total. Currently, the comedy that was made for $30 million has earned $109 million.

Sixth goes to Pirates of the Caribbean: At World's End, as the Disney blockbuster continues to trudge toward $300 million. Johnny Depp's gang of thieves earned another $7.2 million, but dropped 42% compared to last weekend, as there is no relief from the big drops for the big sequels this summer. So far, Pirates of the Caribbean: At World's End has earned $287 million, a figure that Disney has to be somewhat disappointed with.

Dropping to seventh is Surf's Up, Sony Animation's crack at solving the kid flick puzzle, something they have had little luck with in their brief history. Surf's Up earned $6.7 million in its third weekend, and dropped a better 28% compared to last weekend, when it fell 48%. So far, the animated penguin surfing movie has earned $47.3 million, and will be lucky to reach $70 million.

Eighth spot goes to Shrek the Third, as the DreamWorks ogre was able to cross the $300 mark during the last week. Shrek earned $5.8 million in its fifth weekend, dropping 36%. The total now for Shrek the Third sits at $307.9 million, and it should finish with about $325 million.

Nancy Drew moves into the number nine spot this weekend and has a good hold, but can't overcome a poor performance when it debuted last weekend. Nancy Drew, from Warner Bros., earned $4.5 million in her second frame, and dropped only 34%. Too bad that it's too little, too late, as this one sits with $16.2 million.

Finally in tenth we have A Mighty Heart, the Angelina Jolie film about the late Daniel Pearl and his wife, Mariane. Audiences weren't inclined to see such serious content on a summer weekend, and A Mighty Heart had to settle for a debut weekend of $4 million, albeit from only 1,355 venues. It had a theatre average of $2,956. From Paramount Vantage, this one cost only $16 million to make, but will have a tough time earning that back domestically.

Overall this weekend, things were pretty much on par with last year. The top 12 this weekend earned $125.4 million, which is down 3% from last year's top 12 of $129.9 million, when Adam Sandler's Click was the number one film. That's a month straight where the box office has fallen behind 2006 totals. Next weekend should be interesting, as Live Free or Die Hard debuts along with Pixar's Ratatouille and Michael Moore's Sicko. Talk about something for everybody.