Weekend Forecast for June 22-24, 2007
By Reagen Sulewski
June 22, 2007
BoxOfficeProphets.com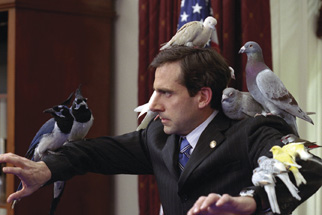 ---
Variety is the word for this weekend's new releases, with a broad comedy sequel, a horror thriller and an early piece of Oscar bait making up the slate of new films. While it may not meet the standard of "something for everyone", it goes a long way towards filling out a group of films that has been dominated by giant franchises so far this summer.

Leading off this group is Evan Almighty, a spin-off (with a better title) of the wildly popular Jim Carrey film from 2003, Bruce Almighty, which grossed $85 million over that year's Memorial Day Weekend. In that film, Steve Carell played a rival news anchor to Carrey, and a target of Carrey's temporary God-like powers. Stealing scenes from Hollywood's greatest scene-stealer, Carell started to get some notice beyond his then job as a Daily Show correspondent. One critically acclaimed and decently popular sitcom and one breakout summer comedy later, and he's a great big freaking comedy star.

Evan Almighty catches up with Carell's character after he gets elected to Congress, where he is chosen as a new prophet of God (a returning Morgan Freeman), and told to build a Noah-style ark because of that impending flood. Yup, a flood any minute now... look, there's a cloud!

Directed by Tom Shadyac, Evan Almighty has made news for a rather dubious honor, that of being the most expensive comedy ever produced, with a budget estimated somewhere upwards of $200 million. It's all the animals, you see, which were real, and not CGI. It's a giant risk for what is effectively a family-targeted comedy (the rating drops from PG-13 to PG), which seems ultimately light on laughs. It's a similar demo to the Santa Clause films, but without its seasonal tie-in.

If any actor can pull off looking completely ridiculous and embarrassed and make it funny, it's Carell, and this film will be a huge test of his newly minted box office prowess. The cast also includes John Goodman and Lauren Graham, but let's face it – it's Steve's show to run here. I think both the previous film's tie-in and Carell's natural humor will be big factors in what this film ultimately makes, but the movie itself isn't doing it any favors. The ads mostly present panicky screams from Carell as the centerpiece of the comedy, with what appears to be a desperation move of practically giving away the ending in recent commercials. It's not a particular sign of confidence. Opening at a massive 3,602 venues, look for an opening weekend of around $35 million, which ought to top the weekend.

In a bit of an upset, the best reviewed film of the weekend is 1408, the horror film adapted from a Stephen King short story. One assumes that critics are a) grading on a genre curve and b) reacting to the change of pace in horror away from torture and gore, but it's something certainly worth noticing.

In 1408, John Cusack stars as a paranormal investigator/debunker, searching for evidence of the afterlife in order to contact his daughter. The title refers to a room number at the Dolphin Hotel in New York, which has had a tremendous number of mysterious deaths in its history. It's sort of the Roach Motel for people – the guests check in, but don't check out. Cusack is determined to bust the myth of the room, against the warnings of The Dolphin's manager, played by Samuel L. Jackson. Is he sick of the mother-effing guests dying in this mother-effing hotel room? One can only surmise so.

While a lot of horror lately seems to have been in a race to discover just how much blood spatter one film can have before desensitizing it audience to it, 1408 gets back into the supernatural for its scares and shocks. Cusack is a bit of an unusual choice for the lead in a horror thriller like this, but then so was Johnny Depp in Secret Window, another King adaptation, and there's also 2003's Identity, which also mined the inherent spookiness of hospitality services. As I mentioned, reviews are surprisingly strong for this film, but it also seems to suffer from that strange phenomenon in horror where a film can look too creepy for its own good, scaring off the people that don't want to have to buy new pants after the movie.

There's a mild chance for this to be a breakout hit, based on promised scares and the hunger for old-time ghost story. One probably can't count on Cusack to help a lot with the box office here (he's been a long time between hits) although he and Jackson do lend a fair bit of credibility to the project. Opening at a modest 2,678 venues, 1408 should see a weekend of $19 million.

A Mighty Heart is this week's third film, starring Angelina Jolie in a story based on the events surrounding the murder of journalist Daniel Pearl in Pakistan while he was investigating Al-Qaeda operations there. Jolie plays Marianne Pearl, Daniel's wife, as she attempts to negotiate for his release in the frantic days surrounding his capture.

Jolie is a lot of the show here, capturing a ton of critical acclaim for her portrayal of the devoted and determined wife. However, this is also a political thriller, looking into the situation on the ground in Pakistan, and the film has received critical praise for that element as well. In the range of films made regarding modern terrorism and the post-9/11 world, A Might Heart sits somewhere between United 93's disturbing realism and World Trade Center's dramatic license, with British director Michael Winterbottom (acclaimed for last year's documentary The Road to Guantanamo) hoping to bring tension to an already determined ending.

While Jolie remains one of the biggest female leads in the world, A Mighty Heart is not an easy sell, given its themes and subject matter. Indeed, it's launching on just 1,355 screens, though this is a fairly wide release for a film from Paramount's indie wing. Based on this, I see a weekend of about $6 million in the cards for this film, which is the first film of 2007 that most people can see sticking in the memory for major Oscars at the end of the year.

Fantastic Four: Rise of the Silver Surfer has a shot at retaining the number one spot for the weekend if it can better the holdover of its predecessor, and/or if Evan Almighty underperforms. I wouldn't count on that first factor, though the second could very well happen, leaving the Marvel superhero team standing atop the box office again. Of course, there's the small matter of audiences not liking this film very much, though this series continues to defy common sense. After opening to $58 million (based, in my opinion, largely on the cool factor of the Surfer), I see a second weekend of about $27 million. Virtually no franchises have shown legs this year, which has to be something of a disturbing trend for Hollywood.

Speaking of that, Ocean's Thirteen had an... okay weekend in its second frame, dropping to $19.7 million from $36. The step up in quality from Ocean's Twelve seems to have been noticed by audiences, though it's almost too little, too late given the opening weekend, which was the lowest of this series. Look for another $10 million this weekend, as it moves towards a $125 million or so total.

Knocked Up had an even better carryover in its third weekend than in its second, earning $14 million and creeping up to the $100 million milestone, which will officially be surpassed with Friday's take. It faces the first real comedy challenger this weekend in Evan Almighty, but the films really couldn't be trying for more different audiences. I like Knocked Up to continue its strong run, bringing in a little over $9 million in its fourth weekend.

Moving further down the rankings, Pirates of the Caribbean inches steadily towards $300 million with another $7 million in box office, while Shrek the Third has already hit that target mid-week. Of the big three May films, Spider-Man 3 still looks like the overall winner, but at much lower final totals than most would have thought.

Surf's Up shed almost a full half of its opening weekend in its return engagement, and is more likely to be hurt by the arrival of Evan Almighty, though animation tends to exist in its own universe. In any event, a total much higher than $60 million for the surfing penguins seems unlikely.

This weekend's most prominent limited release is on just one screen in New York, that being Michael Moore's documentary on the United States' health care system, Sicko. Although a controversial figure who often makes himself the subject of his own films, Sicko seems to be winning over figures all around the political spectrum, with many calling it his most accomplished and mature film to date. Expanding in later weeks, Sicko's performance relative to his previous films will be interesting to watch.