Weekend Wrap-Up
Silver Surfer Fantastic For Fox
By John Hamann
June 17, 2007
BoxOfficeProphets.com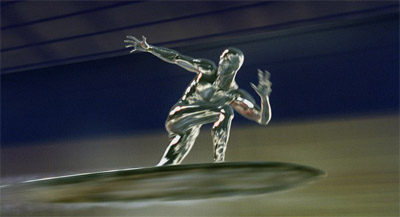 ---
It must be summer. The Fantastic Four sequel got off to a, well, fantastic start this weekend, despite having more than a few things working against it. Millions abandoned their better judgment and flocked to the comic book sequel that doesn't quite achieve Spidey-Standards. Also opening this weekend was Nancy Drew, Warner Bros.' take on the classic mystery solver, as well as DOA: Dead or Alive, which was a different kind of DOA at the box office. The rest of the box office slid like usual, with our one bright spot, Knocked Up, continuing to hold nicely.

Yes, the number one film of the weekend is Fantastic Four: Rise of the Silver Surfer, and it is a whether-or-not-I-like-it scenario. The Fantastic Four sequel grossed a ludicrous $57.4 million this weekend from 3,957 venues. It had a theatre average of $14,499. Despite a more-wooden-than-Pinocchio original and a marketing campaign that made me laugh out loud (act, Jessica, act!), somehow the Marvel comic book movie managed to open strongly. It was so strong that it out-grossed the original, which found $56.1 million from 3,602 venues in the summer of 2005. Why the uptick over the first film? The likely answer is having the trailer and promotional materials in theatres that have shown Spider-Man 3, Shrek the Third and Pirates of the Caribbean: At World's End would have helped. Competing against Ocean's Thirteen instead of the War of the Worlds also makes a significant difference. Rise of the Silver Surfer did review slightly better than the original, with 38 reviewers giving this one positive marks out of a possible 99, leaving it with a 38% fresh rating. The original earned a 26% fresh rating and was mocked for months after its release. The original dropped 59% in its second frame, and this one should meet or beat that figure as well. Will Rise of the Silver Surfer earn the $154 million the original did? It should; however, if this one dips more than 60% next weekend, and has another 50% drop in one of the four weekends that follow, it probably won't.

For 20th Century Fox, this is certainly a nice surprise. Most analysts had pegged The Silver Surfer to debut lower than the original. Even our own Weekend Forecast man, Reagen Sulewski, had it pegged to come in below $50 million (my estimate was even lower). The last time Fox had a hit this big was more than a year ago, when X-Men: The Last Stand (another Marvel product), opened to $102 million. Speaking of Marvel, the combined opening totals for their summer of 2007 films - Spider-Man 3 and Fantastic Four: Rise of the Silver Surfer - now equal $208.5 million - talk about two for two (and that's not even counting Ghost Rider's $45.4 million opening back in February).

Finishing second is another sequel in Ocean's Thirteen, last weekend's number one film. Ocean's Thirteen did somewhat better than this summer's previous sequels in their respective second weekends. The George Clooney/Brad Pitt extravaganza grossed $19.1 million, as it dropped a comparatively good 47% from last weekend. Warner Bros. benefited from having no major films pushing into the adult demographic, as both the Fantastic Four sequel and Nancy Drew skew very young. The drop this weekend pretty much guarantees Ocean's Thirteen an over-$100 million finish, as the total so far sits at $69.8 million.

Knocked Up gets ahead of those nasty Pirates of the Caribbean and finishes third for the second straight weekend. Knocked Up earned a very strong $14.5 million this weekend, dropping a gorgeous 26%. Director Judd Apatow is cementing his role as the king of the summer comedy, as Knocked Up remains ahead of The 40 Year-Old Virgin after three weekends of release. So far, Knocked Up has earned $90/5 million, where the Steve Carrell flick had earned $68.7 million over the same amount of time. Knocked Up, a $30 million production for Universal, should eventually earn as much as $125 million.

That makes Pirates of the Caribbean: At World's End our number four flick this frame after finishing second last weekend. Johnny Depp and his shipmates earned $12.0 million, managing to keep its nose above $10 million for the last time. Pirates dropped another large 43%, which makes the trend now 61.5%, 52% and now 43%. That's very close to Spider-Man 3's first three drops of 61.5%, 50% and 51%, and I expect the Fantastic Four sequel to behave the same. So far, Pirates of the Caribbean: At World's End has earned $273.8 million. It should finish with about $310 million.

Number five goes to Surf's Up, the CG animated product from Sony, which will be eaten in two weeks by Pixar and Disney's Ratatouille. Surf's Up earned $9.3 million this weekend, but lost 47% of its family audience. While this is a lower drop than our three-quels in their second weekends, this number is not good news for the folks at Sony. Animated films usually hold better than their live action brethren. So far, Surf's Up has earned $34.7 million, and it should finish with about $65 million.

Sixth this weekend goes to Shrek the Third, which is able to stay ahead of new opener Nancy Drew. Shrek the Third grossed $9 million in its fifth weekend, and drops a still too high 41%. The DreamWorks product is beginning to cozy up to $300 million - it sits at $297.3 million - but has taken far too long to accomplish this feat. It will cross the big 300 on Tuesday or Wednesday, its 34th day of release. That's about the same amount of time it took Lord of the Rings: The Two Towers to achieve that feat; however, its opening weekend was $62 million, whereas Shrek the Third's was double that amount.

Searching for clues in the basement is Nancy Drew, Warner Bros.' attempt to cash in on a once popular teen icon. No longer a heroine to pre-teen girls, Nancy Drew grossed only $7.1 million this weekend from 2,612 venues (a sign of failure right there). It had a soft venue average of $2,732. Why Warner Bros. would try to resurrect this crime fighter for today's summer audience is beyond me, but at the very least it must have been a fairly cheap production. This one will be extremely lucky to be in the top ten next weekend.

Hanging out with Nancy in the basement are Hostel: Part II and Mr. Brooks. Hostel: Part II earned $3 million in its second weekend, and as usual for horror dropped 63% in its second frame. It's a good thing this one cost only $7.5 million to make, as its total so far sits at $14.2 million. Mr. Brooks doesn't do much better, earning 2.8 million. The MGM effort dropped 43% and sits with a running total of $23.4 million.

Finally in tenth we have our last appearance from Spider-Man 3 in this column. The Marvel super-spider earned $2.4 million and leaves the top ten with a gross so far of $330.0 million, just about what the first film in this franchise earned five years ago.

Overall, the box office remains behind last year in a third straight weekend despite the slight surprise with Fantastic Four: The Rise of the Silver Surfer. The top 12 this year earned about $138.8 million, 4% behind last year's tally of about $144.6 million. Next weekend brings three more new wide releases: Evan Almighty, 1408 and A Mighty Heart.