Daily Box Office Analysis for June 13, 2007
By David Mumpower
June 14, 2007
BoxOfficeProphets.com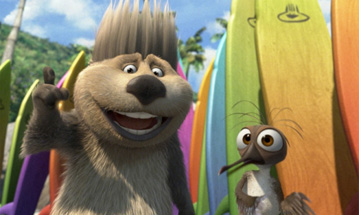 ---
The focus of today's analysis will be Surf's Up, but before we get to that, let's take a look at the top of the charts. Ocean's Thirteen finishes in first place for the sixth consecutive day, but it once again sees a significant slide of 8.7% to $3,442,280. This is particularly troubling when we consider 60% of the top ten either showed no noticeable change from Tuesday to Wednesday or improved some. Part of this is the fact that it's targeting an older audience that does not have the same free time during the summer that many of the other top ten titles do.

If we circle back to last week's discussion, Knocked Up showed the same behavior, sliding 11.8%. I am still troubled by the fact that each one of Knocked Up's initial weekdays has surpassed those of Ocean's Thirteen. The Seth Rogen comedy earned $3,631,815 last Wednesday, a 5.5% better performance than the George Clooney action heist has managed. In fact, its Monday-to-Wednesday total of $12,187,395 is 6.7% better than the $11,367,630 Ocean's Thirteen has managed in the same time frame this week despite the fact that Knocked Up opened $5.4 million lower.

Ocean's Thirteen is also unlikely to see the same holdover next week as Knocked Up is showing right now. It earned another $2,445,225 yesterday, down only 4.4% from Tuesday. As you can see when we combine the two thoughts, Knocked Up is holding over better in its second set of weekdays than it did in its first. I had predicted two days ago that it would be right at $75 million after tomorrow's box office. The reality is that it's going to be a million dollars past that, which might not seem like much, but it's an important early warning signal for future behavior. Knocked Up's staying power continues to impress.

If we compare Ocean's Thirteen to the prior two Danny Ocean movies, here is how it stands. Ocean's Eleven fell 18.1% to $2.89 million on its first Wednesday. Its box office at that point was $47.6 million, almost identical to the $47.5 million Ocean's Thirteen has earned in its first six days. Bringing Ocean's Twelve into the discussion, it fell 13.0% to $2.61 million. A running total of $47.8 million puts it slightly ahead of the other two movies. Given the shaky quality of Ocean's Twelve, who woulda thunk it would still be in the lead after almost a week? Obviously, the performances are in the eye of the beholder but as I said yesterday, I am skeptical that Ocean's Thirteen shows the staying power of the prior two movies in the franchise. I received a couple of comments that it's too early to write off a $100 million performance and I completely agree on the point. I am simply saying that when I run the long term numbers, the odds are worse than a coin flip that it crosses that threshold.

The news for Surf's Up is better although we have to remember that everything is relative. This Sony CGI penguin movie - not to be confused with the Warner Bros. CGI penguin flick, Happy Feet - started with a mediocre $17.6 million opening weekend. Its weekday totals, however, have seemed pretty good upon first glance. It earned $1,856,465 on Monday then increased to $1,927,264 and $1,943,223 on Tuesday and Wednesday. As we saw last week, films are expected to decline throughout the week, so the thought process would be that Surf's Up is already exceeding expectations, right? Let's take a look.

The first step is to determine comparison films. I will start with Monster House, an Amblin Entertainment release also distributed by Sony. The "Homes Eating Humans = $$$" movie opened 20.7% higher with $22.2 million. It's important to keep that in mind as we compare daily numbers. Since it opened 20% higher, its weekday numbers should mirror that lead. In fact, I have harped on the premise that it's bad for Ocean's Thirteen's first batch of weekdays to be trailing Knocked Up's first three weekdays for this reason. Keeping that in mind, let's take a look at how well they match up.

Monster House, a late July release last year, earned $2,661,352 on its first Monday then fell marginally (0.3%) to $2,654,121 on Tuesday. There was a steeper drop on Wednesday of 9.1% to $2,411,943. This gives Monster House a grand total of $7,727,416 over its first three weekdays. That's 25.9% better than the $5,726,952 Surf's Up has managed in the same time frame this week. So, Monster House opened 20.7% higher then added 25.9% more daily box office in the same time frame. The only good news for Surf's Up in this comparison is that Monster House fell quite a bit on its first Wednesday, a fate the penguin movie avoided.

That's only one comparison, though. We saw last week with Wedding Crashers that there is always some title that blows the curve. Let's take a look at three other similar movies in terms of demographics. The first choice is Garfield. The Fox released opened the same week as Surf's Up in June of 2004. The lasagna-eating cat who sounds remarkably like Bill Murray had a first weekend of $21.7 million, 18.9% better than Surf's Up. Its first three weekdays were $2.43 million, $2.36 million, and $2.28 million. The good news for Surf's Up is that this film too declined on its weekdays rather than seeing steady holdover. The bad news is that Garfield's $7,069,389 from its first Monday through Wednesday is 19% better than Surf's Up. So, it performed ever so slightly better relative to opening weekend holdover albeit virtually being a draw.

If you are wondering why I don't adjust for inflation here as I did with Ocean's Eleven and Ocean's Twelve yesterday, the answer is simple. We are not looking to examine actual ticket sales in these models. Instead, we are simply examining box office behavior through percentage of audience held throughout the week. That's what matters. Even if we switch from an average ticket price of $6.21 to the current one of $6.79, the percentages would still hold (obviously). So, there is no point in doing so other than to further kick a surfing penguin while it's down. Since the poor guys already can't fly and I learned from a documentary that a lot of their babies freeze to death in cracked eggs, I think they have suffered enough. Sony, on the other hand, is always good for a taunting. So, let's focus our ire on them if we have to choose a bad guy.

The other two comparisons I find useful for Surf's Up are The Barnyard and The Adventures of Sharkboy and Lavagirl in 3-D. Both of these summer releases opened lower than Surf's Up. Let's see how they hold up relative to percentage holdovers on their first three weekdays. The Barnyard opened to $15.8 million, 10.2% lower than Surf's Up. Its first three weekdays of box office are much more impressive, though. Its first Monday was $2,233,919, almost $400,000 higher than the penguin movie. It then fell 8.6% to $2.04 million on its first Tuesday followed by 6.8% to $1.90 million on Wednesday. That means that its actual box office for the three days, $6,177,474, exceeds the $5,726,952 Surf's Up has managed straight up before we adjust for its opening 10% lower. Yeah, that's not good.

Let's try again with Sharkboy and Lavagirl. The ambitious Robert Rodriguez movie opened the same June weekend as Surf's Up in 2005. It earned a paltry $12.6 million, 28.6% lower than the surfing penguin movie. So, the weekdays should be a lot lower, right? Here's some good news for Surf's Up. They are. The 3-D kiddie movie earned $1.21 million on its first Monday, fell 5.4% to $1.15 million on Tuesday then increased 4.8% back to $1.20 million on its first Wednesday. Its combined first three weekdays of box office of $3,555,000 represents only 28.3% of its opening weekend. Meanwhile, Surf's Up is at 32.5%, so we have found a movie model it exceeds. Then again, The Adventures of Sharkboy and Lavagirl in 3-D managed final box office of only $39.2 million, so it's troubling that this is the comparison that second most closely matches Surf's Up.

There is, however, a wonderful silver lining here. The movie that most closely matches Surf's Up is Garfield, a movie whose final domestic box office of $75.4 million is represents a multiplier of 3.47 from its opening weekend of $21.7 million. If Surf's Up shows legs to that degree, it will wind up with domestic box office of roughly $61.2 million. That's not great by any stretch, but it's also not the disaster many box office analysts were predicting it to be. We'll see if it continues to hold over at a Garfield pace in coming days.

After earning $14,068,392 on Tuesday, overall box office falls 3.7% to $13,541,656 on Wednesday. You can tell we are starting to enter the meat of the summer as this is significant improvement from last Wednesday's decline of 8%. We are starting to see carry-over strength in the family friendly top ten titles I mentioned yesterday. All of those showed impressive strength, with only the front-loaded horror film, Hostel: Part II, and the older adult-skewing Ocean's Thirteen faltering significantly.