Daily Box Office Analysis for June 12, 2007
By David Mumpower
June 13, 2007
BoxOfficeProphets.com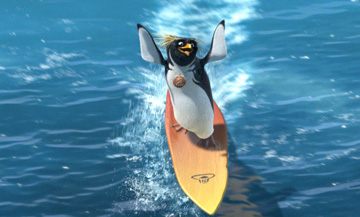 ---
The other two new openers last weekend are heading in opposite directions in terms of weekday holdover appeal. Surf's Up actually improved from Monday to Tuesday with $1.93 million, while the bottom fell out for Hostel: Part II. The gorno bomb experienced what was easily the steepest drop out of the top ten, falling 14.3% to $781,000. The appropriate word here is "Timbeeeeeeeeeeer!" Of course, this sort of behavior is unsurprising. As was incidentally mentioned yesterday, the key to summer box office revolves around K-12 students having free time and a large enough allowance to take in a movie when so inclined. There are certain movies they are more likely to view, and a horror movie with atrocious buzz does not qualify in that regard. Meanwhile, animated movies and comic book adaptations are right in their wheelhouse. We'll see the effect of that later in the column.

Today and tomorrow, we will spend time trying to find some comparison models for the two openers from last weekend that matter, Ocean's Thirteen and Surf's Up (sorry, Eli Roth). Today, we will discuss the latest Steven Soderbergh heist movie. Tomorrow, the penguins (hopefully led by Feathers McGraw) will have their moment in the sun.

As a reminder, the George Clooney heist flick made $4.16 million on Monday, then fell 9.3% to $3.77 million yesterday. That's a grand total of $7.93 million, roughly 21.9% of the $36.13 million it earned over the weekend. Coming up with some comparisons for this one is much easier than I had stated yesterday. I was trying to find June and July titles with similar opening weekends that were also demographically similar. Titles such as Mr. and Mrs. Smith, The Bourne Identity, Charlie's Angels: Full Throttle and Minority Report were all considered. Upon reflection and research, however, I have a much easier choice for the first batch of weekdays. Ocean's Eleven and Ocean's Twelve were both released in December, and I have stressed over the past few days that December box office behaves much differently than any other time of the year. The trick is that this is the case as the holiday approaches. Earlier in the month, movies behave with more normalcy, making these two titles acceptable models for comparison (thank God).

Keeping the knowledge that December is still a bit tweaked relative to June in mind, here is the data. The first Danny Ocean movie opened to $38.1 million in its first three days then followed with $3.04 million on its first Monday before increasing an impressive 16.3% the next day to $3.53 million. That is what we call the genesis of word-of-mouth success. The good news for Ocean's Thirteen is that its first two days of box office are $1.36 million larger. The great news for it is that Ocean's Eleven's weekday to prior weekend ratio was only 17.2%, a mark Ocean's Thirteen has comfortably exceeded. The bad news is that if we adjust for 2001 to 2007 ticket price inflation ($5.65 then versus $6.79 now), Ocean's Eleven has a nearly identical $7.90 million in its first two days despite having a worse calendar configuration in terms of box office performance (gross generality: it's theoretically easier for the same consumer to see a movie on June 11th than it is on December 1th1).

Since Ocean's Eleven was five and a half years ago, it's not as good a comparison as the more recent Ocean's Twelve. Also, given that movie's *ahem* shaky word-of-mouth, it's also a good comparison to check to see whether Ocean's Thirteen is showing better holdover appeal. Ocean's Twelve made $3.02 million on its first Monday then held steady at $3.00 million on its first Tuesday. The combined Monday/Tuesday total of $6.02 million represents a ratio of only 15.4% relative to its prior weekend. Even if we inflation adjust from December of 2004 (average ticket price of $6.21) to now, the current box office would be $6.58 million, well behind Ocean's Thirteen's $7.93 million. So, the new movie is doing better in terms of both weekend holdover and actual weekday box office despite following up a movie that had stink of failure written all over it. Again, this is the good news.

The bad news this time is the deal-breaker, I'm afraid. Due to Christmas to New Year's Day holiday behavior, Ocean's Twelve earned $54 million from its 11th day of release to its 23rd day of release. For Ocean's Eleven, the number is $48 million. Ocean's Thirteen is not going to see that sort of freakish box office expansion in its later days. Instead, it's going to lose venues quickly when other new blockbusters enter the marketplace, something that was less of a factor with the prior two titles in the franchise.

In fact, Ocean's Eleven opened with 3,075 play dates and kept all of them for four straight weeks. That sort of behavior is already extinct in current box office except in the most extreme situations. Ocean's Twelve duplicated the feat, starting in 3,290 locations and holding all of them for 28 consecutive days. Ocean's Thirteen is going to start losing a portion of its 3,565 venues in just 10 days.

As much as I would like to be optimistic here (being a huge fan of the franchise), I'm struggling to see a way for Ocean's Thirteen to break $100 million. It's looking at a drop to $18 million or so in its second weekend, meaning it should be at $68 million at the start of next week. Barring something unforeseen, it's a lock to be the least successful film in the franchise, at least domestically.

Box office for the top ten behaved eerily similarly to how it did last Tuesday. The overall top ten for Tuesday, June 5th fell 4.4% from the day before. Yesterday's box office was down 4.1%. The good news is that box office is up almost exactly a million this week with $14,068,392 as opposed to last Tuesday's $13,073,045. This is another example of what a few quality releases can do to the overall depth of the top ten. The other point of comparison is that last Tuesday saw two films, Mr. Brooks and Waitress, increase from the prior Monday. Yesterday was quite a bit better in this regard with four titles rising from Monday. The unflappable Waitress as well as three child-skewing titles (Surf's Up, Shrek the Third and Spider-Man 3) all improved slightly.