Daily Box Office Analysis for June 11, 2007
By David Mumpower
June 12, 2007
BoxOfficeProphets.com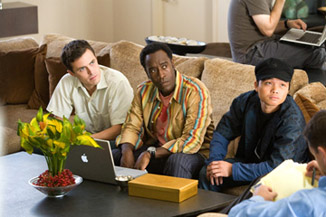 ---
After starting Friday morning with such optimism, the news has been anything but good for Danny Ocean's crew. Tracking for an opening between $45 and $50 million, Ocean's Thirteen was estimated as earning $37.1 million on Sunday. This made it the softest opener of the franchise thus far, a particularly troubling result given that the prior two releases opened in December. Holiday releases like these are notorious for seeing deflated opening weekends followed by stellar weekdays. With so many North Americans on vacation, there is not the onus to see a movie on the weekend as there is during the rest of the year. As such, no one was surprised that the latest Steven Soderbergh release was tracking to be the biggest yet.

When Sunday estimates came in, however, everyone from the people in charge of tracking to exhibitors to the kind people at Warner Bros. was surprised by the result. That feeling was magnified on Monday when weekend actuals were released, demonstrating that Ocean's Thirteen's opening was over-estimated by a full million dollars. A cast anchored by Matt Damon, Brad Pitt and George Clooney could only open the movie to $36.1 million. Weekday numbers will tell the tale regarding whether this sequel would escape the negativity of the ill-regarded Ocean's Twelve. With its fate hanging in the balance, Ocean's Thirteen discussion kicks off the second week of BOP's daily numbers analysis - and the news for Team Clooney is unfortunately grim.

Ocean's Thirteen earned $4,155,375 yesterday, a total $280,000 short of what Knocked Up made as the number one movie last Monday. What's so alarming about this? Knocked Up opened to $30.7 million, a full 15% behind what Ocean's Thirteen managed. So, seeing the bigger opener fall 6.3% short of the sex comedy on Monday is alarming. Is it the end of the world? Of course not. There is a significant concern in that Knocked Up has been skewing older demographically than had been expected, though. There are more teenage consumers during June, July and August than there are adults who have a lot of free time during the summer. As such, titles directed toward teen audiences see enhanced weekday performances. Knocked Up has not fit this description thus far, though. It has largely catered to exactly the same audience who should enjoy Ocean's Thirteen, giving me grave concern about the legs of that movie. It's still early, but Ocean's Thirteen needs some good news in the coming days.

Meanwhile, the news is glowing for Knocked Up. As I chronicled last week, no movie from the comparison group had matched the feat of Wedding Crashers in having consecutive $20 million weekends. After estimates on Sunday, Knocked Up appeared to have duplicated that feat. Universal claimed a $20.0 million performance, but actuals had it falling just short of that mark with $19.6 million. Even so, I mentioned on Friday that anything above $18.4 million would indicate a juggernaut in terms of word-of-mouth and that's exactly what we have seen occur.

This is demonstrated again on Monday as Knocked Up holds well in second place with $2,689,065. This represents a decline of only 39.4% from last Monday's $$4,435,695. Currently standing at $68,556,085, Knocked Up is a slam dunk to cross $100 million during its domestic run. If it behaves the same as last week with Monday comprising roughly 28.6% of the box office, we would be looking another $6.7 million from Tuesday-to-Thursday, meaning Knocked Up will be right at $75 million entering the weekend.

The other two openers from the weekend, Surf's Up and Hostel: Part II, finished in fourth and sixth place with $1,856,465 and $911,704 respectively. I'm holding off on the comparison films for another day, but suffice it to say that Surf's Up's performance is less than I had expected while Hostel: Part II is going to pull a vanishing act at the box office. We discussed the difficulties of horror sequels outside the Saw franchise in the past couple of years, and the trend certainly has continued here. I don't even expect to waste much time discussing Hostel: Part II the rest of this week. The focus will be on Ocean's Thirteen and Surf's Up while we await the release of the next big release, Fantastic Four: Rise of the Silver Surfer.

A long look at the top ten yesterday reveals that we are finally starting to see the beginning of true summer box office. Whereas only three films earned over a million dollars last week (Mr. Brooks falling $14,000 short), five did yesterday. Before you think that we have a stronger top five overall, however, grab your calculator and add up the numbers. Last Monday's top five accrued $12,956,185 as opposed to yesterday only accumulating $12,505,230.

So, if the top five was down $450,000, why was the top ten up 6.5%? The answer obviously lies in the bottom half of the top ten. Yesterday's titles earned a whopping $2,167,341 compared to last Monday's pathetically meager $826,373. That's an increase of 162%. So dramatic was the difference that the film that finished in ninth place yesterday would have been in seventh place last weekend and within striking distance of sixth place. The key is that we had three new releases last weekend and while one of them, Hostel: Part II, was an unexpected bomb, its $911,000 still puts it in the same range as last Monday's fourth place finisher, Mr. Brooks, which earned $986,000. So, we have Knocked Up holding up well and we added Ocean's Thirteen, Surf's Up, and Hostel: Part II.

The depth of the top ten improves each time we have a slew of new releases such as this, and that trend will continue on Friday when two solid new openers hit the marketplace plus the prophetically titled DOA: Dead Or Alive (whose tracking indicates it's quite dead) and the instantly forgettable Fido. The downside of having three juggernaut titles in May was that only five other releases given 1,000 or more venues were scheduled for the month and over half of those (Lucky You, Bug and Delta Farce) were complete disasters in terms of box office (and movie taste). That left only 28 Weeks Later and the studio abandoned Georgia Rule carrying the load, thereby allowing indie sleepers Waitress and, more recently, Once to grab some headlines with their surprisingly strong performances relative to expectations - and the current slate of studio distributed releases. When the Fantastic Four sequel and Nancy Drew arrive for the weekend, all of the top ten next week should earn $200,000 or more, a dramatic improvement from recent weeks.

Tomorrow's discussion will focus upon comparison films for Surf's Up and Ocean's Thirteen. I'm not going to give anything away for now, but I will say that coming up with models for these two films, particularly the Clooney one, has not been easy. Neither one will be as directly comparable as Knocked Up's group was.