Weekend Wrap-Up
Ocean's Thirteen Leads Busy Box Office
By John Hamann
June 10, 2007
BoxOfficeProphets.com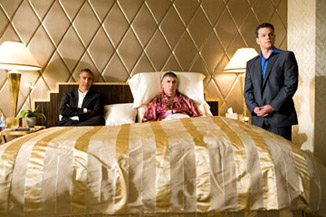 ---
It was another busy weekend at the box office, as George Clooney and Brad Pitt arrived with Ocean's Thirteen, the latest in the Warner Bros. heist franchise. It is also the fourth "third in the series" film in the last six weeks. There were some other big films vying for the limelight. Surf's Up from Sony was trying to match the success of WB's Happy Feet, and Hostel: Part II was looking to duplicate the $20 million opening of the original in 2006. Finally we have the second weekend of Knocked Up, last weekend's successful comedy that is trying to match the leggy performance of The 40 Year-Old Virgin. How did it all shake out? Read on to find out.

Our number one film of the weekend is Ocean's Thirteen, making this the fifth consecutive weekend with a three-quel in top spot. Ocean's Thirteen was no Spider-Man 3 or Shrek the Third, but it did gross $37.1 million this weekend from 3,565 venues. It had a theater average of $10,401. Audiences weren't as anxious to get out to this one over its debut weekend as they were the first couple of films in this series. The first movie, Ocean's Eleven, earned $38.1 million over its premiere weekend in December 2001, and finished that Christmas season with $183 million as its domestic total. The real revenue for this series comes from overseas, as the first Ocean's flick earned $450 million worldwide. The second film, Ocean's Twelve, had a slightly better opening frame at $39.2 million, but finished with much less domestically ($125.5 million) as well as internationally ($363 million). While the Ocean's Thirteen opening is successful, the studio may have been looking for more as the first two films opened in December, not June.

I wonder if audiences are tiring of the same old, same old with this series, as I would have a tough time determining the difference between these three movies (Was Julia Roberts in the first two Ocean's flicks, or just the first?). Also, the series has diminished in terms of film quality (and believability) since the first outing. Ocean's Eleven was a stellar 81% fresh at RottenTomatoes, and reviews haven't reached that height since. Ocean's Twelve couldn't hold that pedigree and came in rotten at 55%, which may have resulted in the poorer legs for the sequel. Ocean's Thirteen got the same mixed reviews that Ocean's Twelve got. This one finished at 68% fresh, as 86 reviewers out of a possible 127 gave this one a thumbs up. Will the reviews affect its legs? Not really. I expect it to finish with a similar total to that of Ocean's Twelve, coming in around $120 million, with another bonanza coming overseas.

It was a tight race for second this weekend as Pirates of the Caribbean: At World's End faced off against two Ups: Knocked Up and Surf's Up. Johnny Depp and friends came out on top (for the last time) with an estimated weekend gross of $21.3 million. Like Spider-Man 3, the third weekend for the Pirates is a rebuke, as the weekend-to-weekend drop comes in at an even worse 52%. Did Disney expect to see drops of 62% and then 52% in the third frame? I doubt it. The second film, Pirates of the Caribbean: Dead Man's Chest dropped 54% and followed that up with a much better 43% drop. After three weekends, the second film in the series had earned $321.9 million, whereas this time the total sits at only $253.6 million after the same amount of time in release. What's happening? It probably comes down to poorer word-of-mouth and a run time that is just short of three hours. These two things don't bode well for repeat viewings, which the second film would have had much more of. Look for Pirates of the Caribbean: At World's End to finish with about $315 million, well off the second film's total of $423 million.

Knocked Up is our third place finisher this weekend, and enjoys a much smaller drop than Pirates of the Caribbean: At World's End. The Judd Apatow comedy earned $20.0 million in its second weekend, and was off a small 35%. The 40 Year-Old Virgin dropped an even smaller 24% in its second weekend, but that film debuted with $21.4 million, a much smaller opening figure than Knocked Up's $30.7 million. The bigger the debut, the tougher it is to keep that percentage up. That's why the first Spider-Man's drop of 38% after a $114 million open is so amazing. Knocked Up has an excellent hold for a film that only has positive word-of-mouth keeping it moving forward. So far, the comedy with Seth Rogen and Katherine Heigl has earned $66.2 million, and it will finish with $125 million or more - not bad for a film that cost $30 million to make.

Our other Up movie of the weekend is Surf's Up from Sony Pictures Animation, makers of the so-so Open Season ($23.6 million opening) and Monster House ($22.2 million opening). Surf's Up, a cartoon about surfing penguins, finished right in the same ballpark as its predecessors, as it earned $18 million over its opening weekend. Those surfing penguins opened at 3,528 venues, and had a theater average of $5,102. This leaves us with the question as to what is the difference between a film like Happy Feet ($41.5 million opening) and Surf's Up? My answer is the Poochie factor. Remember on The Simpsons when Homer was cast as the dog Poochie on Itchy and Scratchy? The writers tried to "manufacture cool" with Poochie, and we all know the result. I think the same thing happened here with Surf's Up, as the suits at Sony tried to manufacture cool for the junior set. Critics liked what they saw, so maybe audiences will in the weekends to come. At RottenTomatoes, 64 out of 86 reviews were positive, giving Surf's Up a fresh rating of 74%. With Fantastic Four: Rise of the Silver Surfer and Nancy Drew opening next weekend, Surf's Up could get the bump and run very quickly, as it will be tight times for the target demographic. Look for this Sony effort to finish with less than $100 million.

Shrek the Third slides to fifth place and again deals with a bigger than expected percentage drop, which is becoming the theme of the summer. In its fourth weekend, Shrek the Third dropped 44%, earning $15.8 million. Its drops have now equalled 56%, 47% and 44%. While better than Spider-Man 3 and Pirates of the Caribbean: At World's End, this is still much too high for a kid-friendly franchise like Shrek. Shrek 2 saw drops of 33%, 47% and 38%, before going on to earn $436 million. Like Pirates of the Caribbean, Shrek will not come close to the totals of the second film in the series. So far, Shrek the Third has earned $281.9 million, and should finish with about $320 million.



Sixth spot goes to another new release this weekend, Hostel: Part II from Eli Roth and Quentin Tarantino. The first Hostel flick was a big surprise, turning its $5 million production budget into a $20 million opening frame. This time out, the budget is a tiny bit higher ($7.5 million - peanuts in today's moviemaking world), but the opening weekend is much, much lower. Hostel: Part II opened to $8.8 million this weekend from 2,350 venues, as the horror flick failed to build on the totals earned the first time out. The sequel got decent reviews (for a horror flick) as RottenTomatoes showed a mixed rating of 54%, but even this is lower than the original. The first Hostel flick got a 59% rating at RT, and audiences showed up in droves. Look for this one to disappear quickly, but still make a small profit for Lionsgate.

Seventh goes to MGM, Kevin Costner and Mr. Brooks. After a $10 million opening last weekend, Mr. Brooks got the hook, as the thriller could only muster a gross of $5 million. You don't have to be a rocket scientist to know that's a drop of 50%, as Mr. Brooks is being shown the door. So far, the total for this one sits at a slim $18.7 million, and will most likely top out around $30 million.

Well back in eighth is Spider-Man 3, and after a $7.5 million haul last weekend, the Marvel product drops to $4.4 million. That equals a drop of 42%, but brings the total for Sony up to $325.7 million. I'm looking for Peter Parker to finish with about $340 million domestic.

Waitress manages to hold onto a top ten spot, but probably won't be so lucky next weekend. Waitress, from Fox Searchlight, pulled in $1.7 million from 708 venues. It had a venue average of $2,331 and was off 18% compared to last weekend. Waitress has worked well as counter-programming among the summer blockbusters - it has now earned $12 million against a budget that must be $5 million or less.

The final three spots in the top 12 go to Disturbia, Gracie and the indie musical Once. Disturbia wound up with yet another top ten spot despite shedding half of its venues. It earned an additional $550,000, which brings its grand total to $77.8 million. After a dismal debut last weekend, Gracie falls down to 11th place as its weekend take was $523,000, a drop of 61%. This is pretty dismal considering that it opened small to begin with and is a family-oriented product. Finally, Once, an indie musical that was playing at only 95 venues, earned $515,000, good for a per venue average of $5,421. Its grand total is currently $1.8 million. It did gain 18% this weekend, the only movie in the top 12 to do so. Once has received rave reviews, so look for some slight continued expansion.

Overall, things were busy and spread out over a large amount of films, but it wasn't enough to beat last year's totals when Disney and Pixar's Cars was on top. With a $60 million opening for the animated feature, the top 12 at the box office in 2006 earned about $147 million. This year, the top ten earned $133.6 million, a decline of 9%. However, the totals are up 3.6% over last weekend, and that trend should continue next week as the Fantastic Four sequel anchors a nice set of openers.