Weekend Forecast for June 8-10, 2007
By Reagen Sulewski
June 8, 2007
BoxOfficeProphets.com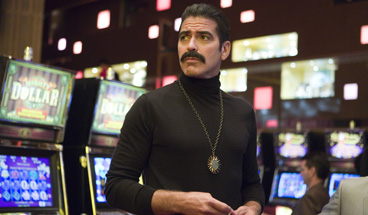 ---
The summer of trilogies gets its fourth entry this weekend, though it's not out to break any records. Also, the box office slate finally starts to approach something resembling depth, with three new wide releases.

When Ocean's Eleven opened in 2001, it was something of a risky novelty. A remake of a heist film that wasn't all that good in the first place, with one of the most star studded casts (read: expensive and difficult to schedule) assembled in recent memory, along with a director known for experimentation, few thought it would be much more than a one-off. But nothing succeeds like success, and after grossing $183 million, they got the gang back together. After all, they had so much fun, and it all came naturally, so that should translate to a sequel pretty easily, right?

Yeah. About that. The trouble with Ocean's Twelve was the fact that although the actors were having obvious fun, they forgot that it was the caper part that made for an interesting movie. When a Topher Grace cameo is the highlight of your film, you've got problems (not to hate on Topher, but let's face it, he's not who we came to see). Still, Ocean's Twelve made enough money to justify another kick at the can, and Ocean's Thirteen is the result.

Steven Soderbergh, George Clooney, Brad Pitt, Matt Damon, et. al. seem to have learned their lesson about what went wrong in Twelve, moving the action back to Vegas and focusing more on the caper than the camaraderie. After Elliot Gould's character is double crossed by casino magnate Willie Bank (Al Pacino) and then suffers a stroke, the gang gets back together to fix the games at Bank's casino's opening night, thereby getting their revenge. And... maybe a few million while they're at it.

In addition to Pacino coming along, Ellen Barkin is the other major newcomer to the cast, with Julia Roberts and Catherine Zeta-Jones exiting stage right. They'll likely miss the romantic subplots that those actresses provided, but then caper films have always been a pretty testosterone filled environment. Reviews have been kinder to this outing, though the general sense is that the group hasn't quite captured the magic of the first film. A few of the teaser moments positively kill, including Clooney's eyeroll, but as the last couple of weeks have shown us, there's no guarantee that audiences will be forgiving after a flat second installment of a franchise. In the bigger picture, I think Ocean's Thirteen is in generally good shape for its opening weekend, with about $45 million, and hopefully a satisfying enough reception that Soderbergh can put this series to bed and move on.

Early summer always feels like a weird time for a horror film to be released. It's too sunny and nice outdoors to ponder the brutal slaying of nubile teens, especially in the hyper-violent "gorno" style that's become so prevalent. One of the premier purveyors of this style has been Eli Roth, who returns with Hostel: Part II this weekend, the sequel to his sadomasochistic interpretation of European Vacation.

This time it's the girls that get the chop chop, fizz fizz treatment while visiting a Slovakian party house/organ factory/sex dungeon, which probably counts as innovation in this genre. So, if you like this sort of thing, Hostel: Part II is the sort of thing you'll like. And judging by the numbers for the original Hostel, there are a fair lot of you out there. This seems to be travelling down the same road as the Saw series, albeit at about 60% of the box office. Pencil this one in for about $18 million.

Switching gears completely, we have Surf's Up, the animated release for the weekend. Another of Sony's attempts to break into this potentially lucrative market, the movie focuses on a band of that "in" avian, the penguin. Shia LaBoeuf stars as an up-and-coming surfing penguin hoping to win at the annual championships, until an accident sidelines him and he loses his cool. His best hope to take back the surf and to potentially win the heart of lifeguard Lani (Zooey Deschanel). Characters he meets along the way include a very lost chicken (Jon Heder) and a legend in the annals of penguin surfing (voiced by Jeff Bridges). If the whole thing seems formulaic...well, you're not wrong, but it's a typical route for a lot of kids films.

Shot in a fake documentary style, Surf's Up is doing its best to grab onto that association with March of the Penguins, which will undoubtedly help some. It definitely doesn't have the marketing power of a Pixar or even a DreamWorks feature, and we're well past the time when any animated film could open big. On the other hand, there's no reason for this one to bomb either, and for those disappointed by Shrek the Third or burnt out on epics, Surf's Up could be an antidote. I look for around $17 million on the weekend.

After spending two weeks at number one, Pirates of the Caribbean: At World's End is about to tumble out of top spot. Including Thursday's figures, it'll have a little over $230 million in treasure, which is not too bad for 14 and a half days' work. Like all blockbuster sequels these days, though, this total isn't about to get all that much larger after a second weekend drop of 61%. This has to be held in context of the holiday opening weekend, of course, but combining this with the movie's failure to expand on Dead Man's Chest's record, there is no way to spin the numbers as good news or simply lowered expectations. I won't plan the pity party for Disney just yet, but this trilogy rounded itself out with a resounding "meh". Watch for a drop to $19 million this weekend.

A strong candidate to pass Pirates is last week's second place finisher, Knocked Up, which brought in a mildly surprising $30 million. This new breed of relationship comedy, directed by Judd Apatow and starring BOP-favorite Seth Rogen, capitalized on a simple premise by combining frat comedy with chick flick sensibilities. It's a delicate balance and I envy their ability to pull it off so well. Word-of-mouth is pretty strong, and there's every possibility it can match the performance of Apatow's last film, The 40 Year-Old Virgin, which turned a low $20 million opening into over $100 million in final box office. Knocked Up should hold on to second place in the weekend's box office with around $20 million.

Among other returning films we have Shrek the Third, which passes the $250 million mark. Like Pirates and Spider-Man, it's not living up to the quality of the second outing of the franchise in both quality and box office. These movies are still tremendous money makers, but for an industry so focused on sequels of late, this has to be worrying. This frame should see Shrek earning about $13 million to get past $275 million total. Spider-Man 3's milestone to beat this round is $325 million, though it may fall just short on the weekend itself.