Daily Box Office Analysis for June 5, 2007
By David Mumpower
June 6, 2007
BoxOfficeProphets.com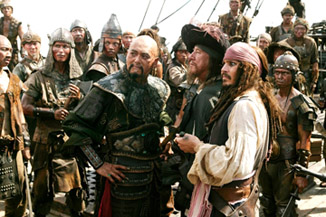 ---
For the second straight day, Knocked Up finishes in first place. Its total of $4.1 million represents a modest decline of 7.1% from Monday's total. Remembering our comparison models from yesterday, here are the results. American Wedding earned $4.5 million on its first Tuesday, a decline of 10.4%. The 40 Year-Old Virgin earned $2.9 million, a decline of 3.8%. Dodgeball: A True Underdog Story earned $5.2 million, a decline of 6%.

Not every title saw a decline. The Break-Up earned $4 million, a slight increase of 2%. Out of the comparisons mentioned, only Wedding Crashers saw a significant increase on its first Tuesday from its prior Monday. The Owen Wilson comedy brought in $5.5 million, a very impressive spike of 18.4%. The word-of-mouth increase that movie received explains why it made $209.2 million while the rest of the titles mentioned fall in the $100-$120 million range. So, it's the outlier here. Knocked Up is not going to see that sort of post-opening weekend surge, but no one was expecting that sort of behavior anyway. What we can infer from looking at the data above is that it continues to exhibit similar tendencies to prior year titles chosen.

A reader mentioned one other potential comparison for Knocked Up, a movie that failed to earn $100 million. That production is Anchorman: The Legend of Ron Burgundy. The argument has been made that in terms of opening weekend and first Monday modeling, it's the most direct comparison to Knocked Up. I debated this yesterday and had decided it wasn't the best fit for this discussion, but it's not a problem to track one more title this week for those interested. Anchorman opened to $28.4 million, 8.1% lower than Knocked Up. Its first Monday was $4.3 million, 3.3% less than Knocked Up's $4.4 million. Tuesday sees Anchorman actively move away from the lead in the closest to the pin competition. Anchorman earned $3.8 million on its first Tuesday, a much steeper decline of 12.2% than Knocked Up's 7.1%. The Anchorman model is interesting to track because unlike the other movies listed above, it failed to earn $100 million. The July 9, 2004, release ran out of gas at $84.1 million.

After five days of box office, Knocked Up has $39.2 million in receipts. At the same time, The 40 Year-Old Virgin had $27.3 million, Anchorman had $36.5 million, Dodgeball had $40.9 million, American Wedding had $42.9 million and Wedding Crashers had $45.1 million. Knocked Up is in the bottom half of this group in terms of current box office, but only Wedding Crashers appears to be totally out of reach in terms of long term expectations.

If you want to look ahead a bit, here are the second weekend box office totals of the five movie models. Anchorman did only $13.8 million, a fall of 51.3%. American Wedding (the largest first weekend performer of the group) fell steeply to $15.5 million, a fall of 53.7%. The 40 Year-Old Virgin did $16.3 million, holding up wonderfully with a decline of only 24%. Dodgeball fell 37.5% to $18.8 million. Finally, Wedding Crashers, the movie we have already established blows the curve, fell only 24.3% to $25.7 million, making it the only one to make more than $20 million in consecutive weekends.

Everything else in the top ten performed as expected. I don't want to give away the farm just yet as we begin to analyze daily behavior over the summer, but I will give you a hint of things to come. The top ten for Tuesday had combined box office of just under $13.1 million. This was down 4.4% from Monday's total of roughly $13.7 million. Historically, Tuesday was the worst day of the week in terms of box office performance. In order to compensate for this, theaters began doing special Tuesday promotions back in the late '80s. Ever since then, Tuesday's box office has recovered to the point that it's no longer the black hole of the week. The one that is might surprise you if you are new to this.

The other story you might be interested in casually tracking right now is the continued slide of the big three May releases. Spider-Man 3, the current box office champion of 2007, has basically come to a dead end in terms of box office, acquiring only $747,000 on Tuesday. This gives it a running total of $319.8 million after 33 days of box office.

Obviously, it's unfair to compare it to the current totals of its two successors, Shrek the Third and Pirates of the Caribbean: At World's End. What is fair to do, however, is compare the three films at various landmarks along the way. Shrek the Third just finished its 19th day of release with another $2.6 million, giving it a running total of $261.1 million. After this same time frame, Spider-Man 3 was at $286.4 million.

Meanwhile, At World's End just finished its 12th day of release with $3.8 million, giving it a grand total of $225.4 million. After 12 days, Shrek the Third was at $221.0 million, meaning that Jack Sparrow has gone ahead of it in the race to the final box office finish line. Both of them are way behind Spider-Man 3, however. After 12 days, the Sony release was already at $247.3 million. Barring something unforeseen, it's going to win the summer and probably the year despite the fact that it's going to wind up being the least successful Spider-Man movie to date, at least domestically. Internationally, it's already some $60 million ahead of Spider-Man 2.

By the way, in case you are curious, here is how the third movies stand in comparison to their own franchise predecessors at this point in their runs. Pirates of the Caribbean: The Curse of the Black Pearl was "only" at $133.0 million after 12 days. Pirates of the Caribbean: Dead Man's Chest was at $273.8 million, a mark At World's Eye can't even see using a spyglass.

After 12 days of release, Shrek was at $114.7 million. After 19 days of release, it was at $153.6 million. Shrek 2's measurables are $236.9 million after 12 days and $314.9 million after 19 days. That's right. Shrek the Third is a full $53 million behind its immediate predecessor in the same time frame.

Finally, Spider-Man was at $232.8 million after 12 days, $292.7 million after 19 days, and $357.0 million after 33 days. Spider-Man 2 was at $256.4 million after 12 days, $302.3 million after 19 days, and $344.4 million after 33 days. Spider-Man 3 is not doing quite as well compared to the previous titles in the franchise but let's be honest here. Compared to how Shrek and Pirates are running relative to their immediate predecessors, it's doing just fine. Everything is relative, folks.