Lovejoy - The First Season DVD Review
By David Mumpower
June 5, 2007
BoxOfficeProphets.com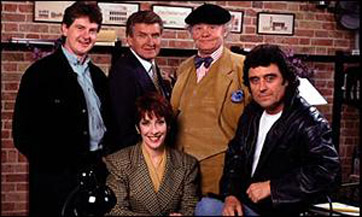 ---
Americans are following the career of Ian McShane in reverse order. Despite working on a lot of American 1980s television shows such as Magnum P.I and Miami Vice, the 54-year-old British actor was a virtual unknown in this country before the release of Deadwood. Sure, some die-hard cinephiles probably noticed him in a memorable but small part in the highly underrated 2001 release, Sexy Beast. Some older television watchers might even remember him as the regal young man who swept Diane Ladd off her feet in the 1983 teleplay, The Grace Kelly Story. Those who are unfamiliar with the any of the above or his work as Prince Ranier of Monaco in the Grace Kelly authorized biography (sadly) would have known McShane best for his role as a villain in Agent Cody Banks. Sickening, innit?

Deadwood changed all of that. A man who had over 80 movie and television credits prior to that production suddenly became an overnight sensation in the United States. McShane's work as the inscrutable, occasional villainous but eventually redeemed Al Swearengen earned him a Golden Globe for Best Performance by an Actor in a Television Series. Since the first airing of Deadwood in 2004, McShane has become one of the most popular character actors in the industry, earning strong reviews for his work in such divergent titles as We Are Marshall and Scoop. His gravelly, weathered voice has even made him a friend of DreamWorks. He voices Captain Hook in their current $250 million blockbuster, Shrek the Third, and he has already done further voice acting for two of their upcoming releases, Kung Fu Panda and Madagascar 2. McShane also provides the voice of armor-clad bear warrior Ragnar Sturlusson in the most anticipated movie of the 2007 holiday season, His Dark Materials: The Golden Compass. McShane has gone from being a bit player on American television into one of the most accredited actors of our era.

Given all of the recent attention on his career, BBC America has finally provided potential DVD customers with the opportunity to watch McShane in the role which made him a star in his native England. The role as well as the show is entitled Lovejoy. Long time viewers of PBS as well as BBC America know McShane's pet project to be one of the most engaging in television history.

The genesis of Lovejoy is unique in the annals of BBC television. As the actor explains in a brief interview on disc three of the Lovejoy – The First Season box set, a fan gave McShane one of the picaresque Lovejoy novels written by Jonathan Gash. The person had correctly deduced that this well-intended rogue would be the perfect morally complex, tarnished yet heroic character for a thespian of McShane's caliber to portray. McShane was so drawn to the role that getting it made became his top priority. He assembled a staff of producers, writers and actors before even exploring the idea of televising it with the BBC.

Once England's monopolistic network was given the show's bible describing McShane's artistic vision for the adaptation, they agreed to air a ten episode series. In that moment, Lovejoy became the first independent television series in BBC history, making it a model for a large percentage of the broadcast behavior the network airs today. So strange was this type of production at the time that almost five years passed before the BBC agreed to air a second season, something they eventually did while somehow managing to reunite the entirety of the cast from season one - this unique television model for resuscitation from the dead should return a tiny modicum of hope to fans of currently canceled television shows such as Veronica Mars, Jericho and Firefly.

For those of you who have never watched Lovejoy on PBS or BBC America, the story is most aptly described as being the genesis for PBS's Antiques Roadshow...but with crime solving thrown in for good measure. McShane portrays the titular Lovejoy, a man obsessed with all things beautiful. Though largely financial strapped, the antiques dealer scours the land in search of undiscovered, undervalued treasures which he may make his own. Along the way, he also has a tendency to focus upon the other vast beauty that matters, hot women. In between the treasure hunting and womanizing, Lovejoy also somehow finds the time to solve mysteries in his spare time. He is considered nothing short of a savant with regards to his ability to determine items of true value from those best described as pyrite, forgeries or overestimated works lacking in real financial value. Whenever the antiques dealer sees an artifact worthy of purchase, it's a safe bet that an appraiser will soon offer a lot of money for said antiquity.

Lovejoy even has a recurring arch enemy, something of a rarity in this style of 1980s television. He is the tasteless nouveau riche "connoisseur", Charlie Gimbert (Malcolm Tierney). This is a man who is the polar opposite of Lovejoy in that he acquires antiques not to enjoy their beauty but instead to relish in his possession of artifacts others covet. This is the way he attains self-esteem, making him the perfect foil for Lovejoy, a true patron of the arts. One is a true lover of the arts, while the other is simply obsessed with having the most toys. The oftentimes penniless Lovejoy must constantly out-maneuver the deep-pocketed Gimbert in order to protect these works of art from being wasted upon an undeserving art fraud. This makes for an engaging combination for television fans.

In some ways, Lovejoy is modeled after early 1980s American television staple, Hart to Hart. The difference here is that while he fights crime and solves mysteries in the same way that Robert Wagner and Stefanie Powers do, he also opposes a man in Gimbert who is just like them as well. Gimbert does not have their same sense of honor and decency, but he does have a bank roll that can match the Harts dollar for dollar (err, pound for pound). So, Lovejoy in some ways mirrors and in some ways rails against the Hart to Hart style of television. In fact, Lovejoy's struggles with being skint are an amusing aspect of this oftentimes dark television production. Walking the fine line between comedy and drama is difficult, but it's something Lovejoy pulls off in impressive fashion due to the fact that its lead character's talent always saves him from financial ruin in the end.

The character of Lovejoy in season one is just as dated as one would expect of a television production from 1986. McShane sports an English mullet throughout the ten episodes, and his comments about women are...well, charmingly out-dated. Despite seemingly despising their insecurities and character flaws, he tolerantly chooses to have sex with them anyway. What a prince. The disconnect between the way he derides them, then spends a great deal of time trying to seduce them would seem silly if McShane were not so damned winning every step of them. He's the type of guy who could be stabbing you in the chest with a rusty dagger while calmly explaining his actions in such a poised fashion that you would come to agree with him by the end. There are multiple times during the first season of Lovejoy where the genesis of the Al Swearengen character is readily apparent. No one does ethically challenged, morally complex acting like Ian McShane. No one.

The first season of Lovejoy comprises ten episodes including a two part season finale. The episodes are around 52 minutes long each, and the quality of the transfers is not perfect. I have watched a couple of episodes on an up-converting DVD player at 1080i. The grainy nature of the episodes is distracting at points, but this appears to be an avoidable aspect of watching pre-2000 television. Other than the ten episodes of the first season, the DVD box set itself is light on the features. The only addition is a seven-minute interview with McShane wherein he discusses the genesis of Lovejoy's creation as well as the odd circumstances that led to its five year hiatus as well as its triumphant return. Filmed in 2004, this dialogue is fascinating in its own right, but a more detailed exploration of the world of Lovejoy would have been a welcome addition. Hopefully, later seasons will add something of the sort. Until then, Lovejoy on DVD has no further selling point other than the episodes themselves. In this day and age, it's unfortunate to see such a bare bones DVD release, but if the other option is no release at all, I'll gladly take it.

Lovejoy - The Complete Season One is a title that any fan of British television should be interested in trying out, particularly given the impact the show had on the career of McShane as well as the evolution of BBC programming. For fans of Deadwood, the situation is much more straightforward. This is a chance to see Al Swearengen in the role that made him a star in his homeland. You have a chance to watch the first ten of the 73 episodes from this series. If you love him as an actor the way that anyone who has seen Deadwood should, this compilation is a slam dunk purchase upon its release on June 19th. It shouldn't even be a debate.