Weekend Wrap-Up
Knocked Up Scores Against Blockbusters
By John Hamann
June 3, 2007
BoxOfficeProphets.com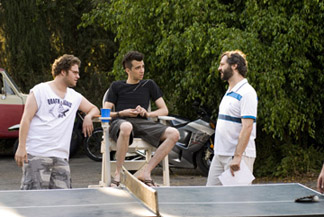 ---
I love these weekends. For the first time in what feels like forever, a comedy with fantastic reviews scored with audiences this weekend, where usually it's either awful films being embraced, or the good ones being ignored. That film is Knocked Up, as it faced off against our famous trio of third-in-a-franchise blockbusters, as well as Kevin Costner in Mr. Brooks, and a forgotten soccer film in Gracie. All of this made for a lucrative weekend for studios and exhibitors, who I'm sure are happy to have more than one film doing all of the business at the box office.

Our number one film is the record-breaking Pirates of the Caribbean: At World's End, but we will get to how well it did below. In the last frame, Jack Sparrow and friends enjoyed a huge three-day Memorial Weekend gross of $114.7 million, and all eyes were on the follow-up to that number this weekend. Would audiences bail on the over-long, somewhat convoluted blockbuster, or line up for a second turn at the effects-filled thrill ride? Spider-Man 3 had seen a 62% drop in its sophomore weekend, and even the kid-friendly Shrek the Third experienced a 56% drop. With no real blockbuster competition coming down the pike this weekend, PotC was better off than its blockbuster compatriots, but really, Spidey 3 only had to deal with 28 Weeks Later and a slew of weak sisters. At World's End had to contend with the strong Knocked Up, but that was an R-rated comedy that only slightly infringed on Johnny Depp's target demographic.

Almost as a sign of the times, Pirates of the Caribbean: At World's End got crushed in its second frame, grossing a lower-than-expected $43.2 million from its record-setting venue count of 4,362. It had a second weekend venue average of $9,901. At World's End dropped a scathing 62%, which has to be higher than Disney and Jerry Bruckheimer were expecting. That drop puts in right on par with Spider-Man 3, and means that this will be another blockbuster that opens in the top five, but will fail to make the top ten domestic grossers list of all time. Are the studios okay with this? Of course they are. At World's End crossed the $200 million mark on Saturday, its eighth (or ninth) day of release, depending on how you consider its Thursday opening last week. Disney and Bruckheimer take the largest slice of the box office from exhibitors (as much as 90%) over the first two weekends a film is shown in theatres. At World's End will gross over $200 million in its first ten days, and should earn about $100 million more over the next two months. Studios want that big business in the first ten days, and are willing to ignore these huge investments in the weekends that follow, due to the fact that no matter how much they spend on marketing, their slice of the box office after those first ten days isn't going to change all that much, with a big financial effort or not. So far, At World's End has earned $216.5 million, and should finish in the same neighborhood as Spider-Man 3, around $300 million and change.

Our number two film is Judd Apatow's Knocked Up, which really is an exciting entry in the top ten for a variety of reasons. First, let's look at its numbers: Knocked Up, with no A-list stars, earned $29.3 million from a comparably tiny venue count of 2,871. It had a very healthy theatre average of $10,200, which was the best in the top ten this weekend, beating PotC: At World's End. The next set of good news is that this one didn't need the GDP of a small country to get produced. Knocked Up cost Universal only $33 million to produce, and doesn't carry the baggage a film with Lindsay Lohan or Mel Gibson does.

The stars of Knocked Up were not huge draws. Seth Rogen (Cal in the 40-Year Old Virgin) and Katherine Heigl (Grey's Anatomy) lead a cast whose most popular names may be Harold Ramis and Joanna Kerns in small roles. The best piece of good news for Knocked Up and movie-going in general is the glorious reviews, as critics called the Universal picture the best comedy of the summer (despite it being only the first weekend in June). RottenTomatoes shows us the love this weekend, as of the 129 critics polled this weekend, an astonishing 118 had something positive to say about Knocked Up. That's 91% fresh rating, something not seen from very many comedies - or really many films at all. I look forward to a slim drop next weekend, hopefully sub-30%, as it faces off against Ocean's Thirteen, Surf's Up and Hostel: Part II next weekend. With its weekend multiplier of 2.96, Knocked Up should have no problem being the first film of the summer to reach $100 million the old fashioned way, through good word-of-mouth and a healthy (but not absurd) opening weekend.

Finishing third is Shrek the Third from DreamWorks, a film that I thought would level out after a drop last weekend of 56%. It wasn't to be, as the big green ogre grossed $26.7 million in its third weekend (I'm surrounded by 3s) and was off a better-than-last weekend, but still nasty, 50%. Shrek 2 dipped 47% in its post-Memorial Day frame, but was coming off a drop of 33%. The original Shrek dipped 33% over its post-Memorial Day frame. Currently, Shrek the Third sits with $254.6 million, and I see it finishing right around the $300 million mark.

Kevin Costner's Mr. Brooks finishes fourth, as the actor sees his lowest opening since the brutal 3000 Miles to Graceland. It wasn't a complete disaster, as the thriller from MGM opened to $10 million from 2,453 venues. Mr. Brooks had a so-so venue average of $4,085. Critics were mixed on Mr. Brooks, as it had 55 positive reviews and 46 negative notices at RottenTomatoes. For a Kevin Costner film to open larger in summer, it has to be embraced by the critics, and not be the same old same old thriller. This one will probably be lucky to see $30 million before the end of its run.

Oh how the mighty have fallen. Despite hardly any new releases since it opened a month ago, Spider-Man 3, the biggest opener of all time, slips to fifth with a less than $10 million performance this weekend. The Sam Raimi extravaganza earned $7.5 million this weekend, and despite playing with much smaller numbers, still dropped 48% from the previous frame. One definitely gets the sense that Spider-Man 3 is getting few repeat viewers, something that used to have to happen to push a film over $300 million. It didn't need it here, as the gross currently sits at $318.3 million, but the mind boggles about how much this one would have earned had it been a better movie. Look for Spidey 3 to finish with about $340 million.

The hangers on start at sixth place, as Waitress is the first of four films to gross $2 million or less, but still make the top ten. Waitress, the straightforward drama starring Keri Russell, earned $2 million from 605 venues. That equals a drop of 34% despite Fox Searchlight adding almost 100 venues. Simply put, Waitress got Knocked Up by Universal this weekend, and won't earn much more than its current total of $9.5 million.

Finishing seventh is new release Gracie, a film I wouldn't know was opening unless I wrote this column. Gracie, a film about a young woman playing soccer, earned a mere $1.4 million from 1,164 venues this weekend. It had an average of $1,160. From Picturehouse, this movie could be out of the top ten as early as next weekend.

Lionsgate's Bug finishes eighth and has been squished. Bug, now in its second weekend, earned $1.2 million from 1,661 venues. It was ignored last weekend, and with a drop of 62%, was equally ignored this weekend. So far, Bug has earned a tiny $6.1 million.

Ninth and tenth is a virtual tie between two thrillers, 28 Weeks Later from Fox Atomic, and Disturbia from Paramount and DreamWorks. 28 Weeks Later earned $1.2 million, and Disturbia earned $1.1 million. Their totals are now $26.6 million and $76.7 million respectively.

Overall, the box office performed admirably, right on par with last year when The Break Up surprised with a $39 million opening. Last year, the top 12 earned $129.2 million, as X-Men: The Last Stand dropped a sensational 67% in its second frame. This year, with the blockbusters floundering, the top 12 earned $124.7 million, down 3% from 2006.