June 2007 Forecast
By Michael Bentley
June 1, 2007
BoxOfficeProphets.com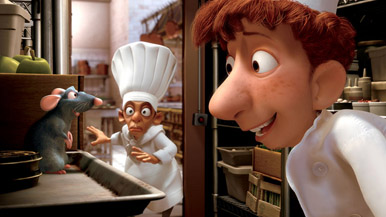 ---
Well, the three Big 3s are now behind us and we are smack in the middle of the 2007 summer movie season. The studios can't expect the massive, record-breaking success that we witnessed in May, but there will still be plenty of reasons for them to celebrate. There is something for almost everyone in June: several more sequels head our way this month, as well as a pair of blockbuster-ready CGI animated stories, some horror, teen adventure, and of course romantic comedy. Which ones will you see?

1) Ratatouille

Last year's Cars, the most recent Pixar film prior to this one, was a mild financial and critical disappointment - relative to all the previous Pixar classics. It managed only $60 million in its opening frame (though it did settle in with a fairly respectable $244 million) and then lost to the much inferior Happy Feet for best animated film at this year's Oscars. Many filmgoers have the opinion that while Cars was a good solid movie, it lacked the heart and wild imagination that characterized the animation studio's previous efforts. Was it the Disney influence that had infected the reputable group of animators? Was it just a one-time misfire? Or are our expectations simply too high?

I can only begin to speculate on the answers to the first two questions. But the canon of movies that Pixar has also released - Toy Story, A Bug's Life, Toy Story 2, Monsters, Inc., Finding Nemo, and The Incredibles - is nearly untoppable. Most of them are unquestioned classics. The company somehow found a way to make movies that not only appealed to children, but also to adults of all ages. Ratatouille is from director Brad Bird (The Iron Giant and The Incredibles) and centers on a rat living in a trendy Paris restaurant. My only real concern is the title; there is no doubt that Pixar could have come up with something more family-friendly and that the average Joe would be able to pronounce.

Opening weekend prediction: $69 million.

2) Live Free or Die Hard

John McClane doesn't die. He just keeps on living. More than a decade after the third Die Hard flick (Die Hard With a Vengeance), Bruce Willis returns to the lead role as cynical, renegade cop McClane. This time, instead of criminal masterminds like Hans Gruber he is taking on a terrorist group that is threatening to use computers to shut down the country. "Now I have a machine gun. Ho ho ho."

Opening weekend: $53 million.

3) Fantastic Four: Rise of the Silver Surfer

Two years ago the first Fantastic Four (well, the first if you don't count the dreadful and seldom-seen version from 1994) rode the coattails of Marvel Comics' Spider-Man and X-Men juggernaut to the tune of $56 million in its opening weekend. The movie itself though was pretty mediocre and led many to question the casting choices, particularly Jessica Alba as Sue Storm, Ioan Gruffudd as Reed Richards and Julian McMahon as an utterly flaccid Dr. Doom. Perhaps headed to the dustbin of Movies that thought they would become a franchise but never got a sequel because the first one sucked too much, the second one was greenlit anyway. The core cast is returning, the same director (Tim Story) is back, but one very notable difference is the fantastic addition of the Silver Surfer. The cosmic hero (and sometimes not, as is the case here in a story is adapted from the comic book pages of his original appearance) has a fairly modest fanbase and should provide for some great action and excitement to the franchise. If the action and excitement lives up to its promise, and the acting isn't terrible, this could best the nearly $155 million total of the first film. However, don't be surprised by a small drop-off initially, as some cautious fans stay away after being disappointed by the first one.

Opening weekend: $52 million.

4) Evan Almighty

Four years ago, no exaggeration necessary, Bruce Almighty became one of the most financially successful comedies of all-time. It shattered even the boldest of analyst's predictions and ended up with over $242 million before all way said and done. For various reasons, star Jim Carrey opted not to do a sequel, so the producers instead signed Steve Carell, who has become a fairly big star of his own after the success of The 40 Year-Old Virgin last year and the ongoing popularity of TV series The Office. Morgan Freeman returns as God, who convinces Carell's character to build an ark and save animals in preparation for the upcoming flood.

If nothing else, Evan Almighty will be a major test of Steve Carell's popularity and star-power. I'm not sure if anyone expects him to duplicate the feat of established actor Carrey, but mega-successes like Bruce and The Passion of the Christ have proven that there is certainly a market for religious-based films that should not be overlooked. However, I say this as someone wasn't enamored with Bruce Almighty (though parts of it were certainly funny), but ...this looks absolutely atrocious.

Opening weekend: $39 million.

5) Ocean's Thirteen

This should be interesting. Ocean's Eleven was a near-perfect popcorn movie. It was quick-moving and action-packed, with likeable and attractive stars, smart and witty dialogue, and yet sometimes-arthouse director Steven Soderberg was still able to infuse his own style into the production. It's a very good movie that holds up quite well to repeat viewings. And then Soderbergh, George Clooney, Brad Pitt and the gang had fun at our own expense. Ocean's Twelve was a disaster on almost every level. Other than the cast, everything that was good and fun about Eleven was gone. Worst of all was a scene of the character played by Julia Roberts talking on the phone to Julia Roberts.

Perhaps realizing their mistake - and perhaps thankful that Warner Bros. gave them a chance at another sequel - Ocean's Thirteen is said to be a return to the fun and style of Ocean's Eleven. Will it be? I don't know, and I imagine that some people will be turned off from the series after the previous disaster. But the trailer does indeed look like a lot of fun and the casting is still incredible - it's a producer's wet dream. After openings of $38 and $39 million, this might come down slightly, but another $100+ million in total box office is still a pretty safe bet.

Opening weekend: $34 million.

6) Knocked Up

Knocked Up writer and director Judd Apatow has certainly become something of a hot commodity in Hollywood over the last couple years. After writing a number of television shows over the years, including such "brilliant but cancelled" shows like Freaks and Geeks and Undeclared, he finally hit pay dirt in 2005 with The 40 Year-Old Virgin. That comedy churned out over $109 million in domestic theater purchases and later became a big success on DVD as well. It was also another in the resurgence of the hit R-rated comedies, which Knocked Up hopes to continue.

Seth Rogen, who of course had a key supporting role with Carell in The 40 Year-Old Virgin, stars with Katherine Heigl (Grey's Anatomy; The Ringer), as a young couple who find out that a baby is on the way after a one-night stand. Rogen isn't exactly a mature adult ready to have a family yet, while Heigl is trying to have a successful career. They decide to try to stick together and make it work, but they aren't exactly made for one another and this inevitably leads to plenty of hijinks. The tone of the film looks like it will be less "laugh out loud" than Virgin but more of straight romantic comedy. But the trailer is funny, the early reviews are good... I have little doubt that this will be the date movie of the summer.

Opening weekend: $30 million.

7) Surf's Up

Penguins were the only good thing about Madagascar. They were cute and fun, and in the short doses that we saw them, we wanted more. Then March of the Penguins was a certified phenomenon. The documentary was a humongous success and showed that penguins aren't just cute, but that they are amazing too. Several copycats and other movies trying to capitalize on the penguin fad later and we arrive at Surf's Up. The animated tale revolves around the fictional Penguin World Surfing Championship and Shia LeBouf (who has a busy year, having already appeared in three-time box office champ Disturbia and also playing a key role in Michael Bay's upcoming Transformers) voices the lead character, a hot up-and-coming surfer. If the movie is actually any good, this could have some of the better legs of the summer season, but don't expect a very large opening as the CGI glut of the last couple years has discouraged some folks. Be forewarned: Jon Heder provides one of the voices.

Opening weekend: $29 million.

8) Hostel: Part II

Are you a teenage or young twenty-something male? Do you like violent, gory horror movies with plenty of guts and nudity? If the answer to both of these questions wasn't yes, then you most likely aren't planning to see Hostel: Part II. Distributor Lionsgate has become a big player over the last few years, in part by feeding young males what they like most: gratuitous violence and nudity. Hostel may well be the next horror franchise a la Saw.

Opening weekend: $22 million.

9) 1408

One of the better movie trailers of the spring was for 1408, starring BOP-favorite John Cusack. Cusack stars as a man who works to debunk various paranormal explanations for unusual occurrences. While writing a book about it, he stays in mythical room 1408 at large New York hotel. Thinking that the stories he has heard about the room are just tall tales, he soon discovers genuine terror. Sam "Mother-f*ing" Jackson plays the hotel manager.

The shocking thing about John Cusack is that despite the fact that he is an actor almost all moviegoers respect and like, he has only been in two movies in his nearly 25 year-long career that have grossed more than $55 million in domestic box office. These were also the only two that have made at least $20 million opening weekend. In case you were wondering, they are America's Sweethearts (due to Julia Roberts) and Con Air (Nic Cage and Michael Bay). Perhaps the most comparable movie to 1408 is Identity, another thriller that starred Cusack and grossed $16 million opening and $52 million total. That was a late April release instead of late June, but I expect similar results.

Opening weekend: $16 million.

10) Nancy Drew

Emma Roberts (from popular Nickelodeon TV show Unfabulous) stars as beloved teen detective Nancy Drew. Teenage and pre-teen girls are consistently ignored by Hollywood, so it's often difficult to predict how well movies targeted to this group will actually do. But the star-factor (I think), the ongoing popularity of the book series (I assume), and the fact that there hasn't been a good teen girl movie for a while (I'm pretty sure) should enable this to be a rousing success. And, later on, look for it to do big business with DVD sales.

Opening weekend: $16 million.

Just Under the Radar

Black Sheep

This Kiwi horror comedy is about genetically engineered killer sheep. Need I say more?

A Mighty Heart

Angelina Jolie stars in this fact-based story as Mariane Pearl, the wife of slain journalist Daniel Pearl. Michael Winterbottom (9 Songs; 24 Hour Party People) directed the film, which has been getting some positive buzz.

Sicko

Michael Moore's latest documentary isn't exactly under the radar as it's already been featured on the cover of several major magazines and will be discussed ad nauseum on the news stations and talk show circuit. Moving on from the automobile industry, the gun industry, and Dubya Inc., Moore sets his sights on the broken-down American health care system.

* Please note that all opening weekend estimates are preliminary and do not account for final screen counts.