Weekend Forecast for June 1-3, 2007
By Reagen Sulewski
June 1, 2007
BoxOfficeProphets.com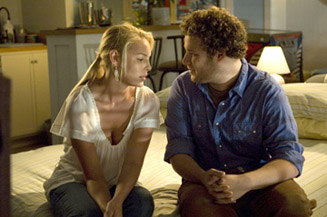 ---
After a mind-boggling May, the first weekend of June has the box office take a little bit of a breather. There's nothing even approaching a blockbuster on the slate, though we have a little more of a rounded group of new releases to try and fill out the incredibly thin number of offerings out there.

Leading off the group is Knocked Up, the latest from comedy god Judd Apatow. Two years ago, mostly known for creating the cult (read: cancelled) TV series Freaks and Geeks and Undeclared, he came out of virtually nowhere to direct one of the funniest and most successful comedies of the summer in The 40-Year-Old Virgin, simultaneously turning Steve Carell into a big comedy star.

That film grossed over $100 million in domestic box office after a relatively tiny opening weekend, proving that Apatow was on to something. Virgin was a riotous sex farce, but with a heart, which is something that's often missing from broad summer comedies (The Farellys were great at this, once upon a time). Knocked Up is attempting to follow in those footsteps, moving on to the next logical step after sex – pregnancy.

Knocked Up stars Apatow alumnus Seth Rogan as a typical schlub who happens to hit the jackpot at the bar one night with uber-Babe Katherine Heigl. Unfortunately (or depending on your perspective, fortunately), she gets pregnant on their one-night stand. Teeny tiny clothes, Lamaze classes and other hilarity ensue, as these two crazy kids try to decide if this accident actually means something.

I expect this film to follow the 40-Year-Old Virgin model to a strong degree – while Heigl is on one of the most popular shows on TV right now, almost nobody could pick Rogen out of a lineup right now (although he's a huge favorite here – witness our pick of this movie as our most anticipated of the summer). Reviews for the film are astoundingly high, so this, plus Apatow's name, plus Heigl, plus some pretty funny ads should start this film off well - relatively speaking that is, as I envision a $22 million opening weekend at just over 2,800 locations.

When a formerly big-name actor's career hits the skids, via bad performances, poor choices or a raging ego, one of the common ways to attempt a comeback is by playing a villain. Kevin Costner is taking this idea to heart in Mr. Brooks, playing a sociopathic serial killer.

Costner's character's cover is as Man of the Year of Portland, because who would suspect that dude to be a killer? No one, as it seems, not even super detective Demi Moore. That is, until a voyeur played by Dane Cook catches him in a mistake (aside: I totally believe that Cook is a peeper), which leads to the hunt being on, and maybe, cross fingers, Cook's brutal murder on-screen. One wonders slightly how Ashton Kutcher didn't get this role – I mean, he had an in!

One of the conceits of the film is that Costner's madness is driven by voices in his head, a personality voiced by the sincerely creepy William Hurt. Costner does his fair share of menacing in the film though, and it's an interesting turn for an actor that has largely been the vanilla leading man type.

There's something of a novelty factor to seeing if he can pull the role off, and if reviews are to be believed, he mostly does, although the film itself is not as well received. There's still a large amount of general distaste for Costner, and he is almost certainly still box office poison. I don't see a way for this to be a hit, although respectable totals are possible, perhaps starting with about $10 million this weekend.

The third new film in wide release is Gracie, a film about a girl soccer player trying to break onto a boys team, back when people both cared about soccer and thought girls couldn't play sports. The lead role is played by Carly Schroeder, who you probably wouldn't know if you aren't a 12-year-old girl or Hilary Duff's stalker (she had a long running role on Lizzie McGuire). Supporting roles go to Dermot Mulroney and Elizabeth Shue as her parents (with her brother and noted soccer fiend Andrew Shue, late of Melrose Place, in a small role) and a variety of no-name inoffensively good looking young actors in other roles.

This really doesn't feel like a Bend it Like Beckham in the making, to make the obvious comparison. For one thing, the critical support isn't there, and the novelty factor has worn off. It's also a bit darker in tone, which somewhat kills its mass market appeal. And of course, the final dagger is that it's releasing on just 1,100 screens. It should see about $3 million of business this weekend.

The weekend still belongs to the Pirates, with At World's End, the third instalment of the franchise grossing a humongous yet still strangely underwhelming $153 million over the Memorial Day weekend. The second largest weekend ever just doesn't seem that outstanding in light of May's run, and this means that it did just a little bit more in four days what the second did in three.

This is not meant to suggest in any way that the film is in trouble. However, as we've seen from May's other megabusters, that first weekend is everything, and you can't count on any legs at all. It appears that those who said that Dead Man's Chest was too much were on the money, and enthusiasm for the series had peaked there.

Films traditionally fall off the cliff following Memorial Day weekend, and given that this is a front-loaded sequel, well, it should be an impressive drop to say the least. I think we're looking at a second weekend of about $50 million, which would still push it north of $225 million total. However, that would put it almost a full weekend behind the second outing of this film, and puts a cap on the film's earning total somewhere south of $350 million.

Similar sentiments can be expressed for Shrek the Third, which burst out of the gates but proved to have only one bullet in its gun. It dropped over 50% in a comparable period over the holiday weekend, an almost unthinkable total for a family film with a pedigree like this one. This appears to have been a bit of a misfire for DreamWorks Animation, though most of us probably wish our misfires can gross $200 million after ten days. Look for a total of about $21 million for Shrek in its third weekend, which also means the film will come in under the $350 million mark. Combine this with Spider-Man 3's likely fall to about $7 million, and May's three hotshot films all followed a similar pattern – with a world beating opening and zero follow-through.