June 2007 Forecast
By David Mumpower
June 1, 2007
BoxOfficeProphets.com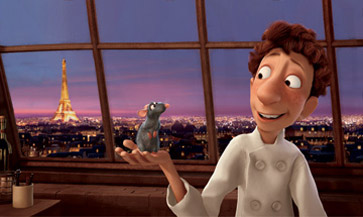 ---
1) Ratatouille

In 1995, a silly little movie about an inanimate pair of dolls, a cowboy and a rocket pilot, changed the face of family entertainment. The instant a little boy named Andy left his room and a group of toys led by a cowboy named Woody came to life, audiences were captivated by their Toy Story. The possibilities offered by this new form of computer animation being demonstrated by start-up studio Pixar were limitless. A cowboy, a dinosaur and a Mr. Potato Head could all come to life in a seamless, realistic set of movements. In a dozen years, Pixar's brand of entertainment has torpedoed the competition, effectively eliminating the box office reign of hand-drawn theatrical animation.

There have been seven Pixar movies released. Their domestic box office totals are $191.8 million, $162.8 million, $245.8 million, $255.9 million, $339.7 million, $261.4 million, and $244.1 million. Since 1999, every Pixar release has earned at least $244 million in North American box office revenue. The seven titles average $243.1 million in domestic receipts. Consistency such as this is a rarity in the erratic, uncontrollable realm of movie production.

2007 sees the release of the latest Pixar offering, Ratatouille. This tale involves a Parisian rat named Remy who shuns his people's normal cuisine, garbage. He is instead drawn to the finest of French foods, meaning that if Remy wants to eat the type of meal he covets, he is forced to sneak into the sorts of establishments that have historically disdained his type due to the pestilence and whatnot. Frustrated by his predicament, Remy embarks upon a mission to become a master chef himself and when he succeeds, he is able to strike a deal giving him access to all the foods needed to keep a rat fat.

There has been quite a bit of debate about the box office appeal of Ratatouille. A glut of 2006 and 2007 CGI animation titles has taken away the uniqueness of such productions. In fact, they have circled into the area of over-saturation. Even so, the numbers above don't lie. Pixar is as bullet proof as the industry has ever seen a movie maker be. Even a disappointing performance would mean $225 million in box office, a total nothing else in June is likely to match. I expect Ratatouille to do even better than this, making it the clear choice for the biggest release of the month.

2) Fantastic Four: Rise of the Silver Surfer

The success of the first film has been well documented by now. After half a year of lousy box office, movie exhibitors had never been in a more precarious position. Then, Fantastic Four came out and almost single-handedly restored normalcy to the industry. The movie opened to $56.1 million on the way to worldwide box office of $329.3 million, $154.7 million of it from domestic receipts. And here is the amazing part. Fantastic Four wasn't any good. It was critically reviled (roughly three out of four critics at Rotten Tomatoes gave it the ol' thumbs down) and mainstream movie-goers weren't any more positive about it. So, the logical inference for Fox was pretty simple. Imagine how much money this franchise could make if it delivered a good movie. This scenario has even occurred in recent box office history. The lackluster debut of X-Men brought in $54.5 million on opening weekend despite being a wildly mediocre affair. X2: X-Men United, a movie that whipped all kinds of ass, exploded into theaters with an $85.6 million opening weekend on its way to almost $60 million more in domestic box office. I'm not saying it's certain Fantastic Four will follow this trajectory, but look at those Silver Surfer ads again and tell me you didn't think they are attention-grabbing commercials.

3) Live Free or Die Hard

Almost 19 years have passed since the day I saw Die Hard in theaters for the first time. Typing this makes me feel old, but that movie-going experience is one of the fondest of my life. Very few times have I entered a theater with no expectations but left as satisfied as I was on that evening. Die Hard was described at the time as satire though it later became the (accidental) blueprint for over-the-top action sequences. It also featured arguably the best villain of all-time in Hans Gruber. A pair of sequels followed, but for the original production team of Die Hard, a quote from the movie had become self-fulfilling prophecy. "When Alexander saw the breadth of his domain, he wept for there were no more worlds to conquer."

Since Die Hard with a Vengeance was released in 1995, there have been ceaseless rumors about a fourth project involving John McClane but fans of the franchise had long since accepted its time had passed. Imagine our surprise at the 2006 news that a script had finally been accepted with filming soon to be underway. Even as a devoted fan of Die Hard, however, I have to acknowledge concerns about whether the Die Hard name is an important brand to modern consumers. After all, even in its heyday, Die Hard's box office revenues were never the stuff of myth and legend. The three films earned just over $300 million domestically with – trivia alert – only the original Die Hard failing to earn $100 million.

Over time, has the Die Hard legend grown to the point where it has the requisite name recognition to do more? Or is Live Free Or Die Hard too little, too late? That's an interesting debate, but it's also one people engaged in with the release of Die Hard: With a Vengeance. This is an important note because that title earned as much as the previous two Die Hard films combined, at least in terms of worldwide box office. Domestically, Die Hard 2 is the horse to beat with $117.5 million. Thanks to the magic of ticket price inflation (the average ticket cost $4.22 in 1990 as opposed to $6.79 now, an increase of almost 61%), I sincerely believe Live Free Or Die Hard has a strong chance to surpass that total.

4) Ocean's Thirteen

Franchise killer is a term tossed around too loosely these days; however, if ever there were a movie that could prove to be a franchise killer, it's Ocean's Twelve. A disastrous decision to focus upon a new character at the expense of the core group from Ocean's Eleven combined with a painful sub-plot involving Julia Roberts not being Julia Roberts but pretending to be Julia Roberts led to an epic cinematic mess. Fans of the first movie, one of the best written and brilliantly performed ensemble pieces of our lifetime, were mystified by what they were forced to witness in the sequel. The box office receipts exemplified this. Ocean's Twelve earned almost $60 million less domestically and roughly $100 million less worldwide. The phrase that applies here is "soundly rejected".

The logical assumption would be that everyone involved would walk away for a while, waiting for the right premise to come along. Instead, the same gap of time has passed between the third and second film as there was between the second and first. Even stranger, this film looks great. It's almost as if Ocean's Twelve didn't even happen. They just threw it out as irrelevant and headed straight to Vegas. I admire the temerity of this decision. So, while I do have cause to believe this sequel will not do as well, at least initially, I am starting to believe that while the last film should have been a franchise killer, Ocean's Thirteen is going to stop the bleeding and restore the promise of the original.

5) Evan Almighty

Proving the cliché once and for all, Universal Pictures has discovered that it is better to be lucky than good. They did a one-off comedy named Bruce Almighty that did okay. By okay, I mean that when it finally exited theaters, it had become the highest grossing live-action comedy of all time, earning $242.6 million in North America, roughly $460 million worldwide. The problem was that star Jim Carrey had no interest in filming a sequel. Sure, the studio could have re-cast the role with someone else in Carrey's place but given the performances of Son of the Mask and Dumb and Dumberer: When Harry Met Lloyd, this was not a desired scenario. So, a Bruce Almighty sequel seemed to be impossible. Then, something strange happened. A 44-year-old actor who had a small but amusing part in the first film suddenly shocked the world when he became the lead actor in a $100 million movie, The 40 Year-Old-Virgin. Suddenly, script possibilities were endless and here we are today. Steve Carell might not be Jim Carrey, but he is the star of a successful NBC sitcom as well as comedian with street cred due to his time on The Daily Show.

6) Knocked Up

In a summer full of blockbuster hits – and I mean real blockbusters, not League of Extraordinary Gentlemen-level stuff – BOP named Knocked Up as our most anticipated movie of the season. That says a lot about how confident we are that this will be 2007's answer to The 40 Year-Old Virgin. The problem is that Knocked Up is not tracking as well as I had hoped, making an opening weekend in excess of $25 million unlikely. I guess that's to be expected. After all, the one-sheet celebrates the goofy anonymity of the male lead. Over time, I suspect it demonstrates sensational legs, particularly given the critical reception thus far. These critics are a group that do not like sex comedies as a rule, yet Knocked Up is 90% positive at Rotten Tomatoes as I type this. It might not always start well but I expect it to finish brilliantly...much like sex, in fact.

7) Surf's Up

Memo to Hollywood: enough with the damn penguin movies. While we're at it, enough with the damn CGI-animation movies. There used to be six or seven animated movies a year, and we liked it. These days, there are 15 or so each year, and the overwhelming majority of them are shamelessly derivative. Sony shows up with this, the third CGI outing involving penguins, and I find myself wondering who at their studio thought, "Let's just copy Madagascar and Happy Feet" as if it would somehow set them apart from the competition. This is a generic, tardy outing that is shamelessly unoriginal and I expect it will be remembered as such after the fact.

8) Hostel: Part II

The hip new term these days is gorno. It indicates a disturbing trend in cinema wherein explicit horror sequences have become a form of gory pornography. Perhaps no movie in recent memory demonstrates this more effectively than Hostel. The 2005 release was a surprise box office hit, opening to $19.6 million (exemplary for the first week of January) on its way to domestic revenue of $47.2 million. A sequel was inevitable from the moment Friday box office numbers came in for the first day of Hostel's release. Even better, it was naturally set up by the storyline in which only one American tourist survives his run-in with Elite Hunting. At the end of the first film, he uses a (fatal) distraction to board a train and make his escape. The sequel begins at exactly this moment, but introduces a trio of new characters, women who will presumably endure all sorts of scantily clad horrors on their way to either dying or learning some important life lessons. It is what it is, folks. Hostel: Part II has been slotted in the summer in hopes of improving upon its already strong opening while also capitalizing upon the additional revenue summer vacation provides for its target demographic. Like it or not, this is a clever move on the part of Lionsgate, the little studio that has become the go-to distributor for shock value horror titles.

9) Nancy Drew

If there is one niche Hollywood consistently fails to target, it's tweeners. The shocking success of High School Musical demonstrates that this group is a financial windfall waiting to happen for studios, yet we almost never see quality movies targeted to them. Instead, garbage such as Catch That Kid, Sleepover, and New York Minute. When the rare film is released that is respectable in quality, it consistently does well. The Lizzie Maguire Movie, Ice Princess, Because of Winn-Dixie and Stick It were all profitable endeavors that reached this niche. Nancy Drew has a chance to be the first film in recent memory to not only effectively target this demographic but also turn into a franchise. Warner Bros. even showed foresight in casting the character, choosing the niece of Julia Roberts, Emma Roberts. Nancy Drew is a title I expect to open okay, then show impressive staying power by current box office standards these days.

10) 1408

Don't let the title fool you. No, this is not a historical drama. Instead, it's the latest theatrical adaptation of a Stephen King story. The premise is that a grieving father (played by BOP fave John Cusack) chooses an unusual way to deal with the death of his daughter. He sets out to disprove the notion of the afterlife, writing a series of books that refute supernatural hoaxes. Upon receiving word that The Dolphin Hotel has a haunted suite, room #1408 to be exact, the writer immediately packs his bags and goes there. The manager there (the living embodiment of cool, Samuel L. Jackson) attempts to dissuade him from his goal, stating that his disbelief might be misguided in this particular instance. Of course, the author is undeterred and of course the moment he checks into the room, unexplainable phenomena begin to occur. 1408 promises to be another film in the vein of February's The Number 23. Given the fact that Jim Carrey couldn't draw in enough consumers to do more than $33.9 million, it's har to imagine 1408 breaking out much beyond that. Even so, it's a fun premise that should prove for respectable summer counter-programming.