Weekend Wrap-Up
Box Office Rings Up Third $100 Million Earner
By John Hamann
May 28, 2007
BoxOfficeProphets.com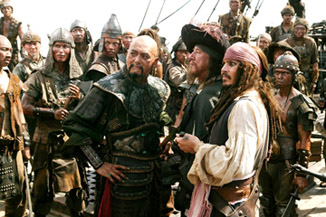 ---
The miraculous May continues at the box office this Memorial Day holiday weekend, as Pirates of the Caribbean: At World's End, did the expected and opened very big from a record amount of venues. The flip side to all of this good news is that May's success comes from only three films, all of them third films in their respective franchises. This leaves a large wake behind Spider-Man 3, Shrek the Third and Pirates of the Caribbean at the box office. June looks powerful with some interesting films set for release, but top ten totals may yet suffer.

The number one film of the weekend is Pirates of the Caribbean: At World's End, and even with a massive run time of 168 minutes, the latest adventure of Jack Sparrow still managed to pull in $156.1 million over the four (and a half) days at the box office. Johnny Depp and friends started the long weekend early on Thursday, and the latest Pirates sequel earned $14 million from earlier than normal Thursday showings across North America. It followed that number up with a $43 million gross on Friday, better than Shrek the Third's first Friday of $38.4 million, but far behind Spider-Man 3's opening day gross of $59.8 million (however, in Spidey's case, Thursday sneaks were not broken out of that figure). The Friday gross (without sneaks) was the fourth largest Friday of all time, and if those Thursday night screenings are added, it becomes second best to only Spider-Man 3.

At World's End had a Saturday gross of $37.7 million, a 12% drop from Friday. We know that Sunday was estimated at $33.7 million, slightly higher than usual thanks to the holiday on Monday. This number reprsents a decline of only 11% from Satuday and gives the Gore Verbinski flick a three day multiplier of 2.66 - a decent figure for such a large, long and hugely anticipated film over opening weekend. Compare that to last year's big blockbuster Memorial Day title, X-Men: The Last Stand. It started with a larger Friday of $45.1 million, then fell 29% to $32 million on Saturday, followed by another 20% to $25.7 million on Sunday. Its three-day multiplier was 2.28. We have recently discussed the difficulty for movies with $40 million Fridays to attain strong weekend multipliers. X-Men: The Last Stand is the blueprint example in that it collapsed over the long weekend despite holiday inflated numbers. The third Pirates film - perhaps aided by being more family-friendly - sustained momentum throughout the weekend.

Pirates of the Caribbean: At World's End got started at a record breaking 4,362 venues. That's 110 more than Spider-Man 3 got started with, and about 250 more than Shrek the Third. For the three-day weekend, At World's End had a venue average of $26,364 - a few thousand behind that of Shrek the Third and Spider-Man 3. There is a huge difference between these films and that is run time. Shrek the Third came in at a measly 92 minutes; Spider-Man 3 was over two hours at 140 minutes. At World's End was longer than both of these films, coming in at a long 168 minutes, which would have made this a tough one to schedule at your local theatre. The Lord of the Rings: The Two Towers had a runtime of 179 minutes, but only earned $62 million over its first Friday-to-Sunday of release. Long films combined with long sets of previews and commercials are tough to open large, as the number of screenings should be reduced. At one time, only a few years ago, many thought it was impossible to open a long film like this to over $100 million. At World's End has proven again that if you give moviegoers something they want to see, they are willing to go to any length to fulfill their needs.

Pirates of the Caribbean: At World's End is a huge film for Disney and Jerry Bruckheimer. The reported budget is somewhere in the neighborhood of $300 million, and when reviews rolled out early in the week, it must have made some slightly nervous. Reviews came in as mixed at best, with only 71 out of a possible 149 giving this one a positive review. That equates to a fresh rating of 48%, a figure that both Spider-Man 3 (61% fresh) and Shrek the Third (41% fresh) can identify with. May has proven again that the blockbuster is review-proof (we will get an even better example when the sure-to-be-dreadful Fantastic Four follow-up hits screens). Overall though, Disney has to be very pleased with their investment in the Pirates of the Caribbean franchise.

That's really where the good news ends this weekend. Shrek the Third got dealt a body blow this weekend that I didn't see coming, and I don't think DreamWorks saw coming, either. The entire Shrek franchise has always opened the weekend prior to Memorial Day, opening large, and then following that large opening up with an equally great weekend over the Memorial holiday frame. The first Shrek opened to $42 million the weekend prior to the holiday and then scored another $42 million the weekend after. Shrek 2 earned a huge $108 million over its first Friday-to-Sunday and then followed that up over the long weekend with $72.2 million. Shrek the Third opened to $121.6 million last weekend, and for the three-day period dropped 56%, earning $53 million, despite expectations (based on past performances) hovering around the $80 million mark. Simply put, this franchise is running out of gas (however financially beautiful it is). Without the holiday, this would have been very much akin to Spidey 3's plunge of 62%. However, I don't expect to see a 50% drop next weekend for Shrek; I'm looking for something more in the range of 40%. I still see Shrek the Third having no problem reaching $300 million, but I don't see Shrek the Fourth setting any opening weekend box office records. The shine has come off somewhat, but when your total after ten days sits at $219.4 million, you have absolutely nothing to complain about - especially when the budget for this one was $160 million.

Oh, how the mighty have fallen. It was a only a few weeks ago that Spider-Man 3 goosed box office records with a haul of $151.1 million. We all know it slipped badly in its second weekend when it lost a shocking 62% of its opening weekend figure. It went on to drop another 50% last weekend and the bleeding still hasn't stopped. Over the four-day portion of the weekend, Peter Parker and friends earned a slim $18 million. After its second weekend, I laid out a worst case scenario for Spidey 3, and that scenario hasn't missed a beat. The Sony/Marvel release crossed the $300 million mark on Sunday, its 24th day of release. That means that the biggest opener ever drops to a tie for sixth in terms of crossing the $300 million mark the fastest - currently the second Pirates of the Caribbean film is the fastest at only 16 days. Currently, Spider-Man 3 sits with $307.6 million, and it will finish very close to $330 million, a little over two times its opening weekend figure.

The next seven films in the top ten barely edged the total for Spider-Man 3. Fourth this weekend goes to Bug, the Lionsgate release that got forgotten and stomped on. Bug, a horror film I guess, earned $4.2 million from only 1,661 venues this weekend. Bug was not good counter-programming, as it competed with a similar audience as Pirates of the Caribbean: At World's End. Expect this one to do a Casper impression for a few weeks, and then head off to cheap bin at Wal-Mart for the DVD.

Fifth goes to Waitress from Fox Searchlight, an excellent film that would have worked even better had Fox Searchlight let audiences know they were putting it out to 510 venues. Waitress earned $4.0 million over the four-day portion of the weekend. This film has gained a following not only because it's good (90% fresh at RottenTomatoes), but also because its writer and director, Adrienne Shelly, was murdered last year. Keri Russell is likely to gain the most traction out of this film's performance. Once a flavor of the month with Felicity, she's had smaller parts in Mission: Impossible III and The Upside of Anger, but her star was waning until Waitress came along. After a few weekends playing beautifully in limited release, Waitress has now earned a total of $6.5 million, with potentially another $10 million to come.

Sixth goes to 28 Weeks Later, a great zombie flick that is unfortunately being pushed back due to too many mega-releases. 28 Weeks Later earned $3.3 million during the holiday weekend. For the last time, go see this movie! Check out BOP's newest columnist Shane Jenkins and his review right here. A film like this deserves to earn more than the $24.4 million it has so far.

Disturbia finally appears to be running out of gas. In its seventh weekend in the top ten, the teen Rear Window earned another $2.4 million if the holiday Monday is included. Paramount has a lot to crow about with this one, as the $20 million film has now earned a remarkable $74.9 million.

In eighth this weekend is Georgia Rule, the Jane Fonda/Lindsay Lohan chick flick that failed beautifully as counter-programming. Georgia earned a sad $2.4 million and is only in the top ten on a technicality. So far this Universal product has earned $16.8 million, most likely less than the headlining star's salary.

Fracture is ninth this weekend. Released on April 20th, Fracture is another film alive by default, as it earned only $1.6 million this weekend. So far, the New Line release has earned $37.1 million.

Finally in tenth we have the return of a movie we had hoped never to see again. No, it's not Are We Done Yet? It's actually Wild Hogs, which rises from the dead and a 16th place finish last week with a holiday weekend total of $1.4 million. Wild Hogs now has a running total of $163.3 million, or 54.4 gallons of gas. The film had last seen the top ten the weekend of April 20th, making this a scarier resurgence than anything seen in 28 Weeks Later.

This Memorial Day Weekend was a record-setter by a significant margin. The largest performance ever for the top 50 films in release had been $246.2 million in 2004. The 2007 top ten alone earned an estimated $262.5 million. The top two films this long weekend earned $43.8 million more than Shrek 2 and The Day After Tomorrow, the top two from 2004.