Friday Box Office Analysis
By Tim Briody
May 26, 2007
BoxOfficeProphets.com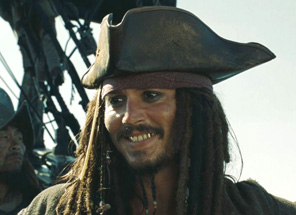 ---
Another weekend in May, another $100 million opener. Remember when these were special?

Pirates of the Carribean: At World's End

The triumphant return of Jack Sparrow earned $43 million on Friday, and has a total tally of $57 million including Thursday evening showings. There's a big point of contention right now as to where exactly the revenue from Thursday will be included, as the film was not officially released until Friday. Many theaters had multiple showings prior to midnight, with some starting as early as 8 p.m. Historically, midnight showings and occasionally even 10 p.m. showings are grafted into weekend box office. Showings that began at 8 p.m., however, have never been included before. Therefore, Friday's number could be evaluated as coming in anywhere from $38 million to $57 million, depending on which generally accepted accounting practice (wink, wink, nudge, nudge) Disney chooses to use.

At this point, the best comparison I can think of is last year's X-Men: The Last Stand. It offers a decent parallel because it's the third entry in a popular franchise and it opened at the exact same time in 2006 as At World's End does now. The mutants started with $45.1 million on Friday and ended up with $122 million over four days, with $102 million of that from Friday-to-Sunday.

With regards to Pirates 3. what remains to be seen is where that $14 million attributed to Thursday evening's 8 p.m. showings will be included. If counted as part of the three/four-day weekend totals, there's a chance that Spider-Man 3's opening weekend record is in trouble. If not, and if it follows a similar trajectory to X3, uh-oh. Last Stand's three-day multiplier was 2.28 and its four-day was 2.72. I'm voting for some number fudging going on, and a multiplier not quite as bad as The Last Stand (which still went on to make the most money of the X-Men trilogy). Keeping in mind that three- and four-day estimates using a shaky "Friday" number borders on being a futile exercise, here is the thought process. Using the $57 million number as "real", let's estimate a three-day multiplier of around 2.5, which would give At World's End a Friday-through-Sunday total of $143.0 million. This is the same as a multiplier of 3.0 on a Friday total of $43 million with the extra $14 million added on. Another $25 million on Monday would lead to a total of roughly $165 million over the four-day weekend. Keep in mind that this is serious voodoo math, people.

Caveat: There is also a possibility that At World's End comes in much lower if it sees no Friday-to-Saturday increase. Negative reviews probably are not a factor here, but the potential worst-case scenario is something to keep in mind.

Shrek the Third

Continuing the trend started by Spider-Man 3, Shrek the Third enters a free-fall as it enters its second weekend. With Friday earnings of $14.3 million, that's a 63% decline from last week. This is pretty bad, especially compared to the first two offerings in the Shrek franchise. The good news is that this is the perfect weekend for it to recover, as both Shrek and Shrek 2 performed strongly on Saturday and Sunday. A four-day total of about $64 million should be in the cards, though any hopes of even coming close to Shrek 2's $436 million have already gone out the window.

Bug

There were somehow enough free screens not showing Spider-Man 3, Shrek 3 or At World's End to allow Bug, the weekend's other new release, to be exhibited on about 1,600 venues and earn a measly $1.1 million. At this point, one wonders why even bother going to the movies this weekend if you're not going to see one of the Big Three (or Big Two, really as Spider-Man 3 is now clumped in with the rest of the chaff hanging on top ten spots due to the lack of new releases.) Either way, look for Bug to earn about $4 million over the long weekend, and for you to forget that it had a theatrical release when it arrives on DVD.

Waitress

Expanding to 500 screens and a soft top ten was good news for Keri Russell's Waitress, which has been getting very good word-of-mouth during its time in limited release. It earned $768,000, good for fifth place on Friday. It should come in with around a fairly solid $3 million over four days, and will likely expand again over the coming weeks.