Weekend Forecast for May 25-28, 2007
By Reagen Sulewski
May 24, 2007
BoxOfficeProphets.com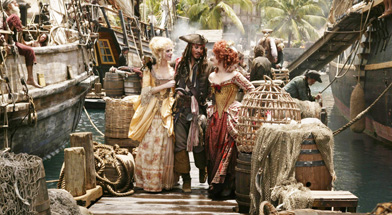 ---
Just three weeks old, the newly minted opening weekend box office record is already in jeopardy from a bunch of pirates. In any event, we're headed for an unprecedented third $100 million opener of this month, something that hasn't even happened in one year before.

Pirates of the Caribbean: At World's End is the third and potentially final outing of Disney's surprising cross-over amusement park adaptation. Propelled by one of the definitive movie star turns of all time in Johnny Depp's Jack... sorry, Captain Jack Sparrow, the Pirates franchise ranks as one of the strongest in cinema history. The first film opened to a modest $46 million, but due to that oh so rare commodity in movies today, legs, it ended up north of $300 million in final box office.

Realizing they had lightning in a bottle, Disney quickly greenlighted two back-to-back filmed sequels, the first of which premiered last summer. Dead Man's Chest proved even more successful, setting the single weekend box office record and grossing $423 million total. That was merely the first half of a cliffhanger, which saw Captain Sparrow meet an apparent noble end at the... tentacles of the Kraken, sent by Davy Jones. Of course, if you've been paying attention to any of the commercials, you know that he's back, somehow. He's not the only character to escape death, apparently, as the ending of Dead Man's Chest brought back his nemesis/newfound-ally Barbossa (Geoffrey Rush) from his exit in the first film.

All the other principals are of course back, including Orlando Bloom and Keira Knightley, with the key addition of Chow Yun-Fat as the leader of Singapore's pirates, called in to help with saving Jack and defeating Davy Jones.

This Pirates franchise is a film in the tradition of rarely seen epic action-adventure films like the Indiana Jones series. The comic sensibilities are difficult to come by naturally, which is mainly where the inspired performance of Depp comes in. There exists almost no other actor today that I can imagine making this series work as well as he does.

Even at that, the latest two films have come in for some criticism. The second film was hit by some for packing too many subplots in, and for a slightly uneven comedic tone. Some of this could be put up to the fact that director Gore Verbinski and the team of writers knew they had another movie to resolves these things in. It's also possible they've lost their way a bit, but public word-of-mouth wasn't too bad for it (and certainly not in comparison to May's two other trilogy enders to date). Pirates of the Caribbean: At World's End has some of the same criticism laid upon it, but it's difficult to imagine too many of the viewers of the second film not sticking around for the conclusion (then again, look at the respective takes for Back to the Future 2 and 3, a somewhat analogous series).


Launching at an almost obscene 4,362 venues, and starting its screenings at 8 p.m. on Thursday, At World's End is making a full bore rush for records across this Memorial Day Weekend. I believe the three-day total will evade its grasp, if only due to it being spread across four and a half days. The outlook for these days is still potentially staggering, with a four day total of $172 million in the cards, and $186 million across the full opening period.

Although opening against one of the biggest box office performers of all time might not seem like a smart idea, Memorial Day is one of the few weekends of the year where counter-programming can really work effectively. Not only is there plenty of time for people to catch more than one movie, the May slate is typically rather thin. For instance, only seven films this weekend are available in over 1,000 locations. Of course, this only works if you have a movie of substance to program with. The sole wide offering against Pirates is Bug, a creepy-crawly horror film starring Ashley Judd, Harry Connick, Jr. and character actor Michael Shannon.

Surprisingly enough, for how it looks, Bug is an adaptation of an off-Broadway play and is directed by The Exorcist's William Friedkin, which would lead one to believe that there may be more going on with this film than mere scares and jolts. In fact, it's part horror, part psychological thriller, with Judd's character a woman in fear of her abusive ex-husband (hmm, where have I seen this before... oh right, it's every other Ashley Judd film ever) that starts a relationship with a troubled, paranoid drifter. Because that always works out. Anyhow, as the bugs of the title literally start to invade their lonely hotel room, the question becomes, are these real or just some paranoid manifestation – and what does this say about how men are scumbags? Although I may be reading in a bit with that last one.

Lionsgate is launching this film on just over 1,600 screens, which will make it difficult for the film to challenge for too much this weekend. Judd's box office record has certainly seen better days as well. I forsee Bug coming in with around $5.5 million this weekend over four days, though this would be a top five performance in this week's crowd of films.

In addition to these two new entries, one expanding film could challenge for the top ten - especially since it snuck in last frame. The romantic comedy Waitress moves into just over 500 venues this weekend after a strong showing on just over 100 last frame. Notable in large part for being the film that Adrienne Shelly had just completed when she was brutally murdered by her neighbor last year, the film stars Keri Russell as a pregnant southern waitress with a knack for pies, trying to get away from a controlling husband played by Jeremy Sisto (a.k.a. Creepy Jesus). Into town comes Mr. Handsome Doctor, played by Nathan Fillion who tempts her, indirectly by being the first man to treat her decently. In essence, it's a happy, less cynical version of The Good Girl with more hugs. A Sundance favorite, it should see a weekend total of about $3 million with this expansion.

This brings us, finally, to our returning films. Shrek the Third easily won the weekend with a $121.6 million, the third highest opening weekend of all time, and a slight improvement on its 2004 predecessor's mark. Like Spider-Man 3, though, warning signs for this film's sustained success are already showing. Audience response and reviews were tepid, but more problematic are the weekday totals, which are significantly under Shrek 2's, and closer to the original Shrek's totals. With over $150 million in the bank before its second weekend, it's hardly in financial trouble, but the lofty heights of Shrek 2 are definitely out the question, even factoring in the increased opening weekend. This has been a bad couple of weeks for franchise legs, which should continue for at least one more (we shall see about this week's entry next week). Look for a return mark of $65 million over three days for Shrek the Third, with about $80 million over four.

Spider-Man 3 made a marginal recovery last weekend, if a 50% drop can be considered that. The $29 million it brought in last weekend is just slightly higher than the total of Spider-Man's fourth weekend, five years ago. Its weekday figures continue to slide dramatically, dropping below $2 million a full week before either Spider-Man 1 or 2. And now it begins to shed screens. Though it will undoubtedly pass the $300 million mark this weekend, there is no guarantee it'll hit the $350 million mark at this point. Look for a four-day total of about $16 million this holiday weekend.