Weekend Wrap-Up
Shrek Shows His Power at the Box Office Again
By John Hamann
May 20, 2007
BoxOfficeProphets.com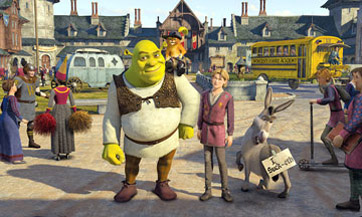 ---
After Spider-Man 3 opened to $151 million only two weekends ago, some thought that Shrek the Third might be a shrinking daisy in comparison. It wasn't to be. After a huge $39 million Friday, Shrek plundered through the rest of the weekend and finished with an awesome weekend total. Spider-Man 3 on the other hand, continued its steep fall from glory, losing another 51% of the previous weekend's audience, and proving again that the opening weekend is where blockbusters need to shine.

The number one film of the weekend is Shrek the Third, a film that most box office analysts - and even the head of DreamWorks - thought would open somewhere between $100 and $115 million. The news was eveh better than that for the denizens of from Far Far Away, as Shrek the Third blitzed expectations, coming in with a three-day estimate of $122.0. Out to 4,122 very busy venues, Shrek the Third had an opening weekend venue average of $29,597 - comparing respectably with Spider-Man 3's opening weekend average of $35,540 from 4,252 venues. This is a repeat of Shrek 2's surprising success in May of 2004. Shrek 2 opened on a Wednesday, and grossed $129 million over its first five days. Over the Friday-to-Sunday period of its opening frame, Shrek 2 earned $108 million. At the time it was the second biggest opening weekend ever (it's been bumped to fifth over the last three years). This opening slots Shrek the Third into third place on the list of biggest opening weekends of all-time, behind only Spider-Man 3 and Pirates of the Caribbean: Dead Man's Chest ($135.6 million opening). It will most likely fall to fourth once Pirates of the Caribbean: At World's End opens next weekend.

On Friday, Shrek the Third opened to $39 million, a number usually reserved for comic book movies, Matrixes or Harry Potter films. Shrek 2's first Friday came in significantly lower at $28 million, but Shrek 2 had been in theaters for two days at that point. This time out, Shrek earned $900,000 from Thursday night previews before going on to dominate on Friday. It had an internal multiplier of 3.13, well back of the original's Friday-to-Sunday multiplier of 3.8. Films that earn as much as Shrek the Third did on Friday struggle to keep momentum up, and even a kids' movie like Shrek can have its multiplier beaten down.

Reviews may have also hurt Shrek's weekend legs. At RottenTomatoes, only 51 out of a possible 116 critics gave this one a positive review, leaving the third film in this venerable franchise with a rotten rating of 44%. Compared to the first two films, the third Shrek received an extremely poor score. The first Shrek received an 89% fresh rating, and Shrek 2 earned a fresh rating of 88%. Critics are obviously tiring of the big green ogre, but audiences are ignoring movie critics, at least over opening weekend (I'm looking at you, Spider-Man 3). Its always hard to forecast where films will end up after only one weekend, but if Shrek the Third does three times the $122 million opening, it will finish as another massive entry for the summer of 2007. It is the second $300+ million film in only three weekends, with a likely third only a weekend away.

While the news is currently great for Shrek the Third, if it pulls a Spider-Man 3 it won't make the top ten films of all-time list. Spider-Man 3 had another tough weekend, but despite the competition from Shrek the Third, the Marvel/Sony release was able to improve on last weekend's 61.5% drop. Some of that might have been due to its increase in venues. With 4,324 locations, Spider-Man 3 set yet another record for most venues ever. In its third frame, Spider-Man 3 earned $28.5 million, but still had a large drop, falling 51% compared to last weekend's gross of $58.2 million. Currently, Spider-Man 3 sits with an impressive total of $281.9 million, but won't reach the heights of its predecessors. The original Spider-Man didn't see a 40% plus drop until after its first month of release, and it finished with over $400 million; Spider-Man 2 didn't see a 50% plus drop until it was earning less than $1 million per weekend, and it finished with $373 million. This time out, Sony and Marvel (and their $260 million investment) most likely won't see $350 million domestically, and will have tosettle with about $325 million. I doubt Shrek the Third will see a different trajectory, and should finish in the same ballpark as Spider-Man 3.

Like last weekend, outside of the top two films at the box office, there is little to get excited about. The bottom eight couldn't even match Spider-Man 3's third weekend total, so things are going to get tough as we go down. Finishing third this weekend is 28 Weeks Later, the fantastic follow-up to 28 Days Later. Unfortunately, I must have been one of the few that liked this one a lot. In its second frame, 28 Weeks Later earned only $5.2 million, which at least equals a fair drop for horror (and a sequel for that matter) of 47%. Usually horror follow-ups have second weekend drops in the mid to high 50% range, so maybe word is getting out about this one (but it's far too late). So far, the zombie flick has earned $18.6 million, and will most likely finish with about $35 million. Look for this one to be big on DVD.

Fourth spot this weekend goes to Disturbia, which has become a winner by default. Now in its sixth weekend, Disturbia earned another $3.7 million, and was once again off a small 22%, despite shedding about 600 venues. Disturbia has now turned a $20 million budget into a domestic gross of $71.3 million, and it earned the last $20 million of that due to the fact that there was no better competition out there. Look for Disturbia to finish with between $80 and $85 million.

Georgia Rule drops from third last weekend to fifth this weekend, as the Universal product fails to gain any steam. The Jane Fonda/Lindsay Lohan flick earned $3.5 million from 2,531 venues, and it was off 48% compared to its opening frame. If there was more new product out there this weekend, this one would have finished much lower down the list. Currently, Georgia Rule has earned $12.6 million, and will have to work hard to get to $25 million.

Sixth spot goes to Fracture, the most travelled release in the top ten. Fracture opened in second, dropped to fourth and moved back to third before falling to sixth last weekend. This weekend, the Anthony Hopkins flick earns $2.5 million, and drops a tiny 17% in the process. So far, Fracture has earned $34.7 million for New Line, and will finish with about $40 million.

Seventh unfortunately goes to Delta Farce. The idiotic comedy earned $1.8 million, dropped 46%, and has now earned 6.1 million. Really, this one can't disappear fast enough - I'm almost embarrassed for it.

Finishing eighth this weekend is The Invisible from Buena Vista. This is another film that has no right being in the weekend top ten, but is. The Invisible earned a measly $1.3 million this weekend, dropping 43%, and it now sits with $17.7 million.

Ninth goes to Hot Fuzz, the other British product in the top ten. Hot Fuzz earned $1.3 million, giving it a percentage decline of 27%. Its grand total is $21.1 million, and it will likely be as huge on DVD as Shaun of the Dead.

A pleasant surprise earns a surprise spot at the bottom of the top ten. Waitress, written and directed by the late Adrienne Shelly, earned $1.1 million from only 116 screens, a solid per venue average of $9,828. Featuring Keri Russell and Nathan Fillion, the film has received glowing revues and should continue to be a sleeper hit for Fox Searchlight.

Overall, thanks to Shrek and Spider-Man, the box office top ten earned a very powerful $170.8 million. A year ago, with The Da Vinci Code on top, the top ten films earned about $153 million, well back of this year's totals. In 2005, not even the $108 million debut of Revenge of the Sith could top 2007's totals, as the top ten that year came in at about $156 million. With Pirates of the Caribbean: At World's End on the docket for next weekend, the box office is guaranteed to be explosive over the Memorial Day Weekend.