Weekend Wrap-Up
Spider-Man 3 and Box Office Plummet Together
By John Hamann
May 13, 2007
BoxOfficeProphets.com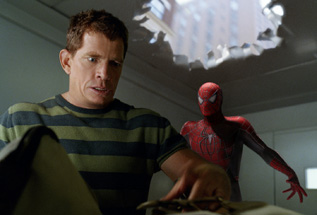 ---
It's amazing to think that just a weekend ago, it was high times at the box office. Spider-Man 3 had just taken the record for biggest weekend ever and the overall box office was way up compared to the previous year. It's only a weekend later, and Spidey has tumbled badly but expectedly, while none of the four openers had much impact on the box office whatsoever. Luckily, last year was a quagmire during the early May blockbuster season, so at least studios can brag that this weekend carries a small uptick over last year. Because of the massive lull, Shrek the Third is the biggest winner this weekend, and it didn't even open yet.

The number one film of the weekend is obviously Spider-Man 3 - the question was how big the drop was going to be. The Marvel hero grossed $60.0 million, a number that would have been great for any other film for opening weekend, let alone a follow-up weekend. The trouble comes when comparing Spidey's opening weekend figure of $151.1 million to its sophomore weekend gross. Spider-Man 3 lost a huge 60% of its audience and missed its opportunity to become the fastest opener to reach $200 million. It reached that mark on Saturday, its eighth day of release, tying Spider-Man 2 and Pirates of the Caribbean: Dead Man's Chest. Considering the fact that Spidey 3 beat Dead Man's Chest over opening weekend by more than $15 million, the Sony crime fighter should have had no problem crossing $200 million in seven days.

As I said above, being a blockbuster sequel, Spider-Man 3 was sure to have a hefty drop in its second frame; however, with school still in session, Monday-through-Thursday figures for Spidey were also low. This could have led some to believe that a bigger audience would come out on the weekend. It wasn't to be. At 60%, Spider-Man 3 lost a staggering $91.1 million compared to its opening weekend. Let's see how that compares to some of the other second weekend drops by the biggest films of all time. The second biggest opener ever, Pirates of the Caribbean: Dead Man's Chest ($135.6 million open) dropped 54% to $62 million over its second frame. The first Spider-Man movie actually out-grossed the third in its second frame, as it earned $71.4 million and had a 38% drop. Star Wars: Revenge of the Sith opened to $108 million, but had a $50 million Thursday prior to opening. Despite not having its biggest day counted into its weekend tally, it still dropped 49% in its sophomore frame. Shrek 2, after opening to $108 million, dropped only 33% in its second frame, but that was due to a number of different reasons, one of which was that its second frame landed on Memorial Day (and it had one of the shrewdest opening strategies in the history of movies). Finally we have X-Men: The Last Stand, which opened to $102.8 million, and dropped a nightmarish 67% in its second frame (blame Brett Ratner, I do).

Spider-Man 3 now sits with a total of $242.1 million, and the question now is where does it go from here? After X-Men: The Last Stand dropped 67%, I thought its weekend drops might lift a bit following its second frame. It wasn't to be, as that Marvel product had follow-up drops of 53% and 51%. If something similar were to happen here, we will be looking for a $30 million-ish weekend in the next frame, which would put Spidey 3 on the path to about $350 million at the domestic box office. Reagen Sulewski mentioned in BOP's Weekend Forecast that Spider-Man 3 could be the first film since The Lost World to open as the biggest weekend earner off all time to then fail to earn a top ten spot amongst the biggest overall domestic earners of all time.

Landing in second is 28 Weeks Later, the follow-up to the low budget 28 Days Later. The first film in this series opened in late June of 2003 and was a surprise hit, earning $10 million from only 1,260 venues. It was huge on DVD, and the sequel seemed to have all the earmarks for beating the original in terms of opening weekend. Oddly enough, the sequel was only able to match the original, also coming in with an opening weekend gross of $10.0 million. It needed almost double the amount of screens to do it, though, as 28 Weeks Later debuted at 2,303 venues and carried a venue average of $4,342 - well off the original's $7,986. The simple difference between the two debuts is buzz; the buzz for the original was deafening. It was to be the re-invention of the zombie genre (and it certainly was). The sequel, while still an excellent film, provided nothing new and may suffer because of it. Critically, it did very well, especially for a zombie flick. At RottenTomatoes, 121 reviewers chimed in and 85 found something to like, giving it a fresh rating of 70%. I don't think 28 Weeks Later is done yet, and I don't predict a Spider-Man 3 like drop next weekend.

The rest of the top ten is a definite disaster; it's almost like the zombies of 28 Weeks Later had their way with the bottom rungs of the top ten. Finishing third is Georgia Rule, the Jane Fonda/Lindsay Lohan chick flick that was supposed to be excellent counter-programming. It certainly wasn't Notting Hill, as Georgia Rule opened extremely poorly, earning only $5.9 million over its first three days. The Universal product debuted at 2,523 venues and had a venue average of $2,331. It was no secret that there was a large amount of trouble on the set of Georgia Rule, and that went hand in hand with the horrible reviews it received this weekend. Georgia Rule got an 18% fresh rating from RottenTomatoes, and will be sent packing after only one weekend. Lohan had better watch out - after what looked to be a promising career, Lohan has now had Just My Luck flop ($17.3 million finish), and forgettable appearances in A Prairie Home Companion and Bobby. Last year, Tom Cruise killed Mission: Impossible 3, and now Lohan has done the same thing with Georgia Rule.

Finishing fourth after five weekends of release is Disturbia, the thriller that has dodged about a thousand bullets since its release. Disturbia earned another $4.8 million this weekend, and was off an exemplary 18% compared to the previous frame. Did this one benefit from the hard R rating that 28 Weeks Later received? Maybe, but word-of-mouth amongst the teen set has made this one a $66.3 million dollar winner.

New release Delta Farce finishes fifth, a better ranking that its opening weekend gross deserves. Delta Farce fooled people into $3.5 million worth of ticket sales, as the idiotic comedy opened at 1,931 venues. Starring Larry the Cable Guy, this one received zero positive reviews at RottenTomatoes, and should be a shoe-in for a pile of Razzies next year. How quickly can Delta Farce go away? Not quickly enough.

Sixth goes to Fracture, the Ryan Gosling/Anthony Hopkins thriller. This is another film that is alive thanks only to an awful list of films in the top ten this weekend. Fracture earned $2.9 million from 2,365 venues this weekend, and was off 22% from the previous frame. From New Line, Fracture has now earned an okay $31.0 million.

Buena Vista's The Invisible drops three spots to seventh, as David Goyer's sci-fi flick is going to fail to earn $20 million at the domestic box office. This weekend, the no-star feature earned $2.2 million and was off 33% compared to last weekend. So far, this mistake has earned $15.5 million.

Finishing eighth is Hot Fuzz, from Working Title Films and distributed by Rogue Pictures in the US. Hot Fuzz is a huge hit internationally, but failed to take hold here like it did in Britain. This weekend, the Simon Pegg flick earned $1.7 million and was off 23% compared to last weekend. So far, Hot Fuzz has earned $18.9 million, which is better than Shaun of the Dead's $13.5 million. Internationally, Hot Fuzz has earned over $67 million.

Next finishes ninth, as the Nicolas Cage flick has been completely ignored and is one of the five films in the top ten this weekend that will either come very close or fail to reach $20 million. Next earned only $1.6 million, off 45%. That brings its total up to $14.6 million, against what was probably at least a $70 million budget for Revolution Studios.

Tenth spot goes to the wonderful CGI family film Meet the Robinsons, which continues to eke its way toward $100 million. Meet the Robinsons earned $1.6 million this weekend and currently sits at $94.1 million in total box office. If your theaters still have this kid flick available in 3-D, you should really give it a try.

Finally, outside the top ten is another Zach Braff miss. This time, it's called The Ex. The Ex earned only $1.4 million this weekend from 1,009 venues. That's well off the $4.6 million that The Last Kiss opened to last September. Mr. Braff had better do a comic book movie soon, or he's going to be working at Denny's.

Overall, things were fairly good in theaters this weekend, but literally all of the top ten's success was on the backs of two films. The top ten earned $94.2 million, which, compared to last year, seems pretty good. When Poseidon tanked last year, the top ten earned $81 million, and M:I3 couldn't save the day. In 2005, the box office was also weak over the same weekend, with the top ten earning about $92 million. Really, though, this particular weekend on the calendar has been slipping since 2002 ($113 million for the top ten) as 2003 earned $100 million, and about $101 million in 2004.