Survivor: Fiji
I Wanna See If I Can Make a Deal
By Jim Van Nest
May 13, 2007
BoxOfficeProphets.com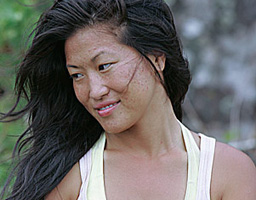 ---
Hello, good people, and welcome to the second to last episode of one of the more disastrous seasons of the reality giant, Survivor. After last week's debacle, I can't stress to you how hard it is for me to actually log in to do this recap tonight. If not for my undying love to my dozens of readers, I might just take tonight off and shave the cat or something. Anyway...previously on Survivor: eh, who am I kidding? Last week was a slam dunk from the get-go. Only some clever editing put any suspense into the vote. Alex was dead man walking from the opening scene. Only snippets of conversations were used to make us think he actually had a fighting chance. After a whole bunch of power plays and strategy sessions and pleading on Alex's part, he couldn't escape his fate. He was doomed to be one of the best strategists ever on the show stuck with the dumbest band of chucklenuts ever assembled on one beach. With the last of the non-alliance out the door, it's time for the Bula Bulas to eat their own. The previews for tonight are interesting as it seems that Yau Man tries to make a Reward Challenge deal and that there's an odd twist on who goes to Exile Island. One can only assume that the Reward Challenge winner sends themself to Exile in order to get the clues in a last ditch effort to locate the hidden immunity idol and guarantee themself a spot in the Sunday finale. Well, kids, I can't stall anymore, it's time to get to tonight's episode to see who will go home and who will be taking part in Sunday's Final Five finale.

We begin the morning after Alex's ouster and Boo, think tank that he is, is busy making a back door path to the water hole. Why? So he can sneak to the water well and listen to people to see if they're talking about him. Define irony: while Boo's making his path, the rest of the tribe sits around the camp fire and makes plans to get rid of him. Earl tells us that Boo's strength makes him the obvious choice for the next vote. We go back to Boo and his path. He's so proud of himself and tells us that if his name comes up on the chopping block, he'll know. Um, sorry big guy...it has and you don't.

We come back from the credits to see Stacy getting Tree Mail. The poem says they need to be "built tough" and is included with a hatchet. Everyone assumes it's the car challenge. As soon as it's determined to be a car challenge, Dreamz starts talking about not having a car and how much he really wants to win one. He actually asks the rest of the group to give him the car if they win. Are you frickin' kidding me? Now that's some industrial size coconuts there.

Probst sighting!! Before he explains the challenge, he shows them what they're playing for. And it's not a car. It's a big honkin' truck. The survivors will be broken up into two teams. They will be tied together. First, they have to navigate a series of see-saws. One person falls off; they all have to go back to the start. Then they'll have to get through a cargo net rig that looks pretty darned tight fitting to me. Once through there, they'll get to a sand pit where they'll have to dig until they find a buried hatchet. The first team to get their hatchet and cut through a rope (which will drop a huge crate into the bed of the new truck, by the way) will win the first part of the challenge and move on to the final stage. The first stage is that the three winners will all get in the truck after the challenge and take the crate (which is full to the brim with school supplies), they'll meet up with a huge mobile school office and they'll deliver both of these to a local school on the island. They'll get to give out the supplies to the kids and enjoy a picnic lunch with them. Now, THAT'S what I'm talking about. How cool would that be? Jeff will explain the final round when we get to it. Survivors ready?

The teams are Yau Man, Stacy and Boo against Earl, Dreamz and Cassandra. As the teams start off on the see saws, Yau Man falls off several times, causing his team to have to keep starting over. Dreamz and Co. are through the see saws while the other team is still at the very beginning. Finally the Yau team makes it through and they hit the cargo maze as the Earl team is getting out. In a pretty impressive display, Boo practically drags Stacy and Yau through the maze. He then starts digging like a madman and wouldn't ya know it, Boo comes up with the hatchet first, despite the fact that the Earl team was digging long before them. And there's goes Dreamz's dream of winning a car.

The final round will be an axe throwing competition. There are three rigs of ropes set up. The first person to cut both ropes wins the challenge, wins the truck and gets to send someone to Exile Island. On the first try, Boo hits while Yau and Stacy miss. Second round, Yau hits while the others miss. On the third try, Stacy finally hits the board, but misses the rope and Yau Man connects to win the truck. And he barely has time to celebrate before he decides to try to make a deal. He asks Dreamz how bad he needs a car. Yau offers him the truck in exchange for immunity at the final four, should they both be there and Dreamz wins immunity. Dreamz accepts in an instant. Jeff clarifies things and a deal is struck. The only thing left is for Yau to send someone to Exile Island. In another Survivor first, he sends himself. A very savvy move indeed. I'm much more impressed with this move than the whole giving away a truck thing. Amazingly enough, no one seems to get it, yet it's as obvious as it can be: Yau wants another immunity idol. To get that idol, he needs the clues. To get the clues, he has to go to Exile Island. Pretty solid strategy, if you ask me.

Now, the truck. This can be seen as either brilliant or really stupid. On one hand, if the planets align, he'll have immunity at the final four round. He probably had a new ally in Dreamz, although his allegiance has an attention span of, um, well...a gerbil. Also on that hand, you have something that may be factoring into his decision as much as anything else. The curse. In 13 seasons, no one who's won the car challenge has gone on to win the game. Perhaps he's thinking that if he gives the car away, maybe he'll break that curse. On the other hand, he just gave away a big frickin' truck. And if he gets voted off next, he goes home with virtually nothing. Throw in the fact that's just made the target on his back even bigger. I think this is one of those moves that we won't be able to know the full scope of it until the game is over. If he goes home in a little more than half an hour, it was a bone-headed move. If he goes on to win and uses Dreamz's immunity to get there, then it was genius. Well, enough about that, let's move on.

We come back from break to join Yau on Exile Island. He begins explaining his reward choices to us. He tells us that Earl has been there too much and he doesn't think Cassandra can handle it. He goes on to tell us that the truck was the biggest gift he's ever given and that he was very happy to be able to give Dreamz a truck. He does admit that it was a strategic move. He says that he's been looking for a way to get rid of Dreamz and that having immunity at the Final Four would be a nice step toward that goal. He then heads up to the tower to get his clues. With three clues, he feels very confident that he will find the idol. And quickly he tells us he needs to share the clue with Earl and that hopefully one of the two of them will find it.

We then join Boo, Stacy and Dreamz on the reward. Dreamz is very excited to have the truck, but he's almost as excited to see the kids. You can tell that being poor and homeless really gives him a connection with these kids. While they're not homeless, they definitely are seriously lacking in school supplies and athletic equipment. The kids are absolutely thrilled and the teachers are very happy to have the new office and supplies. Dreamz tells us that getting that truck was his step up and that dropping off these supplies is the step up for all these kids. You can tell he's really touched. Not so touched that he isn't thinking about the game. He tells us that when he thought about it, what did Yau Man gain in that deal? If he gives immunity to Yau at the final four, he's gone. So, in typical Dreamz fashion, he gets back to thinking about himself and decides that he needs to boot Yau before the final four. I mean, WOW. That had to be record time. Dude just gave you a truck and within hours, you're already planning his demise? WOW! I honestly don't know what to say about that.

We come back to camp and Dreamz and Cassandra are talking about Earl looking for the idol and about Yau Man's strategic power play. Dreamz tells us that if he gets to the final four and wins, he will hand over his immunity. He will live up to his word. But, he'll still plan to boot Yau before the Final Four. Cassandra tells us that it is tempting to dump Yau, but that Boo is a very strong player and because of that, he's a threat to their alliance.

Immunity challenge! Each person will get on a rig in the water. They'll have a rope with a metal ball on the end of it. They have to hook this ball through a hoop that will pull down a balance beam for them to cross to the next platform. The first four to do this will move on to the next round. The second round will be just the same, with the top two finishers moving onto the final round. The final round will be different, once they pull down the beam, they'll cross to a post. Attached to that post is a hook that they'll use to grab a buoy. Once the buoy is brought in, that person will win immunity and have a one in five chance of winning a million dollars. Survivors ready?

Dreamz connects on his first toss, while everyone else struggles. Cassandra throws her rope and lets go of it, throwing the rope and ball about 20 feet away into the water. Meanwhile Boo and then Earl join Dreamz in the next round. Yau Man finally connects and our semifinal is set. This time around, Yau is the first to connect and moves on to the finals. Boo is right behind him and we have a final of Yau vs. Boo for immunity. Boo connects first and easily crosses the balance beam and seconds later, he's grabbed his buoy and claimed immunity for a second time in a row. With the obvious choice eliminated from conversation, it'll be fun watching the rest of the alliance scramble to find their place.

And now it's time to play...well, I'm not sure what to play. Stacy seems to be the most obvious choice, but then you have Dreamz pushing for Yau Man's ouster. Boo is feeling pretty good about the win. He says that he can tell everyone was bummed that he won and that the rest would have to go to Plan B. Earl and Yau get away real quick and discuss the clues. Yau gives the clue and Earl goes off to find the other idol. After quite a while looking, Earl finally digs into a tree stump and whaddaya know? There's the idol. Talk about having all the power. If Earl and Yau can make it through the next Tribal with idols intact...they can both play them at the next Tribal Council and guarantee themselves a spot in the final four. Yau's feeling pound of himself and is already counting himself in the Final Three.

We come back to camp to see Dreamz and Stacy talking about how to get rid of Yau Man. He convinces Stacy that the two of them are left out and they need to boot Yau now. With Stacy on board, Dreamz brings it up to Cassandra. He tells her that he needs her help and if she ever wanted to help him, now is the time. She agrees to do it. She tells us that there's a huge risk in voting Yau Man, but if Yau makes it to the final, he has a good chance of winning. She is also worried that Yau may play the idol and save himself, which will then have her burning two bridges with Earl and Yau. As we get back to the group, Stacy comes over to Earl and asks if she can talk with him in private. NOOOOOOOOOOOOOO! You can't tell Earl, he has to be blindsided by this too. You need to talk to Boo. Well, color me surprised, Stacy isn't letting Earl in on the plan, she's setting the hook. In a brilliant move she asks Earl if she's going. She says she was so bummed Boo won immunity and knows that it's her time. Earl tells us and her how much he respects her and that she's going down with dignity. This is one of the best plays of the season right here. Earl is eating out of the palm of her hand and is taking the bait hook, line and sinker.

We then join Dreamz and Yau confirming that Stacy is the vote. Yau tells us how in tune he is with what's going on. Well, except for that whole "everyone is plotting to take him out in a couple hours" thing. He does tell us that some people are starting to see him as a threat, so he's not sure what's gonna happen. Right before they head out, he sits down next to Earl and says that he has bad vibes. And Earl just shakes his head as if to say, "Dude, we're good. You have nothing to worry about." Looks like Stacy's little speech to Earl has worked. Earl is confident and he just made Yau Man confident. I can't believe it, but as long as Cassandra stays with them, this might actually work!

Jeff opens up Tribal with talk from the reward challenge. Dreamz outlines the deal for everyone and tells everyone that he plans on honoring his word should all the events happen as necessary. Yau tells us that there's a risk that he'll not make the final four and he felt that was a risk worth taking. He then goes on to say that giving Dreamz the truck was just an example of his big heart. This makes Alex roll his eyes so bad he looked like a slot machine. Jeff asks Boo if he cares who has the idol. With the immunity necklace around his neck, he says it doesn't matter to him at all. Cassandra says it's very critical to the game to know who has the idol. He asks Earl about getting voted out without playing an idol. He says that's a terrible blunder and you really have to stay on top of things.

And then it happened. The best laid plans are getting ready to be destroyed faster than Paris Hilton's cocaine stash if it was left alone in a room with Lindsey Lohan. Jeff asks Stacy if she's worried. She says definitely. He asks Dreamz the same thing and Dreamz says he feels pretty comfortable, but not totally. And then it happens. Jeff asks Stacy what she thinks the result of tonight's vote will be. Let me give you the correct answer, then I'll give you Stacy's. Correct: "Well Jeff, it was Boo's turn to go, then he up and won immunity on us. So that makes it my turn. I can't do anything about it and I've come to terms with it." Here's the absolute worst Tribal Council answer in the history of Survivor: "...There's gonna be division among the tight knit alliance because I don't think it's all going to be a vote one way or the other. I think it's gonna be...split." I wish I had video in this column so I could show you Yau Man's reaction to that answer. It was as if the thought never crossed his mind. The look of shock on his face was priceless and very telling. What it told me was he came to Tribal with the thought that he was 100% safe and he was already planning his life in the final three. But after her comment, he realized that he might not be as in tune with everything as he thought. I mean...what a boneheaded thing for Stacy to say. She gave away her plan. In order to dump Yau, he has to be blindsided...and Stacy just gave him eyes in the back of his head. It's amazing to me to see her make the incredible play with Earl earlier today and then she can come back with one of the most stupid things ever done in the show's history. That's all I can stand. Let's vote.

We see Yau Man vote for Stacy and we see Dreamz vote for Yau Man. Jeff heads off to tally the votes and then asks if anyone wants to play an immunity idol. After the editors make the pause last about four hours, Yau Man finally gets up and plays his immunity idol making him safe from the vote. When Jeff tallies up the votes, it's four votes Yau Man, two votes Stacy. The 15th person voted out of Survivor: Fiji is Stacy. WHAT AN IDIOT!!! They had him. He was done as dinner and she let him get away. The one thing I can say is that in one of the rare cases, the person that made the fatal mistake was also the person to pay for it with their Survivor life. Normally, it's an innocent bystander that pays for a really stupid play, but not this time. Stacy made the ultimate mistake and paid the ultimate price.

**PROGRAMMING NOTE**** Survivor is almost over, constant readers. So over that the Season finale will air THIS SUNDAY at 7 p.m. It will be a two-hour finale followed by the live reunion. SO adjust your weekend schedule accordingly. In the previews, you can't really see too much of what's going on, but the voiceover tells us to "tune in for one of the most tension filled Survivor finales...ever." The only thing I can think of that would make it tension-filled is if Dreamz backs out of his deal with Yau Man. Otherwise, I got nothing. Until Sunday...take care!