Weekend Wrap-Up
Spidey Beats Sparrow
By David Mumpower
May 6, 2007
BoxOfficeProphets.com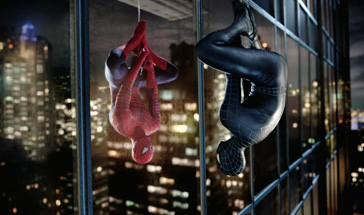 ---
Entering this weekend, there had been exactly six mega-blockbusters that had managed to break the $100 million barrier in their opening weekends. There is now a seventh entrant into this exclusive club, and this one has topped the rest. Spider-Man 3, the conclusion of Sam Raimi's wildly successful comic book trilogy, has reclaimed the franchise's throne as the biggest opener of all-time. Last July, Pirates of the Caribbean: Dead Man's Chest broke the original Spider-Man's 50-month-old record of $114.8 million by earning a whopping $135.6 million over three days. That new mark for box office excellence did not have quite as much longevity. It proved to be a placeholder, standing tall for only ten months before Spider-Man 3 could regain what Sony considered to be theirs. The latest web-slinger outing has earned an estimated $148.0 million in its first weekend, surpassing Pirates of the Caribbean: Dead Man's Chest by 9.1%. Truly, this is the age of box office mega-weekend.

How explosive is Spider-Man 3's performance? Its Friday/Saturday two-day total of $109.8 million would be the third largest opening of all-time, edging out Star Wars Episode III – Revenge of the Sith's $108.4 million. In two days, the latest Marvel comic book adaptation has done what only the true behemoths of box office had ever managed over a full weekend. In addition, there have been exactly four occurrences of a single movie attaining $50 million worth of revenue in one day. Spider-Man 3 may claim half of these mega-box office days. It followed a $58.0 million Friday with a $51.8 million Saturday, giving the Sony release two of the three biggest revenue days in movie history.

Spider-Man 3's success is even noteworthy when gauged against this franchise's lofty standards. The $148.0 million total is one Spider-Man needed seven full days to match (and slightly exceed at $151.6 million after its first week). Spider-Man 2, which had the benefit of the July 4th holiday, reached this total in five days. So, at the rate of two days shaved off per release, I guess that the opening day numbers of Spider-Man 4 will be around $148 million. Okay, I kid, but not by much. We are seeing a staggering evolution in terms of box office behavior in 2006/2007. Cineplexes have attained new-found abilities to match virtually any consumer demand on opening weekend.

In a year of tremendous box office success for multiple releases, Spider-Man 3 is already the third largest movie of the year behind Wild Hogs and 300, with its usurping of 300's throne a mere formality. In a year where five movies have already crossed the $100 million barrier, Spider-Man 3 has just spotted the competition as much as $207 million and still wiped the floor with all of them. In fact, if estimates hold for Spider-Man 3, its $148.0 million weekend would beat the entire top ten for 69 out of the 73 (!) weekends since the start of 2006. The bar has clearly been raised for Shrek and Jack Sparrow's next outings.

Where Spider-Man 3 goes from here is the source of much conjecture. It has already taken a strong first step toward matching the domestic totals of the previous two movies in the franchise. Spider-Man 2's $373.4 million, the tenth largest total of all-time, will be "easier" to match. Spider-Man's $403.7 million, the sixth largest total of all-time, is a loftier goal. The reason why is simple. This Spidey outing is not being particularly well received. Spider-Man 3 has a fresh rating of 62% at Rotten Tomatoes, significantly lower than Spider-Man's 90% as well as Spider-Man 2's 93%. For whatever reason, Sam Raimi has lost his touch a bit in his attempt to tie up the trilogy's arc of Shakespearean storylines. This creates concern about the longevity of Spider-Man 3. Word-of-mouth has carried the previous two outings to more than $250 million each after their first three days of box office. Similar holdover appeal cannot be ceded to Spider-Man 3, particularly given the singularly unique strength of upcoming summer releases.

I find the thought process a bit odd, but given Spider-Man's staggering budget of $300 million – more than the gross national product of many developed countries, the final film in the trilogy is not the financial slam dunk it might seem on paper. The good news is that the arcane cineplex/distributor rules for revenue sharing greatly favor Sony this weekend. Keeping 85% of Spider-Man 3's profits would mean $125 million already in the coffers; however, the split goes down significantly after that, eventually reaching a near-balance of 55%/45%. With questions arising about Spider-Man 3's lasting appeal, international receipts are going to be key to this being the windfall its opening weekend numbers would make a casual observer believe it to be. Since both prior Spidey movies have earned $410 million internationally, that's not a problem, particularly given that the film is already off to a scintillating start abroad. It has reportedly earned $225 million internationally already. This thought process simply drives home the point of how much is on the line with each blockbuster's release this summer. Even a title with a record-shattering opening isn't guaranteed to make the big bucks domestically these days due to the spiraling costs of production budgets.

Outside of the movie studios themselves and possibly some of the talent involved on the projects, absolutely no one cares about the rest of the top ten. This point was mercilessly driven home on Friday when Spider-Man 3 earned $49.2 million more than the rest of the top ten combined. BOP has long argued that competition is overrated, but when one movie is a factor of 6.6 bigger than everything else in total, this isn't the week to sell that philosophy. The difference between first and second place this time is, in the immortal words of Larry Miller, the difference between shooting a bullet and throwing it. The thrown bullet in this scenario is former three time champion Disturbia. Shia LaBeouf's surprise hit falls 37% this weekend with a total of $5.7 million, giving it a running total of $59.9 million. In a year of success story after success story, no film's performance is more of an upset than this 21st century Hitchcockian thriller.

Finishing in third and fourth place this frame are Fracture and The Invisible. The latter film, featuring Justin Chatwin of War of the Worlds, managed only $3.1 million this time out, a decline of 59% from last weekend's lousy debut of $7.7 million. The running total of $12.3 million isn't going to turn Chatwin into a household name by any stretch. Of course, being a household name isn't helping Sir Anthony Hopkins any. His latest effort, Fracture, falls a scary 50%, meaning it's almost done at the box office. Then again, the weekend total of $3.4 million would have told you that as well. A running total of $26.5 million is the end of the line for Fracture.

Rounding out the top five is Next, another of last weekend's dismal failures. Nicolas Cage's presence meant absolutely nothing here, as is demonstrated by a forgettable weekend of $2.8 million and an even more dishonorable running total of $11.8 million.

Way down in sixth place is the other new opening this weekend, Lucky You. The universally ignored poker movie failed completely, earning only $2.5 million. Released in 2,525 venues, this performance represents a per-location average of $998. Just so we're clear, that is 1/35th of Spider-Man 3's per venue average of $34,807. That's a Washington Generals vs. Harlem Globetrotters-level blowout. Given that the movie has been completed for almost two years now and only received release this weekend, we shouldn't be too surprised. Critics were more positive than I had expected in that only 72% of them hated it. Presumably, the other 28% were well medicated by the time they got to the theater.

The remainder of the top ten is made up of two hits, a so-so sequel and one to-be-determined. Seventh place goes to a great movie, Meet the Robinsons. The well-intended Disney throwback release earned another $2.5 million, giving it a total of $91.8 million as it creeps toward the magical $100 million mark. Eighth place goes to a huge hit, the hysterical Blades of Glory. Another $2.3 million brings its impressive total to $111.6 million. That's roughly a factor of seven more than the ninth place entrant, Hot Fuzz. BOP fave Simon Pegg's action spoof fell a significant 58% from last weekend's $4.9 million. This frame's $2.1 million gives it a running total of $16.1 million. It has now passed Shaun of the Dead's $13.4 million in domestic receipts, making it a modest success story for Rogue Pictures. Finally, tenth place goes to Are We Done Yet?, the Ice Cube sequel that simply refuses to die. It squeaked out a top ten place by bringing in another $1.7 million and bringing its overall total to $46.1 million. Surely it will be gone next weekend. Right? RIGHT?

Overall box office for the top ten was $171.4 million, up 85% this weekend from this time last year. As you have probably inferred, this is all due to Spider-Man 3. The film comprised 85% of this weekend's top ten box office. Its $148.0 million single-handedly beats the $94.0 million total from all ten films this time last year by 57%. If we compare films in second through tenth place in 2006 as opposed to 2007, the difference is roughly a two to one ratio for 2006 with $46.2 million then as opposed to $26.1 million now. So, Spider-Man 3 alone was an $100.3 million difference from 2006's number one film for the weekend, Mission: Impossible 3, with its total of $47.7 million. Maybe Tom Cruise should have stayed on-board for Iron Man rather than letting Robert Downey Jr. take on the title role.

Next weekend sees four more releases enter the marketplace. 28 Weeks Later, the sequel to the instant zombie classic, 28 Days Later, is the biggest of them. Scrubs star Zach Braff's The Ex will fulfill the currently open romantic comedy slot (though some cynics would argue Spider-Man 3 also takes care of this) while Lindsay Lohan's Georgia Rule takes care of the chick flick quotient. Alleged comedian Larry the Cable Guy's Delta Farce is for people who aren't Internet-literate and will never see this column anyway. You people are ruining it for the rest of us.