Friday Box Office Analysis
Spider-Man 3 Shatters Single Day Record
By David Mumpower
May 5, 2007
BoxOfficeProphets.com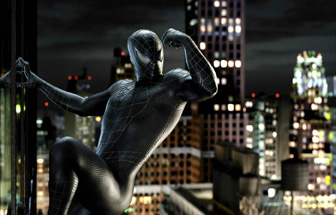 ---
Friday, May 4, 2007 was a day of wine and roses for the Spider-Man franchise. After having his mojo briefly taken away last year by Jack Sparrow, the web-slinger has returned to theaters to reclaim what was once his. The result is a record-shattering opening day performance along with a chance to re-take the title of biggest opening weekend of all-time.

As you will hear throughout the day, Spider-Man 3 has had the single biggest day of box office in history, accumulating a jaw-dropping $58.0 million. That tally represents an increase of 3.9% over the $55.8 million Pirates of the Caribbean: Dead Man's Chest earned on July 7, 2006. Aided by round-the-clock showings beginning Thursday evening at midnight (or is that technically Friday morning?), the latest Spidey outing consistently sold out theaters across America despite having a record total of 4,252 theaters as well as a reported 11,000 prints (roughly 2,000 more than Dead Man's Chest had). Overcoming a 140 minute running time, longest in the trilogy, Spider-Man 3's release pattern allowed easily accessible viewing for most parts of North America. The end result is that the Marvel franchise has just called Disney out, telling their infamous pirate that anything he can do, Spidey can do better.

The big question, of course, is whether Spider-Man 3 can carry over that momentum for the next 48 hours, thereby matching or surpassing the other feats of Dead Man's Chest. A tally of $42.0 million or more on Saturday would mean that the Sony release has become the second movie to earn $100 million in only two days. A total of $77.7 million or more over Saturday and Sunday would indicate that the Spidey franchise has re-taken the title of largest opener of all time, surpassing the $135.6 million last year from Team Sparrow. Both of these accomplishments seem possible if not likely, but do not let anyone tell you they are foregone conclusions. Let me explain why.

There have been ten single-day performances of $40 million or more in box office history. Two of those were from Spidey himself, so let's evaluate those first. Spider-Man earned $43.6 million on its first Saturday, falling 27.1% the next day to actual dollars of $31.8 million. Spider-Man 2 earned $40.4 million on its release date, a Wednesday, before falling 41.1% to $23.8 million the next day. Its Friday box office of $32.5 million was still a decline of 19.9% from Wednesday. This latter film is the pattern most likely for Spider-Man 3 to follow. Opening day rush creates this sort of behavior. With the must-watch fans taken out of the equation, the film demonstrates ordinary patterns afterward. This makes $46.5 million or so the target number for Saturday box office receipts. A performance higher than this would indicate that Spider-Man 3 is showing more demand that its immediate predecessor did. A number significantly lower than this would mean that Spider-Man 3 is more of a one-day wonder at the box office.

While some would be quick to point out that Spider-Man and Spider-Man 2 had great internal multipliers, we need to remember what such behavior demonstrates. Spider-Man's biggest day was a Saturday, indicating that the multiplier would be fantastic. Spider-Man 3 is not going to see the same behavior. A 10.7% increase or $64.2 million in actual dollars would be required for that to happen. If you believe this to be possible, I have a distinctive bridge to sell you in one of the five boroughs. Meanwhile, Spider-Man 2's internal multiplier of 2.72 is equally misleading since that title's biggest day was on a Wednesday. If we swap out that $40.4 million number for the $32.5 million number to evaluate how that changes the picture, Spider-Man 2's best day as well as its first Saturday and Sunday would combine for $96.1 million worth of box office. That would be an internal multiplier of 2.38. That's a much different picture than the 2.72 would paint, isn't it?

Don't immediately discount a number lower than 2.38 from the possibilities as well. A year ago this very month, X-Men: The Last Stand exploded into theaters with what was then the second largest single box office day of all time, $45.1 million. People were discussing the possibility of a new opening record; the idea was that the prior film, X2: X-Men United, had a weekend multiplier of 2.74. That multiplier against a $45.1 million opening would be an opening of $123.6 million. The movie made $102.8 million, an exceptional total. It was, however, $20.8 million off the mark from what had been hoped for. When we get to these heights of weekend box office, just slapping an internal multiplier estimate onto a Friday box office tally is sloppy bordering on dangerous.

If you want further comparisons, here is the rest of the data. Dead Man's Chest's internal multiplier was 2.43. Revenge of the Sith's $50.0 million day occurred on a Thursday, so it's not a useful data point in this discussion. The same may be said of Shrek 2 (biggest day was a Saturday), Revenge of the Sith's day three (also a Saturday), The Matrix Reloaded (biggest day was a Thursday) or Dead Man's Chest's second day (box office of $44.4 million was still a decline of 19.7%). In addition to X3, the only film that could qualify in this very small sample survey is Harry Potter and the Goblet of Fire. That release earned $40.1 million on its first Friday with weekend box office of $102.3 million indicating a weekend multiplier of 2.55. And given that it is the lowest of the $40+ million single days, qualifying by only $100,000, I'm not sure how useful that is.

As you can see, there is a lot going on under the hood here. Here is what we do know. No matter what else happens from now until Sunday actuals are in, Spider-Man 3 has shattered two records. It has become the widest opener in box office history (by 89 venues), and it has claimed the throne as largest single day of box office in history. Odds are decent to good that it will overtake Pirates of the Caribbean: Dead Man's Chest to once again claim the title of biggest weekend opener for the Spider-Man franchise. A weekend multiplier of 2.31 is all that is needed. Given the model of X-Men: The Last Stand, we know that this is not a foregone conclusion. I do believe that it is going to happen, however. A 2.40 multiplier, a bit higher than what Spider-Man 2 managed in the theoretical scenario above, would indicate a $139.2 million weekend, breaking Dead Man's Chest's record by roughly 2.7%.

One other release was sacrificed to the box office gods in honor of Spider-Man 3. Lucky You, the latest outing from Curtis Hanson, was as soundly rejected by North American movie audiences as a movie can be. It earned $950,000 from 2,525 mostly empty venues. A weekend total of $2.6 million followed by a lot of jokes and a quick DVD release is the expected release pattern here. Hanson, Eric Bana and Drew Barrymore might have tried to go all-in, but their hands were all dominated by Peter Parker's.

Holdovers

The aptly titled The Invisible fell 61.7% from Friday-to-Friday. Its total of $1.1 million yesterday is sadly good enough for third place, but that $3.0 million second weekend total is hard to sell as a positive. Sadly, however, it looks great to Fracture. Sir Anthony Hopkins failed to convince anyone that this is a movie Hannibal Lecter would love. A $1.1 million total for indicates a drop of just under 70% from last Friday. Box office of $2.8 million is not going to stop the bleeding here.