Weekend Wrap-Up for April 27-29, 2007
Brutal Box Office Good News for Disturbia and Spidey
By John Hamann
April 29, 2007
BoxOfficeProphets.com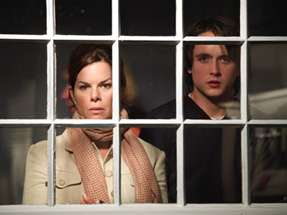 ---
There was certainly nothing to get excited about at this weekend's box office, as young and old saved their pennies for what looks to be a quality blockbuster in Spider-Man 3. No films managed to crack the $10 million mark, as we end up with a three-weekend winner in Disturbia. The box office was so bad overall, Sony's comic book marvel could end up breaking the original's record next weekend. In fact, the box office was so slow, that advance tickets for the webslinger probably would have made a top five appearance if counted at the box office this weekend.

Somewhat surprisingly, the number one film for the third weekend in a row is Disturbia from Paramount and DreamWorks. I have to doubt that Paramount ever dreamt they would have three consecutive weekends at number one with this one, but this weekend's tally of $9.1 million manages to keep it in top spot until it gets dealt the death blow next weekend. Its weekend percentage drop shows why this one is still on top. In its third weekend, Disturbia dropped 30%, well above average for its genre and demographic. So far, the teen thriller has earned $52.2 million against a budget of only $20 million. The Shia LaBeouf flick could earn as much as $80 million, a huge amount for this middle-of-the-road thriller.

Finishing second is the first of our extremely forgettable openers. This one is the aptly titled The Invisible, which it certainly will be next weekend. Invisible, from Hollywood Pictures and Spyglass Entertainment, earned a mere $7.6 million over its opening frame, albeit from 'only' 2,019 venues. It had an average of $3,769 which was ahead of Disturbia's $2,987 from 3,047 venues. The Invisible is directed by David S. Goyer, who co-wrote the screenplay for Dark City and Batman Begins, and had an executive producer credit for Ghost Rider. Unfortunately, Goyer didn't write this one, and reviewers, many of whom took the weekend off, generally disliked what they saw (only nine reviews were in at the time of writing, two positive). This one is the definition of dumped - shot over two years ago and released before a blockbuster that is sure to have the biggest opening weekend of the year. The Invisible will most likely be a memory in two more weekends, and it will struggle to earn $30 million.

Finishing third is Next, Nic Cage's latest bamboozle. The Revolution Studios product earned a tiny $7.2 million this weekend despite opening at 2,725 venues. It had a venue average of $2,642. This is a $70 million effort, so finishing third on one of the quietest weekends of the year is a large defeat for Revolution Films. For Nicolas Cage, it's back to normal after an uptick with Ghost Rider. Cage has had five of his last seven flicks open below $10 million, with his only positives being the huge Ghost Rider ($45 million opening) and the so-so World Trade Center ($18.7 million opening over five days). Revolution and distributor Sony must have thought this would work on a Mummy/Mummy Returns level, or that it would work as good counter-programming for Spider-Man 3 overflows. Other than having a lame star, Next certainly didn't behave like the Mummy ($43 million opening two weekends before The Phantom Menace), and we will have to wait until next weekend to see if it proves worthy as counter-programming. Critics were mostly negative, calling this one bubblegum entertainment, but that might work to its advantage next weekend.

Fracture finishes fourth and fails to show Disturbia's staying power. After finishing second last weekend, Fracture drops 35% to $7.1 million this weekend. Word-of-mouth must not be working for the Anthony Hopkins/Ryan Gosling thriller, or the dearth of thrillers (there are five in the top ten this weekend) is keeping some people from getting out to this one. So far, Fracture has earned $21.3 million for New Line, and it will struggle toward $35 million before finding a healthy life on home video.

Blades of Glory finishes fifth as it competes with Hot Fuzz for the comedy dollar. Blades earned another $5.2 million, its fifth weekend since opening March 30th. The Will Ferrell/Jon Heder comedy dropped a decent 32%, pulling up from its 45% drop last weekend. Blades of Glory has now earned $108.1 million and is Ferrell's second $100 million plus film in the last two years.

Disney's Meet the Robinsons falls to sixth as it can't hang on despite zero new competition for its demographic. The Robinson's earned a slim $4.9 million in its fifth weekend and was off 31%. So far, the Disney CGI flick has earned $88.4 million, as it wills itself toward $100 million.

Hot Fuzz added 464 venues to its run this weekend, and the move worked to an extent. Hot Fuzz earned $4.8 million in its second weekend, and dropped a negligible 18%. I imagine distributor Rogue Pictures was looking for an increase over last weekend's $5.8 million finish, but I imagine this one will survive well against Spider-Man 3 next weekend. So far, Hot Fuzz has earned $12.5 million.

Vacancy slides hard, falling from fourth last weekend to eighth this weekend. The motel room thriller earned $4.2 million in its second weekend and was off a harmful 45%. Currently, this Sony release has now earned a soft $13.9 million.

Lionsgate and WWE's The Condemned finishes ninth, and probably would have been better off going to straight to DVD. The Condemned earned a tiny $4 million from 2,310 venues and had an average of $1,732. Comparing it to other WWE films, The Marine had a venue average of $2,805 and See No Evil managed $3,645. The viewership for these films gets lower with each outing because let's face it. No one wants to see wrestlers in movies unless their name is The Rock.

Finally in tenth is Are We Done Yet?, which simply will not die. The Ice Cube sequel brought in yet another $3.4 million and brought its domestic total up to $43.8 million. It should at last be out of the top ten next weekend.

Overall, things are very bad. The top ten films in release this weekend earned a tiny $57.4 million, a figure Spidey 3 has a shot at earning on its first day. Last year over the same weekend, things were much better, but the weekend that followed last year only had a Mission: Impossible sequel, not a Spider-Man sequel. Last year, the top ten earned about $85 million, leaving this year in the dust. My prediction for Spider-Man 3: HUGE.