Weekend Forecast for April 27-29, 2007
By Reagen Sulewski
April 27, 2007
BoxOfficeProphets.com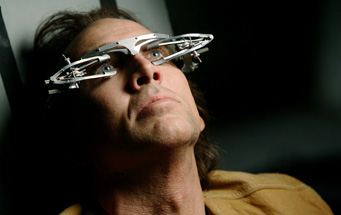 ---
We have just one more weekend of substandard releases to go until the summer blockbusters arrive and blow the doors off a truly lame April. Until then, though, we've got to slug through some pretty awful looking releases. Not too far now, people.

To the surprise of many, Nicolas Cage's Ghost Rider was a huge hit this spring, threatening his return as a major box office draw. Thankfully there's always his notoriously scattershot script picking to rely on. That comes to the forefront with Next, a science-fiction film based on a Phillip K. Dick story. Dick's stories have often fared poorly in the trip from book to screen in the past, and this appears to be no exception.

Cage plays a magican with the ability to see every outcome of an action before it happens. Although picking lotto numbers appears to be out of the question, he does seem to have knowledge of a potential terrorist attack on the United States, which leads him to be pursued by government agents (led by Julianne Moore), who quite naturally would like a heads up. Cage's character fears that he'll be locked up as a prediction machine for the rest of his life, and has also had a vision of his girlfriend (Jessica Biel) being murdered, and sets off running.

Most of the problem with this movie (which admittedly, doesn't have all that bad a premise) are the special effects, which look like they were a lower priority in the budget than Nic Cage's hair gel. We expect better these days, and films that look like they were designed on an Amiga just won't cut it. Reviews have also not been kind, cutting into the plot holes and wooden acting. Cage has proven he can sell crap already this year, but there's only so much he can handle. Although Next is getting a pretty wide release and heavy ad support, I see this one coming in for around $14 million on the weekend.

The Invisible is hoping to entice teen audiences in the same manner that Disturbia did to win two straight weeks at the box office, albeit as a supernatural thriller. The film stars Justin Chatwin (whose biggest role to date was as Tom Cruise's son in War of the Worlds) as a high school student who is attacked and left for dead, but finds himself walking around as a ghost.

His only chance to get back to life is to try and communicate with the living and get them to find his body, though as a ghost, that proves mighty difficult. If this sounds like The Sixth Sense in reverse, well, there's a reason for that, as it's produced by some of the same people. This film is firmly lodged in the teen demo, and has a bit of a feel of a film like The Covenant, with its grey/blue gothic look and Teen Beat friendly stars. I expect this one to have a pretty limited appeal, and should be good for about $9 million this weekend.

Now we get into the true dregs on the slate. Kickin' It Old Skool is Jamie Kennedy's latest assault on comedy, with an '80s-themed take on the fish-out-of-water genre. His character is a champion breakdancer in the '80s until a stunt goes horribly wrong and he lands in a coma for 20 years. When he (unfortunately) wakes up, the world has changed (although not too much) and the girl of his dreams is engaged to be married to his nemesis (Michael Rosenbaum, a.k.a. Lex Luthor). His only way to win her back? Winning the $100,000 breakdancing contest with members of his old dancing posse, who have grown up, but not quite moved on in their lives. Much mockery of '80s fashions and styles ensues.

This movie is definitely aiming at The Wedding Singer's milieu, though it's more like The Wedding Singer after it's been beaten to the point of concussion. I don't expect this to share any of the heart or even manic lunacy that Adam Sandler's take on the decade of neon and parachute pants had. Kennedy's last real film of note, Son of the Mask, was an unmitigated disaster, and his last attempt to cover this specific cultural territory, Malibu's Most Wanted, didn't fare much better. I look for a pretty meager weekend of around $7 million for Kickin' It Old School.

The sole action entry of the weekend is The Condemned, starring Steve Austin and Vinnie Jones. In a cross-pollination of The Running Man and Battle Royale, ten condemned convicts are sent to a remote island, where they are to be filmed for a reality show with only one goal: kill everyone else (Sudden inspiration: cross this movie over with Jamie Kennedy's).

This one's all about the 'splosions, and seeing how many people will support yet another pro wrestler's action film career. Six or seven years ago, Steve Austin as an action star might have made more sense, but he, and wrestling, have faded in popularity. John Cena's The Marine was a dud, as was Kane's See No Evil. This might have a slightly better opportunity than those films, but the ceiling is pretty low for wrestlers these days. Give it $7 million for the weekend.

As mentioned above, Disturbia captured the top spot at the box office for the second straight weekend, and is edging close to $50 million. And although it faced pretty weak competition, its weekend drop wasn't all that bad, falling from $22 million to $13 million. It should see between $7 and 8 million this frame.

Fracture was the best of a sore lot of new films last weekend, opening to just $11 million. The Anthony Hopkins/Ryan Gosling legal thriller played out like a low rent Silence of the Lambs, without the gore, style or intrigue. So just the little things, really. Look for a second weekend of about $6 million.

Blades of Glory slide past $100 milllion last weekend, putting another feather in the cap of Will Ferrell and unfortunately ensuring that Jon Heder will still get work. It stayed in third place by edging out Vacancy, and is showing decent holding power. It's not too long for the top 10 with summer blockbusters coming, but $125 million total isn't out of the question.

The aforementioned Vacancy will be lucky to hit just $25 million after starting out with $7.6 million in its opening weekend. Too scary for thiller-town and not scary enough for horror-town, Vacancy was a film largely without an audience. It'll drop to around $4 million this weekend.

Though it opened with the lowest screen count of last week's new films, Hot Fuzz managed a decent $6 million to top wide releases in per screen average. Its reward is an expansion by 50% in screen counts, which may be able to hold it steady in terms of absolute numbers. Word-of-mouth is excellent for this one, so it definitely has a chance. Somewhere between $5 and 6 million is where it should land for the weekend.