Weekend Wrap-Up for April 20-22, 2007
Sleepy Box Office Waits for Spider-Man
By John Hamann
April 22, 2007
BoxOfficeProphets.com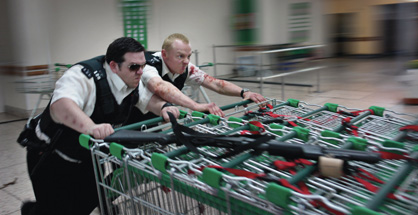 ---
The box office geared down again in anticipation of May and a round of blockbusters, the first being Spider-Man 3, now only two weekends away. We had our fourth repeat winner out of the last ten weekends, but Disturbia has little to crow about. New films included Fracture from New Line, Vacancy from Screen Gems, Hot Fuzz from Focus Features and In the Land of Women from Warner Bros. All of these films (minus the hilarious Hot Fuzz) are just filler - neither really good or really bad, starring no one really exciting, and are really just cast-offs for their respective studios.

The number one film for this April weekend is again Disturbia, the fourth film to repeat at number one over the last ten weekends (the others are Blades of Glory, 300, and Ghost Rider). This one is not an event picture like the others, but is number one out of the mess that was released this weekend. In its second frame, Disturbia earned an okay $13.5 million, and was off 39% from the previous weekend. The percentage drop is something that Paramount and DreamWorks will be quite happy with; however, it would have been much higher had any real films been released. The best news here for Paramount is that Disturbia will raise the profile of its star, Shia LaBeouf, prior to the release of the studio's tent pole summer release, Transformers. Also, the Hasbro event flick will have trailers in front of Disturbia, which is targeted at the same audience.

The other good news for Paramount is that Disturbia was really middle of the road in terms of budget size. Director D.J. Caruso (Two for the Money, plus a handful of other forgettable movies) brought Disturbia in for about $20 million, a figure the movie earned in its first weekend of release. The better-than-expected drop may get the thriller up to $60 million, so it will turn into cash for the studio prior to the release of the DVD, which these days is a decent accomplishment for any film released to theatres. So far, Disturbia has earned $40.7 million - but again, the success here is more important for Transformers than Disturbia.

In second place we have Fracture from New Line, another film trying to cash in on The Silence of the Lambs, which was released 16 years ago. Fracture, employing a menacing (but soft) Anthony Hopkins, earned $11.2 million this weekend from 2,443 venues. It had a not-so-great venue average of $4,576, but may have some good things going for it. Along with Hopkins, Fracture also stars recent Oscar nominee Ryan Gosling, so this feature does have the opportunity to draw both old and young. Good news also stems from the critical notices. At RottenTomatoes, 110 critics chimed in on the thriller, and of those 78 liked it enough to give it a positive review. That equals a strong fresh rating of 71%, and user reviews are even better, coming in at 86%. Fracture is from director Gregory Hoblit, who did equally good but also middling successful thrillers like Frequency ($45 million total) and Primal Fear ($56 million total). A good hold next weekend might position this one for a $40 million finish, and may actually serve as decent counter-programming against Spider-Man 3.

Landing in third is Blades of Glory, the other strong release in the top three from Paramount and DreamWorks. Blades of Glory is having a decent run for Will Ferrell and Jon Heder. The comedy earned $7.8 million and was off 44% from the previous frame. The better news is that Blades crossed the $100 million mark this weekend, and still has at least another $25 million still in the gas tank. This is now Will Ferrell's second $100 million plus earner in less than a year, after Talladega Nights earned $148 million last summer. Blades of Glory has already handily beaten Anchorman, which earned $84 million, by managing to keep the weekend to weekend drops below 40%, where Anchorman averaged a 50% drop over four consecutive weekends. The total for the $60 million Blades of Glory now sits at $101.1 million, has made Jon Heder even more of a household name, and has turned a figure skating movie into a lucrative hit for Paramount and DreamWorks.

Fourth spot goes to another new thriller, Vacancy, starring BOP faves Luke Wilson and Kate Beckinsale. Vacancy couldn't draw the usual horror crowd this weekend, and ends the weekend with a not-so-great first weekend tally of $7.6 million. Released to 2,661 venues, this thriller (our third in the top four films of the weekend) had a venue average of $2,979. From Screen Gems, Vacancy didn't play well with critics, but is doing okay with audiences. At RottenTomatoes, 67 reviewers voted, and 35 of those liked it, leaving it with a rating of 52%. Audiences at the site liked it much more, with 93% giving a thumbs up at the time of this writing. I don't think there's anything too remarkable here, and Vacancy will be vacant in a few weekends.

Moving from third to fifth is Disney's animated Meet The Robinsons. Now in its fourth weekend, The Robinsons earned $7.1 million, and was off a larger-than-expected 43%. Meet the Robinsons has been an okay release for Disney, but certainly is not burning anything up out there. Currently it sits with $82.2 million and will have to work hard to reach $100 million, although Shrek the Third is still many weekends away.

Our next new release of the weekend (our ninth new release in two weekends) is Hot Fuzz, the cop comedy from the group who did Shaun of the Dead. Hot Fuzz got out of the gate quite strongly despite its weekend take and ranking. Hot Fuzz earned $5.8 million this weekend, but did it from only 825 venues. That gives the comedy a venue average of $7,079, by far the best in the top ten. Hot Fuzz is one of the few films in the top ten this weekend worthy of being excited about. From Shaun of the Dead director Edgar Wright, Hot Fuzz scored with critics, earning a powerful 88% fresh rating at RottenTomatoes. 139 critics weighed in, and an astounding 123 found something to laugh at. Users, with a much larger sample than that of Vacancy or Fracture, really liked Hot Fuzz. Of the 129 users who reviewed the film for RT, only seven didn't like it, giving it a user rating of 94%. Shaun of the Dead earned only $13 million in North America during its theatrical run, but was huge on DVD, and created a large following for director Wright and stars Simon Pegg and Nick Frost. Hot Fuzz has already earned $48 million internationally, and if word catches on, it could be a big hit stateside as well.

Our number seven film this weekend is Sony's Are We Done Yet?, and the answer again this weekend is no, not yet, but very, very soon (I'll be having a party when its over). This Ice Cube schlock earned $5.2 million and was off 42%. So far, the most unnecessary of unnecessary sequels has earned $39.6 million.

Finally we have our last new release of the weekend, In the Land of Women with Meg Ryan. In the Land of Women earned $4.9 million from 2,155 venues this weekend and had an average of $2,283. This movie was ignored by distributor Warner Bros., who failed to support this film with much marketing. It was 48% fresh at RottenTomatoes, and will be forgotten very quickly.

After finishing fourth last weekend, the Bruce Willis/Halle Berry flick Perfect Stranger plummeted to ninth as moviegoers voted with their wallets. Perfect Stranger earned a mere $4.1 million this weekend, as viewers handed this one a weekend-to-weekend drop of 63%. Utterly forgettable, Perfect Stranger has now earned only $18.1 million and is an utter disaster for Sony.

In tenth, we have the film that won't go away in Wild Hogs. The Disney live actioner somehow earned another $2.9 million and was off 39%. So far, Wild Hogs has earned $156.2 million.

Overall, things weren't great, but it doesn't really matter, as everyone is taking a break prior to Spider-Man. The top ten this weekend could only generate about $70.1 million, a far cry from last year's tally of $97 million, when patrons were conned into seeing number one film Silent Hill. Next weekend will be more of the same, as the filler fest continues.